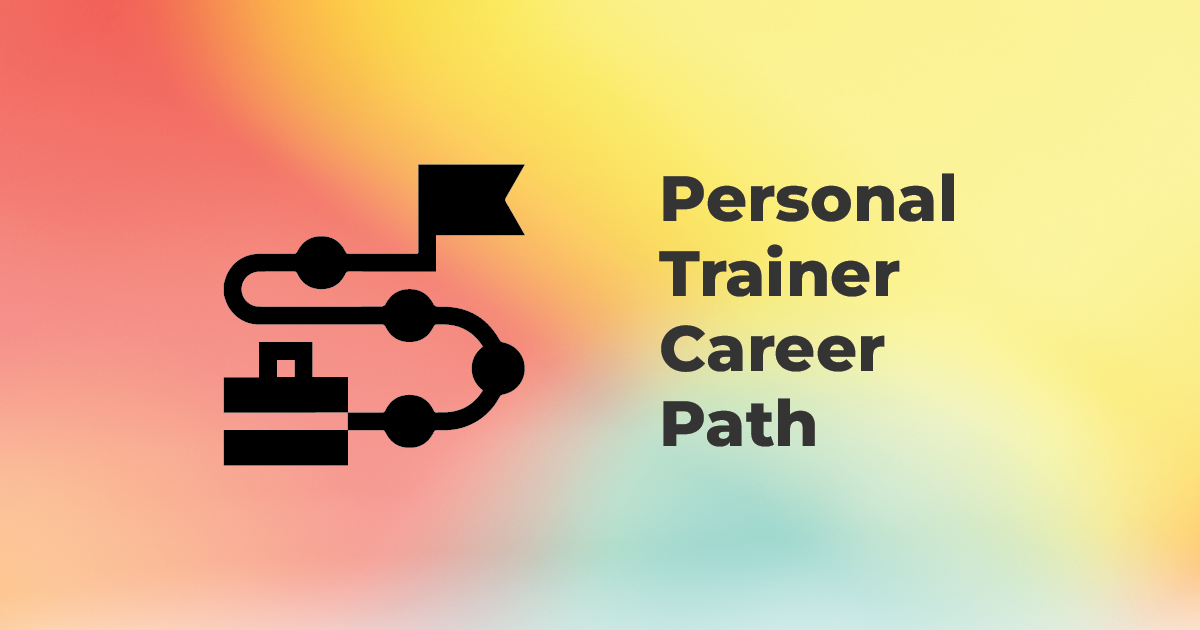 The fitness industry is a billion dollar industry that's projected to continue growing. Within the space are many types of fitness professionals including personal trainers that help clients embrace a healthier lifestyle and reach their health goals.
Whether you're simply considering a career in personal training or already in the industry and looking to take your next step, there are plenty of personal trainer career paths that lead to prosperity and success in this lucrative industry.
But career decisions can be hard. Which option is right for you and what do you need to get there?
We can help.
We're going to share six different paths within the personal training industry that can help you formulate your own career progression. We'll also share how to be successful in each career and how to transition into your next steps.
Inside this blog:
Chapter 1
Gym personal trainer
When thinking about personal training, one of the more common and stable career paths is to work for a gym as a trainer. Typically, in this model you are on the gym's payroll and gym goers are given the option of adding on personal training to their monthly package.
This is a great option for trainers that are just starting out. It can help you have a steady influx of clients that you don't have to find yourself. It's a great way to gain experience and build a network.
The cons gym personal training is that typically the pay will be on the lower end. Your earning potential will be limited and for the most part, it will be up to the gym how many clients you get to take on.
However, this is still a great option and many personal trainers appreciate the stability and predictability of this kind of job.
Chapter 2
Independent personal trainer
One thing that stands out to many people pursuing a career in personal training is the ability to make their own hours and be their own boss. As an independent personal trainer, you get this flexibility and freedom.
But with great power comes great responsibility, right? As an independent personal trainer, you can't rely on an already established brand (like at a gym) to bring you clients. You will be responsible for doing your own marketing and bringing in new clients.
It can be easier to go independent after you've spent some time working for a gym. At the gym, you can build a roster of loyal clients and grow your network. Start marketing yourself and start building an audience online. Once you go independent, it will be much easier to get new clients because of the groundwork you've already laid.
You can be highly successful as an independent personal trainer, but you will need to hustle. Many trainers find that the hard work is worth it for the ability to make your own schedule, be your own boss, and scale without limit.
Chapter 3
Online personal training brand
If you're ready to up the ante and step outside the box of the traditional personal training model, you might consider creating your own online personal training brand.
Online personal training can help you scale much quicker than traditional personal training. It allows you to serve clients from all over the world that aren't the right fit for the traditional personal training model.
You can deliver your training components to clients fully online and offer a variety of packages like a signature program or group coaching. To do this, you'll need to focus on building your brand and marketing yourself.
Your first step will be to pick a razor sharp niche that you can become known for like: "strength training for a JLo body" or "Vegan personal trainer". Use a strong content strategy to build a community of ideal clients online. A strong brand and great following is key for being able to successfully sell your services and grow your business.
This certainly isn't a "quick fix" career path. It will take you time to build your brand and gain popularity. However, once you have put in the work, it's a highly scalable way to run a business. You can make great money for less work – eventually!
One key part of having a great online training program is using the right app to help you deliver your packages. TrainerFu allows you to create a custom branded app that elevates your brand and is easy for clients to use. If this is your path, you'll have plenty on your plate. TrainerFu can help lighten the load.
Chapter 4
Fitness manager
As your personal training career progresses and you get more and more experience helping clients, you might start looking for alternative routes in the fitness industry. One great option is becoming a fitness manager at a local gym or fitness studio.
If you're ready to spend your time on the backend of things – instead of working with clients one on one, this can be a great way to stay in the industry and make more money. Being a manager at a gym or fitness club can provide steady hours, great benefits, and of course, more responsibilities than you might have currently.
Fitness managers oversee many types of gym operations. You might be in charge of things like:
Hiring
Training personal trainers
Managing staff
Gym upkeep
Ordering equipment
Marketing and promotions
If you're wondering how to make this transition, you'll first need a few years in the industry under your belt. During that time, talk to your own fitness manager or someone else in a similar role about your career goals.
Take on more responsibilities every chance you get and try to learn the ins and outs of your industry from the gym equipment to the office supplies! Reducing your manager's workload when you can will not only teach you how to be a fitness manager, it will also help you make a good impression so that you can easily move up in your career.
For many in the fitness industry, owning their own gym is the ultimate goal. Being a gym owner means you get to work for yourself. At best, you can be highly successful with this career.
But it's important to keep in mind the amount of risk and work that goes into owning your own gym. Owning a business of any kind is no easy feat, no matter how much you love the industry. Owning a gym entails many more responsibilities than you probably realize, and can be incredibly stressful to get off the ground.
To transition into ownership, you will need to make sure you have the financing in place. Your gym might be self-financed if you're a top notch saver, but more than likely you will talk to a bank or investor about a small business loan to help you get started.
You'll want to think about a business plan with questions like: Are you going to buy an existing brand? Do you want to build a brand from the ground up? What's your model? How much will you charge? How much will you need to make?
Having years in the fitness industry as a trainer and fitness manager is a good idea before taking on all the responsibilities of owning a gym. You will have to learn as you go and will probably fall down a time or two. But with patience, persistence, and hard work, you can own your business and enjoy this rewarding path.
You have done it all. Now, you are ready to help others do the same thing.
Many personal trainers just like you have stood at a career crossroads and wondered how to either A) be more successful in their current job or B) pursue a new path in the industry. Many of them need guidance.
Once you've gained experience in a variety of areas, you can use that experience to help guide others in building their fitness careers as a consultant. In building your own independent business (whatever that looks like for you), you've probably learned some hard lessons along the way. Use what you've learned to help others.
To transition into this field, you'll of course need a successful track record in the fitness industry. This is not a career for someone just starting out! It can also be helpful to be good at networking and building relationships. Colleagues you meet at the gym or even former personal training clients may need your consulting services one day.
To market yourself online, share your story and how you overcome your challenges to be successful. Be relatable, and the right people will find you.
Which path is right for you?
Hopefully going over these six different career paths within the personal training industry have you feeling inspired. There are many options within the fitness world, and over the course of your career, you may try out many different paths.
Career progression is unique to everyone. But no matter your path, to be successful, you'll need to work hard, build relationships, and gain as much experience in the industry as you can. With time, your special skills and experience will help you transition into new levels of success.
If you're just starting out, be sure to read our Ultimate Guide to Building Your Personal Training Business for more helpful tips.