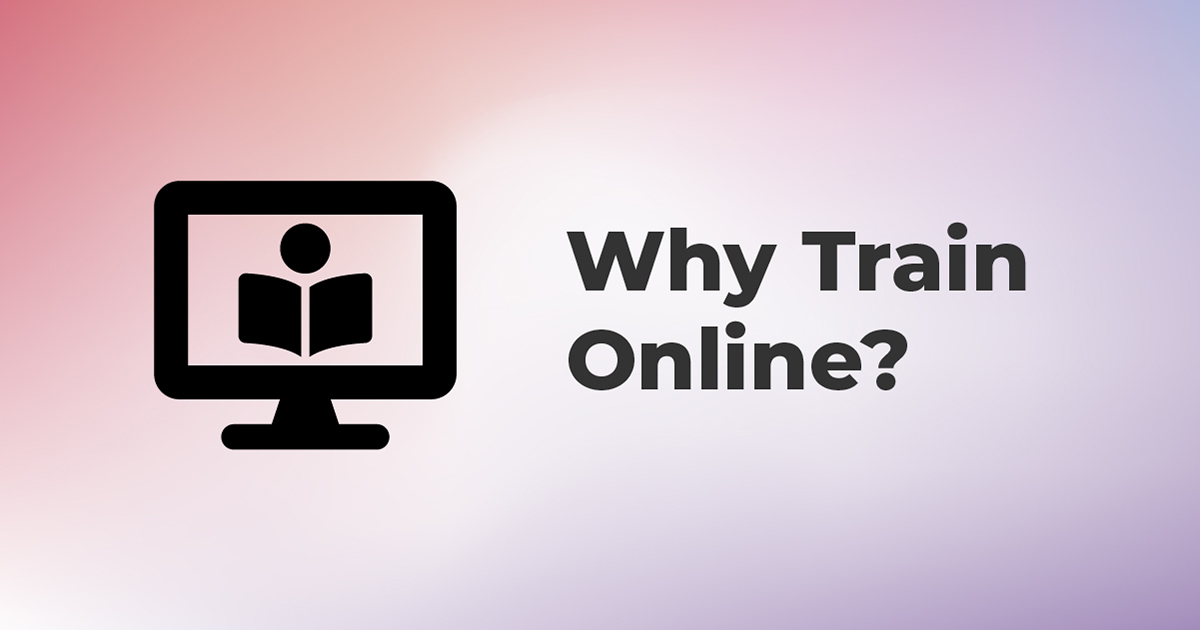 Working with a personal trainer is a great way to reach your fitness goals. But committing to a training program can be challenging, and you'll want to make sure that you find the right personal trainer and personal training package for you.
There are plenty of ways to work with a personal trainer, and online personal training can be a great option for a lot of different people. If you've never considered training online, you might be wondering:
What are some of the benefits of online personal training?
Is online personal training right for you?
How does online personal training compare to in-person training?
Keep reading, because we are going to answer all the questions and more, so that you can determine if online personal training is a good fit.
Inside this guide:
Chapter 1
What is online personal training?
Let's start by talking about what online personal training isn't. Online personal training doesn't mean personal training that is done live over Skype or Zoom. Instead, online personal training is where a personal trainer uses a personal training software to deliver most of the training remotely, so that you can train on your own time.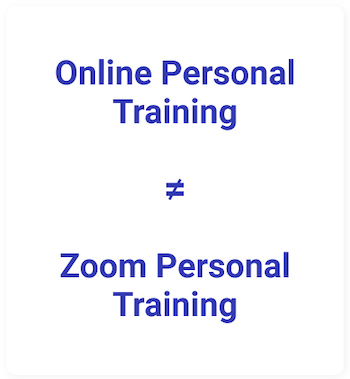 With online personal training, you can still meet with your trainer one-on-one (virtually or in-person); you just don't meet as often. The face to face sessions are used to handle road blocks, review progress, go over form, and answer any questions you might have.
Though online personal training can be fully remote, you can still choose to work with a local trainer. Instead of meeting him or her three times a week like in a traditional training model, you may just meet once a week or so.
In online personal training, the majority of the training program is delivered virtually via videos, workout plans, nutrition guides, and more. Many online training programs also have community elements and integrations that let you keep your trainer informed of your progress throughout so that you can stay on track.
As you can imagine, this type of training has many great benefits! Let's dive into some more of the pros and cons of online personal training.
Chapter 2
Is online personal training more affordable?
The national average for one personal training session is $60 per hour. To see results, you would want to meet with your trainer two to three times a week, which can add up pretty quickly!
On the other hand, with online personal training, your personal trainer will spend less one-on-one time with you. This makes the cost of online personal training much less than the traditional hourly training model.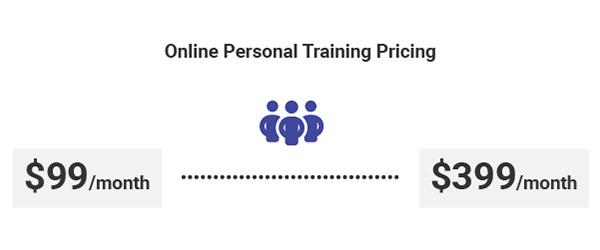 Even though you're not meeting as often, your trainer will still find other ways to keep you on track. Your trainer will be able to use chat messages and your workout log to monitor your progress and keep you accountable. This means that they can provide you personalized training that brings you results at an affordable price.
Chapter 3
Is online personal training flexible?
The traditional personal training model requires a pretty serious schedule commitment. Online personal training is much more flexible since you can do almost all of the training on your own time.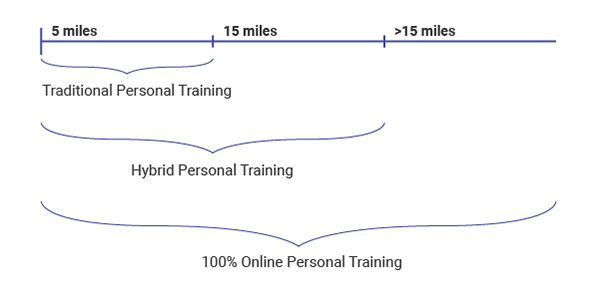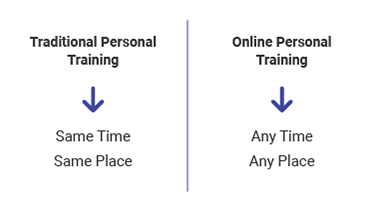 This is great if you have an unconventional schedule, travel a lot, have kids to take care of, or simply want to work out when and where you want to. It's also great for trainers because it helps them retain more clients with a variety of needs.
It can be hard to make it to the gym multiple times a week! Online personal training can be the solution that fits more easily into your unique lifestyle.
Chapter 4
What makes online training the best value?
In addition to the affordability and flexibility of online training, it also can include many extra components that give you more bang for your buck.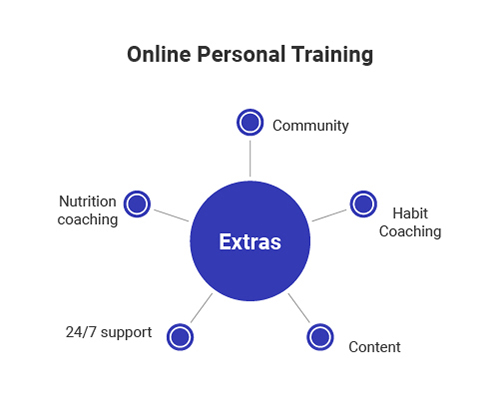 A personal training software like TrainerFu allows your trainer to include things like:
Nutrition coaching
Community support
Habit development
Supplemental content
24/7 chat support
This makes online personal training more robust than traditional training models and can help bring you better results. Just because there's less face time with a trainer, doesn't mean you won't get the kind of support you need to reach your goals. Online personal training helps trainers approach fitness from every angle, making it a great value for your money.
Chapter 5
Online personal training options
There isn't one size fits all for online personal training. Most of the time what works for you won't work for others and vice versa. So to get most of a training program, you need to choose the right option for you. Let's go over some ways trainers might package online personal training.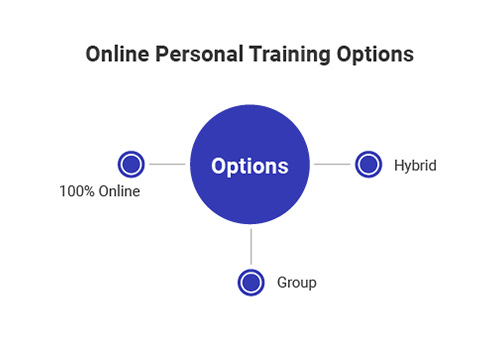 1. Option 1: 100% online personal training
As the name implies, this option entails a fully online training program. Workouts, meetings, and all supplemental materials would all be delivered online.
100% online personal training will typically include:
A personalized workout plan
Regular check-in calls
Nutrition coaching
Habit coaching
Additional resources that your trainer can add-on for extra cost
Online personal training takes the least amount of one-on-one time with your trainer, so it's typically cheaper than other types of personal training. Most of your training materials will be prepared ahead of time, though your trainer will still need to be available for check-ins and to support you. Many personal trainers price this type of training in a monthly subscription model or package a certain number of weeks for you to buy into.
The big benefits of this model are the flexibility and affordability, and is a great option if traditional personal training isn't a good fit. However, if you think you'll need a little more hand holding and some face to face support, then hybrid personal training might work better for you. Let's talk about that now.
2. Option 2: hybrid personal training
The reason that many clients choose personal training is because they need someone to keep them motivated and to support them on their fitness journey. Traditional personal training offers the most hands-on support, but hybrid personal training offers the best of both worlds.

With hybrid personal training, most of your training is delivered online, but you still get the option to meet with your trainer (either virtually or in-person) on a consistent basis – usually once a week or so.
You will still get all the same components of online personal training, with the added benefit of face to face time with your trainer. During that time, you can ask questions, get workout demos, review your progress, and take assessments.
This is a great option for clients that are still looking for flexibility and affordability, but need a little more support than they would get from fully online personal training.
3. Option 3: Online group training
Looking to get affordable training with a supportive community around you? Online group training can be another great way to work with a personal trainer.
In group training, you will join a community of people that have similar fitness goals and starting points. Your trainer will design a group training program and also offer personalized support and additional resources like nutrition and habit coaching.
A big benefit of online group training is the community aspect. Your trainer will facilitate a way for you to communicate with fellow trainees so that you can share wins, ask questions, and work together to reach your goals. A supportive community can go a long way in helping you enjoy your fitness program.
Online group training is the most affordable option for training online, and many trainers will charge a flat rate for the length of the service.
Chapter 6
How to find an online personal trainer
When you're looking for a good online personal training, start local. If there's a great trainer near you, ask if they have (or are willing to offer) an online personal training option. Many trainers will happily take the opportunity for a new client in this model. If you have specialized needs or have a preferred trainer that is not local then go for a remote personal trainer.
One thing to keep in mind when looking for a trainer, is to find out what platform they will use to deliver their training. The right personal training app that allows you to connect with your trainer and log your workouts can make a big impact in the results you are able to achieve.
There are many apps in the app store that pair you with a trainer and give you a cookie-cutter program, but often, they offer only chat support. Look for a personal trainer that uses a more robust app like TrainerFu so that you can have all the components of your training in one place.
And of course, you'll want to find a trainer that is qualified and that has experience helping people reach their goals. Once you find a trainer that offers the right types of online personal training, you'll easily be able to fit personal training into your busy lifestyle, helping you form and keep healthier habits for years to come.