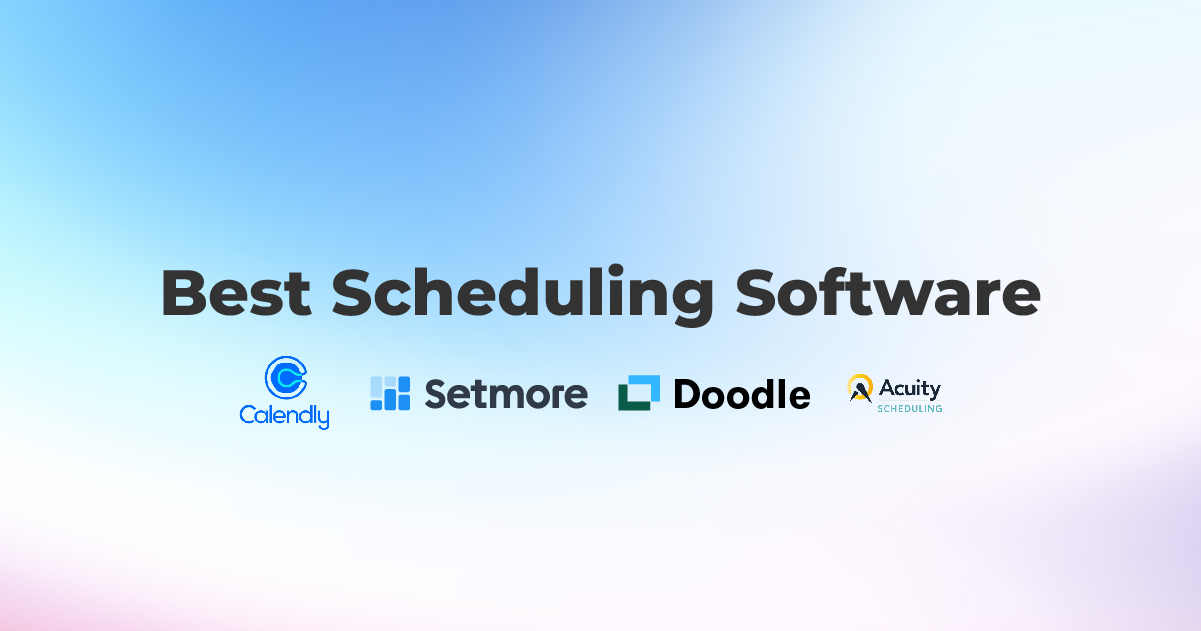 Busy personal trainers know that the old school method of writing clients in your calendar with pencil and paper doesn't cut it. Even worse, you don't want clients texting you at all times of the day trying to get on your schedule.
You need to be able to book clients easily and automatically, and they should be able to schedule their own appointments seamlessly based on your availability.
The right scheduling tool is how you make this happen, but a quick google search will reveal countless options. Don't waste time you could be working with clients trying to sift through all the noise. Instead, let us show you the top four scheduling software for personal trainers, so that you can make a quick but informed decision for yourself.
Table of Contents:
Calendly focuses on making scheduling easier for you and your clients. With Calendly, you can set your availability and meeting types. You can decide how long your meeting windows are, how far in advance someone needs to book, and how much of a buffer you need between appointments.
Calendly produces a link to a calendar that you can integrate into your website or send directly to clients. They select a time that works for them and the meeting info is sent automatically to them. This works for both in-person and virtual meetings.
Calendly can help you appear more professional and can save you time since you won't have to go back and forth with clients to decide when to get together. This can be really useful for scheduling initial consultations with leads and booking sessions with regular clients. Calendly is most useful for one-on-one sessions with clients.
Calendly's has a range of plans starting at a free option, going up to $16 per month (which is built for businesses with multiple team members). Most personal trainers can get by with the $12 per month plan which will allow you to access integration and customization features.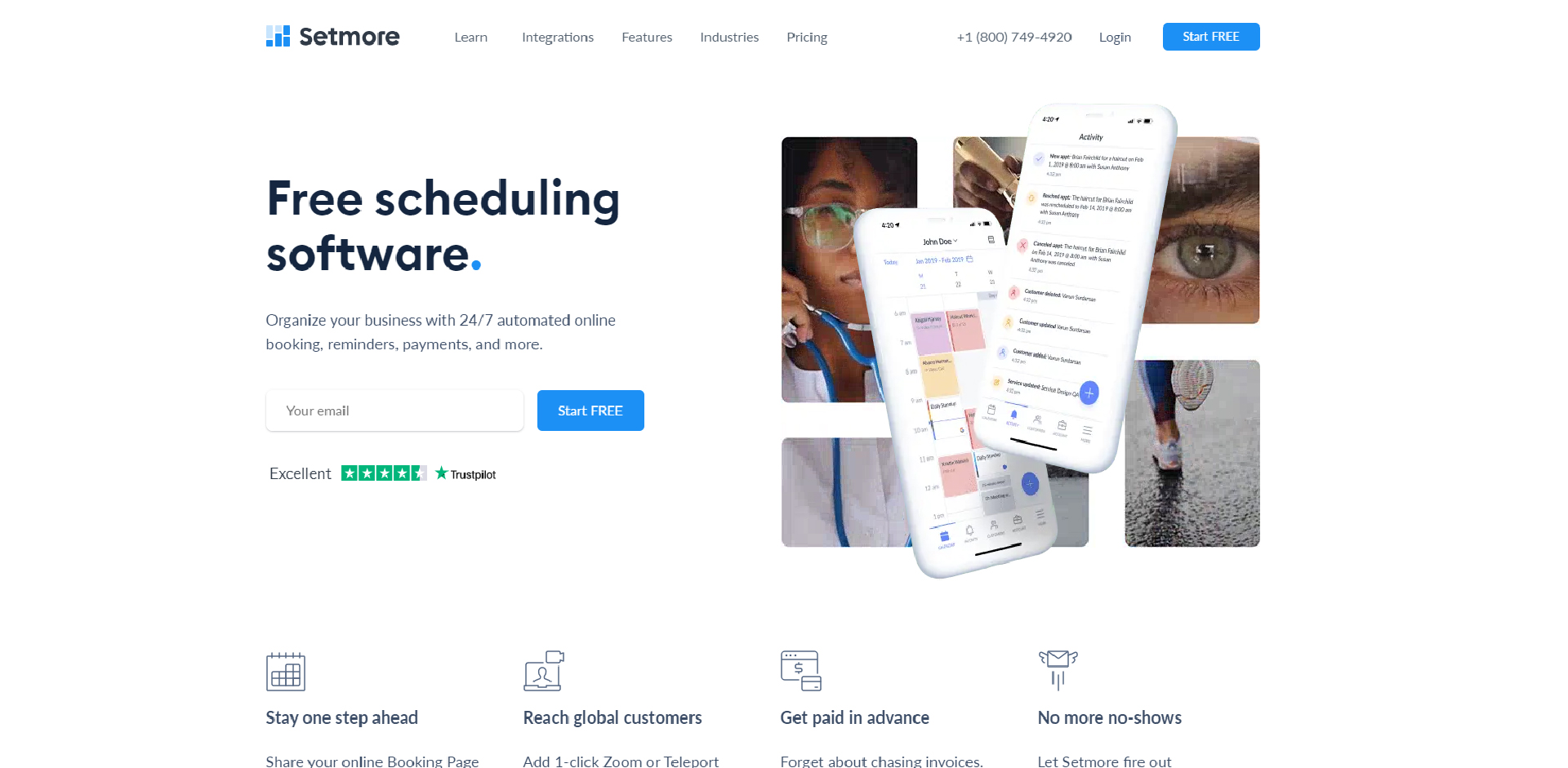 Like Calendly, SetMore makes scheduling appointments easy for your clients.
This site has a well designed interface and is fairly easy to use. SetMore lets you create different service options and even group classes. You can share your unique URL with your audience so that they can book within your availability.
SetMore allows for customization on your booking page. You can add cancellation policy and your business hours. You can even request reviews right in the platform (which make great content for your social media channels by the way!)
Their free plan is really robust, and allows you to take unlimited appointments, take online payments, and have up to four employees on your plan.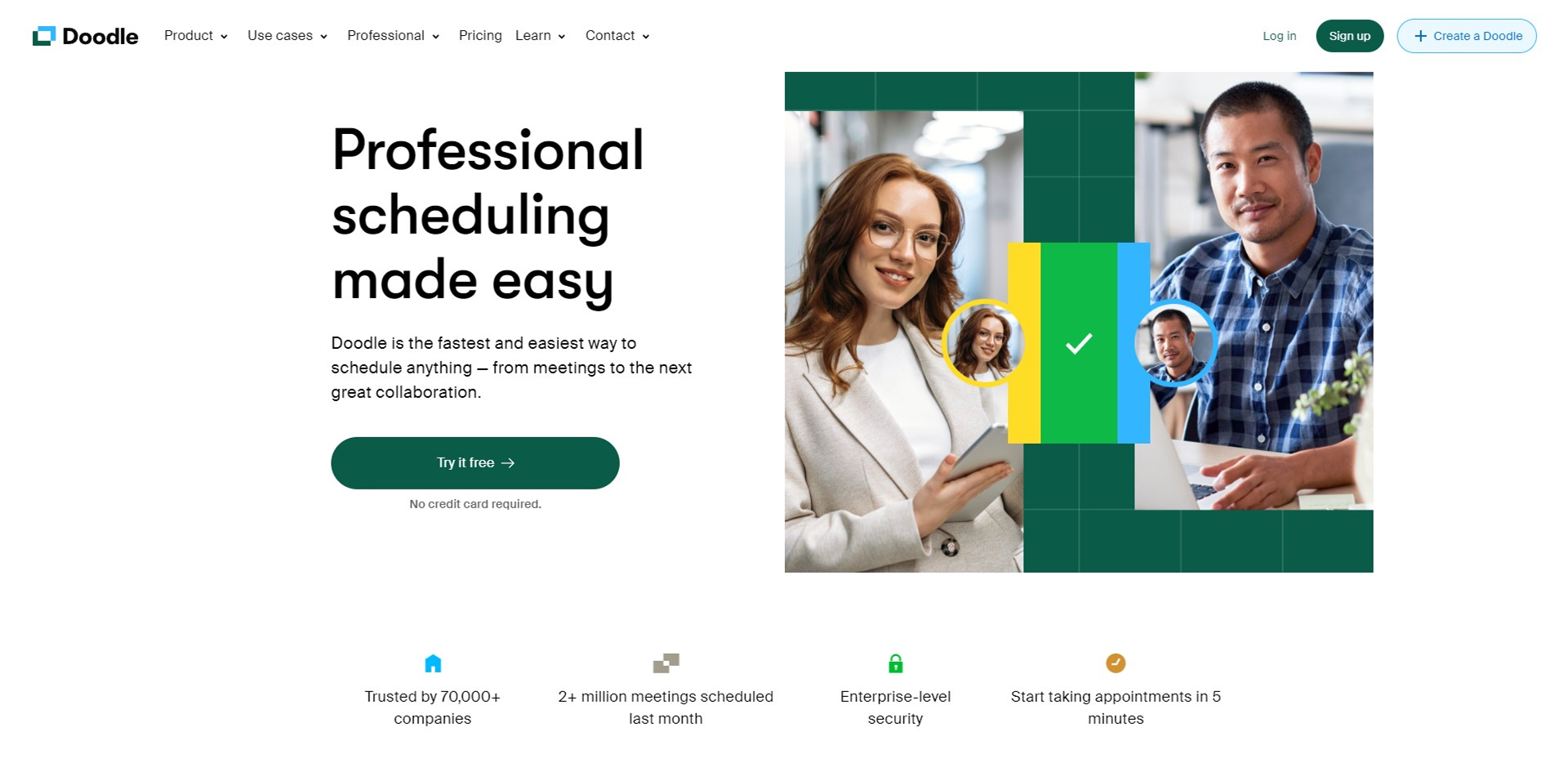 Doodle strength is the ability to book multiple people at once. You can set up a survey that gives people dates and times within your availability. Clients can comment in the survey and let you know which dates and times work for them. Then, you can pick a time that works for everyone. As you can imagine, this can save you a lot of back and forth trying to schedule meetings with multiple people.
This is great for group fitness programs or online fitness challenges where you might want to get several clients together at once. Unfortunately, for one-on-one meetings, Doodle falls short. In fact, you may still need to use another scheduling tool to schedule those types of meetings with clients. Doodle is truly built for scheduling meetings with multiple people.
Doodle does have a free version. If you're ok with their branding being prominent, then this choice gets you all the features you will need.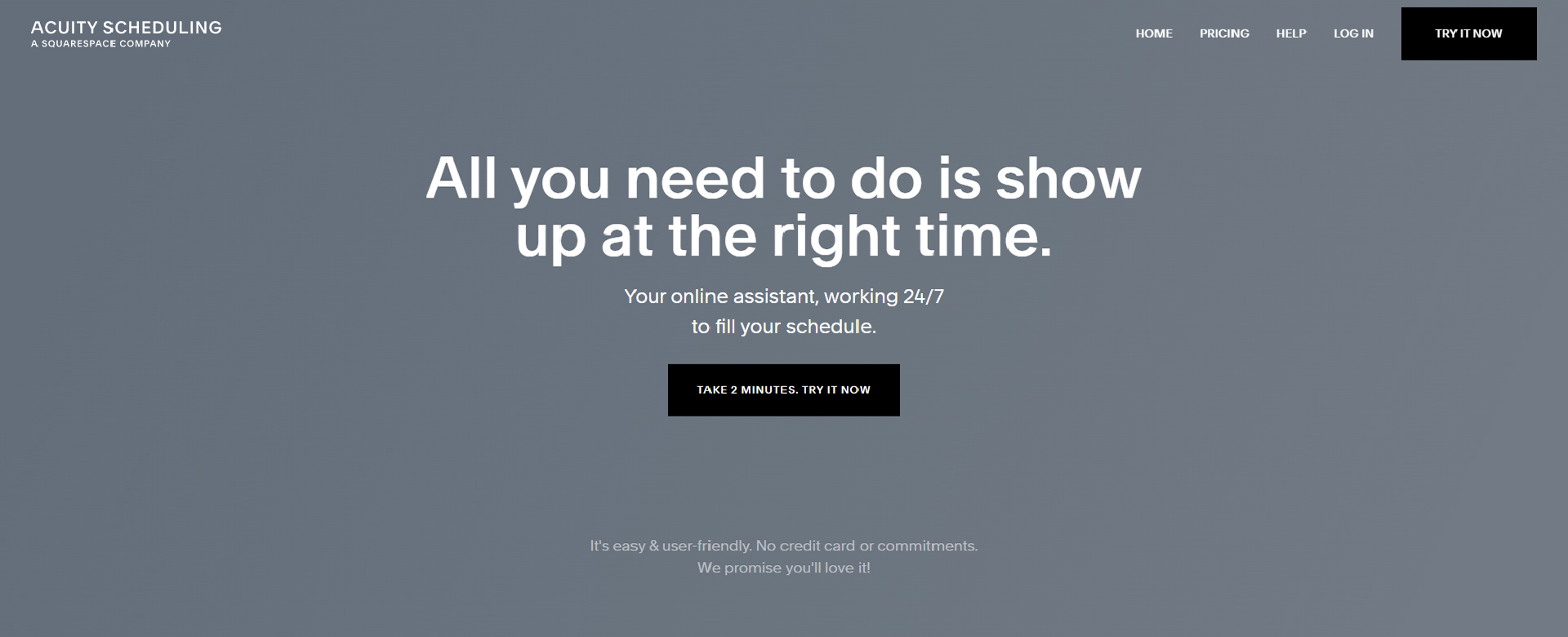 If you're looking for scheduling and then some, Acuity might be a good fit. Acuity offers an automated scheduling tool, but also touches on other areas of business admin and organization like client management, intake forms, and invoicing.
If you don't already have accounting software or CRM, it might be worth considering Acuity for its expanded features. Like others, Acuity is fairly easy to use and can help you manage your time more easily. Acuity offers more automations and can help you take on more clients more easily.
Acuity is now owned by Squarespace, so if you're already using Squarespace for your website builder, you'll be able to take advantage of great integrations including collecting payments and selling subscriptions or memberships.
Acuity plans start at $14 per month, but go all the way up to $45 for access to all of the premium features.
Chapter 5
So which scheduling software is right for you?
The right scheduling software for you all depends on your unique needs and the problems you are looking to solve for your business.
Calendly has the best user interface. You will be able to start quickly. It does not have all the bells and whistles of Acuity but if you don't care about additional features then this is a great choice.
With SetMore, you can do a lot for free, which can't be said for Calendly. So if you don't want to spend on this software then SetMore could be a better choice.
Doodle is for group booking, so this use case is very different from others. This is great if you run a group or semi-private personal training and want to schedule multiple people at the same time.
Acuity is for you if you want more than just scheduling. It comes with client management and accounting features. This is helpful if you're just starting out and need more well-rounded software that will help you with other aspects of the business.
If you are just getting started, scheduling software is just one of the many business decisions you'll have to make. Check out our Ultimate Guide to Building a Personal Training business to learn more about what it takes.
Chapter 6
How to make more money as a personal trainer in 2022
Scheduling software will make you more efficient and therefore more profitable. However, to truly make the most money as a personal trainer, you have to attract and serve more clients.
Online personal training is how you do this. Online personal training involves delivering some or all of your training package to clients remotely. This can be through workout videos, online resources, chat support, and more. Online personal training is a more flexible option for people that don't live near you or travel a lot. It's a more affordable option for people that can't swing multiple in-person sessions each week. Because of the flexibility and affordability, you can serve a large, unmet market of clients and build a bigger business faster.
TrainerFu can help you get started. Check out our Ultimate Guide to Online Personal Training Website to learn everything you need to know about building a more profitable and sustainable business.