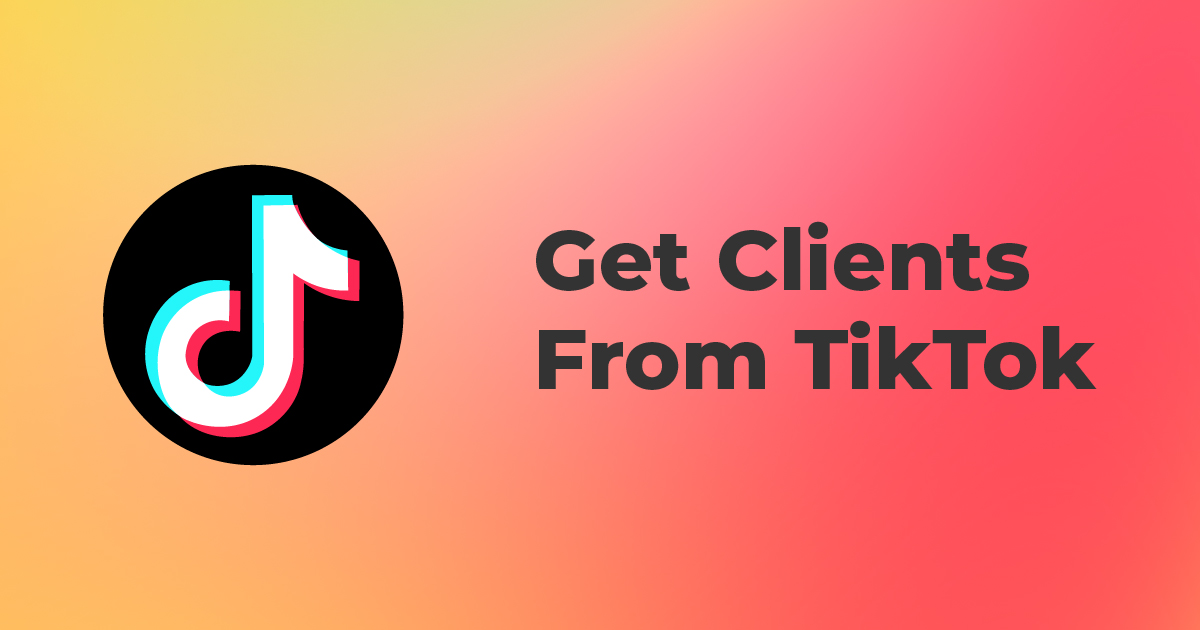 To succeed as a personal trainer, it's important to try many different avenues of online marketing. Social media, of course, is a big one, and TikTok is just one the latest of incredibly popular social media trends that you can use to grow your business.
But how popular is TikTok?
Can it really bring you more clients?
And what the heck will you post?
Don't worry, whether you're familiar with the app or a TikTok newb, we are going to share everything you need to know about using TikTok to market your personal training business.
Table of Contents:
Chapter 1
Why use TikTok as a personal trainer?
TikTok hit the scene and quickly exploded in popularity. The app's 1 billion active users love the user-generated content and creative freedom inside the platform.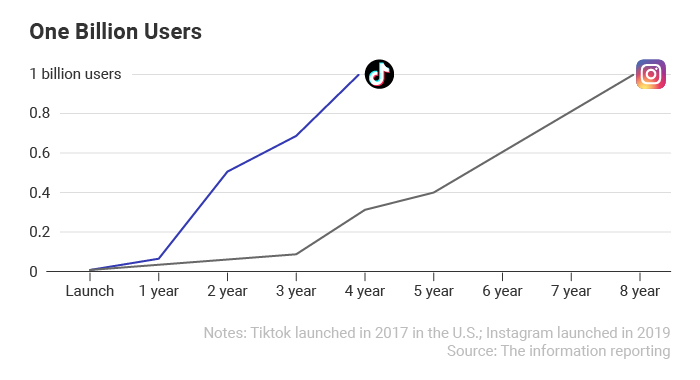 And if you've ever used it yourself, you know how easily minutes can slip away as you scroll through the engaging and ever-changing feed. TikTok is entertaining for sure, and it is also increasingly being used as a powerful marketing tool for businesses of every shape and size.
As a personal trainer, you can take advantage of TikTok to increase brand awareness, build an engaged community of ideal clients, and promote your services. But as with all social media platforms, there can be a bit of a learning curve. Let's get into what you need to know to make the most of this popular app.
Chapter 2
How to nail your TikTok bio
Your bio can make a big difference when it comes to making someone hit the follow button on your profile. TikTok only allows for 80 characters in your bio, and you need to use them wisely.
You need to tell others who you serve and how in the shortest, clearest way possible. Here are some examples:
I help new moms get fit.
I train newbies to run their 1st marathon.
Former contortionist => I'll help you get flexible.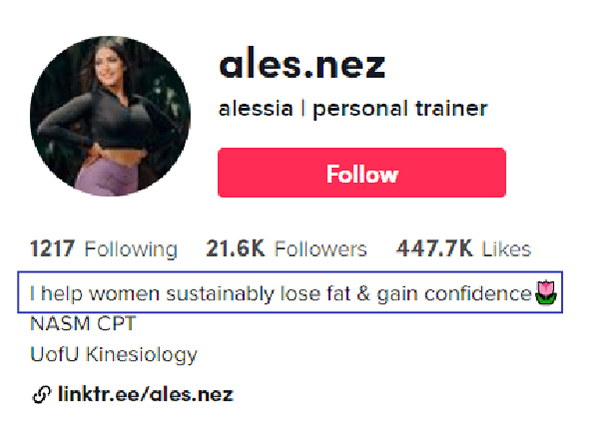 Next to establishing your niche, but sure to allot some of your character count limit to mentioning any credentials you have. Credentials and experience are that extra step to helping them feel confident that you can back up what you say. Here are examples:
3x marathon winner
Owner of [X] Studio
Former full-time dancer
MS in physiotherapy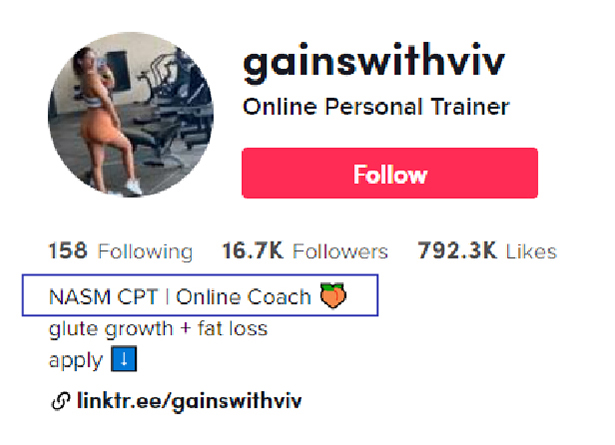 Lastly, you have to include a call to action (CTA).
Now that you've gone through the effort of getting visitors excited about who you are and how you can help them, it's time to tell them how to take action. A great example of a CTA is to tell clients how to contact you.
Your CTA might be "Schedule now" or "Visit my website". Under your bio, you will include a link to where you want your clients to go. This link may go directly to your booking page or to your contact page on your website.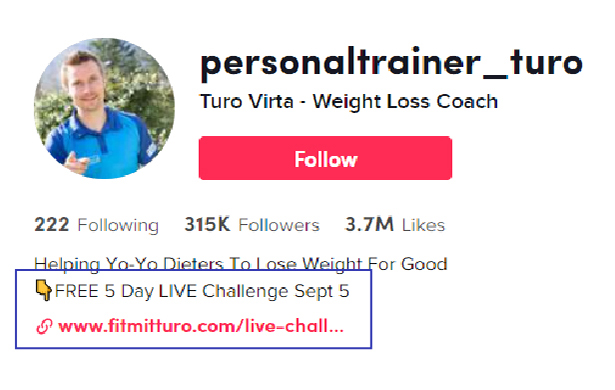 TikTok only allows one link to be included in the bio section, but if you want to have more than easy access links on your profile, you can create a "link in bio" page. This is a unique webpage where you can put multiple link buttons in one place. Linkr and Linktree are popular tools for this. Additionally, if you're web savvy, you can create your own link page through your website builder.
When it comes to perfecting your bio, don't be afraid to experiment. It may take a little time to figure out the right iteration that lets you squeeze in as much info as you can in your 80 character limit. Take advantage of tweaking and editing it from time to time to keep things fresh and get the most optimal results.
Chapter 3
TikTok types to get you started
On TikTok, you can choose to record a 15 second, 60 second, or 3 minute clip. TikTok will also allow you to upload a video that's as long as 10 minutes. Keep in mind that the videos that perform the best are on the shorter side – studies suggest between 21 and 34 seconds is the best length to keep users engaged. Plus, shorter videos are more likely to be watched more than once.
If you aren't already familiar with Instagram Reels or haven't spent any time recording videos for YouTube, taking to TikTok to record, edit, and publish videos can seem like a daunting task. Don't worry, there are some proven video formats that can help you get started.
1. Talking head
This type of video clip involves talking into the camera, speaking directly to your audience and can be a great format for personal trainers to share tips about exercise, nutrition, and more.
A little camera shy? Practice putting yourself out there on screen and follow these steps to create your first talking head TikTok:
Write a short script (100 -150 words) of what you want to say.
Download one of the many teleprompter apps from the app store. These apps will scroll your script in front of you while you record your video. This makes it where you don't have to think about what to say, you simply have to read the script.
Load your script in the teleprompter app.
Wear something nice and record your video.
Upload your video to TikTok. That's it.
Remember, that getting comfortable in front of the camera can take a little practice. Be sure to throw some talking head videos into your content calendar, and it will get easier over time. This is a great way to connect to your audience and convey information in a personal way.
2. Voiceover
Voiceover TikToks involve recording a video separately then adding audio over it. You can use this type of video to demonstrate an exercise or make a recipe.
To make this even easier, consider writing a short script and simply reading it as you record. To do this, upload or create your video content in the app first, record your audio separately, then add your voiceover to your video.
3. Time Lapse
Time lapse videos can be a really cool way to catch someone's attention and keep them entertained. We all love this mesmerizing type of posts, where a sequence of events flashes before our eyes in quick succession. Time lapse involves speeding up a video, so that someone can watch something in seconds that actually occurred over a long period of time.
Some common time lapse ideas for personal trainers? You might film an entire workout, a stretching sequence, client sessions, or a cooking demo.
Your phone has a "time lapse" setting on your camera that you can use, then upload to TikTok. There are also a few apps available that allow you to speed up (or slow down) video content.
4. Text Based
In this type of video, instead of speaking directly to the camera, you add text to your video. You may have seen videos like this before, where the creator points to different areas of the screen as text pops up.
Text based Tiktoks are great because you can convey a lot of information to your followers with a little less pressure than the traditional talking head kind of video. Wear something nice, find an eye catching backdrop, and film. Add text and design elements like stickers on the screen to do the talking for you.
Make your TikToks more engaging
Having audio on your video is always a good idea, and using trending audio can be a great way to get more views on your posts. You can spend some time scrolling to see what sound clips are popular. TikTok will also show you which sounds are trending.
Try to keep your viewers engaged throughout the entire video. It can be helpful to have a hook or promise at the beginning of your clip that encourages users to watch till the end. Tutorials and recipe videos do this well, and are the perfect addition to your TikTok content. Let's get specific about some more content ideas you can use.
Chapter 4
Easy TikTok content ideas
Once you familiarize yourself with the platform and know what types of videos you can post, now the real work begins! You have to come up with engaging content ideas that help you build your following, connect with those followers, and promote your business. The following is a great content framework for personal trainers.
Educate your followers with how-tos and informative content
Educational content is a cornerstone of a successful business TikTok account.
To figure out your specific education content ideas, we recommend breaking down your content into four main content pillars that you will talk about online. A general example for most fitness accounts is:
Workout
Nutrition
Mindset
Habits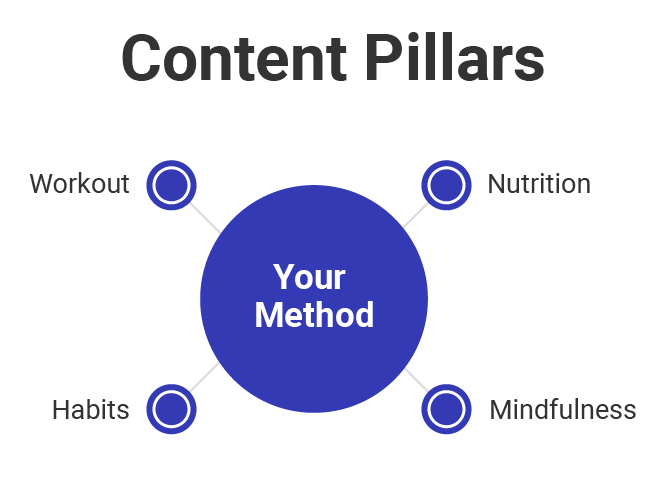 Once you pick your main pillars, you will break them down even further with subtopics. For example, under the "nutrition" umbrella, your subtopics might include healthy recipes, cooking demos, your favorite brand of protein bars, meal planning tips, etc.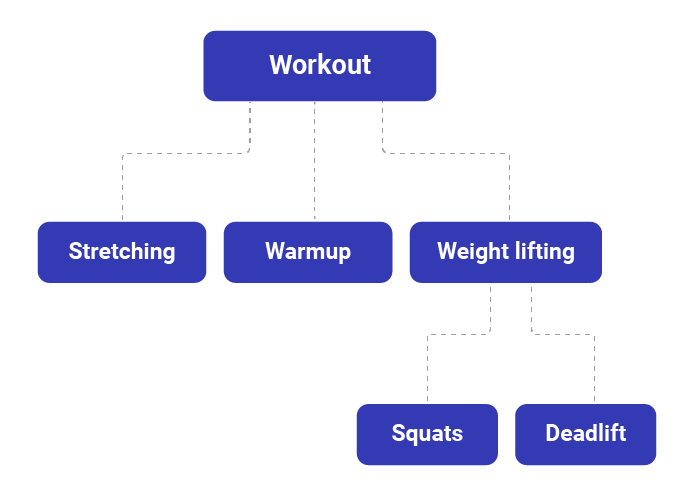 As you can imagine, breaking your content down in this way we'll give you a large bank of ideas to choose from. Use TikTok to hook followers and explain something they really want to know and provide information that improves their lives.
You might use a voiceover video for things like recipes and exercise demos. Text based TikToks can also be a great way to display helpful information visually. And consider talking right to the camera when you have a little more time and want to connect more personally with your audience.
Bust some fitness myths
People go online to get information. They are also consuming that information with preconceived notions and biases that might dissuade them from buying your product or working with you.
In your TikTok content, you will want to bust common workout myths and tackle the limiting beliefs of your audience often, and video is the perfect format to do that.
The talking head format is probably the best way to speak directly to your audience and authoritatively shed some light on their misconceptions. This will help you build trust and convert more followers into paying clients. Text based and voiceover would also work for this category.
Give an inside scoop about your service or program
Another great fitness content idea is to share the inside scoop of your services or programs. Personal trainers and fitness instructors can benefit from explaining their business and their services to their audience regularly.
Without giving all the information away, you may briefly share how you designed your program or give viewers an inside look into what a training session with you actually entails.
Formats to consider for this type of Tiktok? Talking head, voiceover, and text based would all work, but don't be afraid to get creative.
Sell your offer
Don't forget to actually sell your offer on Tiktok as well. Hop on a trend and make it work for your business or use the talking head format to get on and announce your newest program.
You can also use TikTok to build scarcity by showing viewers the number of people that have already joined and how many spots you have left. Try multiple types of videos to share your offer and keep this kind of content in the rotation.
Go behind the scenes
To build your connection with your audience, you can use TikTok to give them a peek behind the curtain and what your day to day as a personal trainer or business owner looks like. This doesn't always have to be fitness related content either! You can share other parts of your identity that you think your ideal clients will relate to.
Taking the dog on a nice hike? Share several clips with a trending voiceover or song in the background. Here are some more "behind the scenes" ideas:
Time lapse of your morning routine
Text based video with a tour of your gym
Trending audio TikTok with an introduction to members of your team
Talking head sharing aspects of your personality that aren't related to fitness
Highlight your competitive advantage
To make sure you are standing out online, it's important to actually share what makes you unique! Fitness businesses and personal trainers can use TikTok to literally show their audience what makes them the best choice in a sea of competition.
If you have a new way of doing things, a specialized training, or unique perspective on fitness, use video content to highlight this competitive advantage.
Chapter 5
How to grow your TiKTok following
When building your following on an app like TikTok, it's hard not to compare yourself to other accounts with thousands (sometimes millions) of followers. One important thing to keep in mind that it's less about follower count, and more about the online community you are building.
Follower quality is more important than quantity. Think about it: 50 of your ideal clients following you and interacting with your posts is way more effective than 1,000 followers that have no interest in fitness or personal training.
So how do you build that community of ideal clients?
Speak to your ideal client
Always keep your ideal client in mind and speak directly to them in all your content. Let's say your ideal client is a busy mom looking to incorporate healthier routines into her tightly packed schedule.
Now imagine if she lands on your page and scrolls through your post after post and doesn't relate to any of your content. She's got no reason to follow you or join your online community.
When she gets to your page, she wants to see content that sees and acknowledges her lifestyle. She wants to be told that it's possible to workout for just thirty minutes a day and that you can workout with no equipment at home. She wants healthy recipes that are quick and easy to make and to see clients that are just like her on your page.
It may be tempting to post generic content, but in reality, you need to get pretty specific and speak directly to the person you want to work with. Use language that they relate to and share content that is tailored to solving their problems. Providing them this unique value will make them thrilled to follow your account and make it easier for you to convert your followers to clients.

Use hashtags
To increase discoverability and attract more ideal clients to your page, include hashtags on every post. The right hashtags can help you appear in search results and bring more eyes to your page.
Combine both popular/trending hashtags with niche based hashtags for the best results.
You can use the TikTok discover tab to see what hashtags are currently trending. Remember that hashtags count toward overall character count in your caption, so 3-5 hashtags is probably the best to leave you room for a good caption.
Watch out for Branded Hashtag Challenges which include songs, dance moves, etc for users to recreate with their own spin. Joining in on these challenges or even creating your own can help your posts get more visibility.
Post and interact with other accounts frequently
Using the app regularly is good for many reasons. One, it can be really helpful to spend time on the app watching videos from other creators and taking note of what's popular. And, the more you use the app, the more comfortable you'll get.
Additionally, to keep your followers engaged, you will want to post your own content regularly. Creating a content calendar that helps you plan posts ahead of time is the easiest way to do this.
To truly build a community, make sure that you are interacting with your followers and other accounts in your industry. Like and comment on other people's videos to build online relationships.
Promote outside of the app
Bringing more followers to your TikTok account can and should be done through your other platforms as well. Step outside of the app, and cross promote yourself. All of your content online should work together to build your business and visibility online.
If you are creating YouTube videos, consider adding links to your socials there. Your website should also have easily clickable icons that bring people to your TikTok account as should your emails if you're sending out to an email list frequently.
In person, consider adding your social media info to your business cards or flyers. You may even ask clients to make sure they are following you online for helpful content and to keep up with your business.
Chapter 6
How to convert more followers into paying clients
Social media can play a big role in helping you grow your business, but if you're really looking to convert more online friends into paying customers, it might be time to reevaluate your personal training packages.
Traditional personal training is very limited. It requires a big time commitment from clients and the cost can really add up. For most people, it simply isn't doable. This means that you may end up with a ton of followers, but a lot of them won't be able to buy from you because traditional personal training is just not the right fit for them.
However, online personal training is a more flexible and affordable option that can help you reach more clients. Consider the following online training packages to increase your conversion:
Online group training - serve many clients at once and offer them group support remotely.
1-on-1 online personal training - a fully online option where all of a clients program is delivered remotely including check-in calls, workout logs, habit coaching, nutrition support, and more.
Template program - build a templated program that clients can buy and complete on their own time. This hands off option can make you money for years to come.
Hybrid training - offer in-person support less often and deliver the rest of the materials online. This option is great for clients that want flexibility and affordability but a little more hand holding.
All of the online training packages can be delivered with ease through our personal training app TrainerFu. The app can help you deliver workouts, monitor your client's progress, provide community support, build template programs, and more.
Expanding your offerings can help you get more personal training clients from TikTok. And having the right tools to deliver those services helps you retain those clients for the long haul.
Keep in mind, you don't have to be a social media pro to make the most of apps like TikTok! Now go login and have some fun.