Last time I talked to you about claiming your local listings so that you could get even more visible to people in your own city who are actually capable of doing business with you. Today, I want to expand on those techniques even more so that you can get even more of the benefits that local online marketing has to offer.
Get your NAP information out–you're going to need it!
Today you're going to start building "citations" for yourself. In terms of marketing your personal training business, a citation is not a speeding ticket.
Instead, a citation is any instance where your NAP appears online.
Inside this guide:
Chapter 1
Why is this important?
Each citation that Google and other services find online increases your trust in the eyes of those services. It reassures them that you are an actual business that is still up and active. Thus, they feel more confident about showcasing you at the top of the local search results.
You've probably seen that Google often separates local search results from other search results.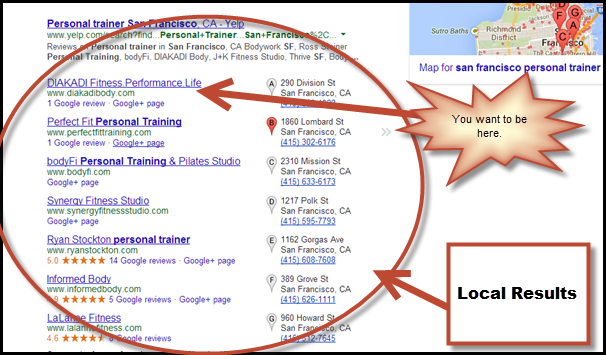 And you've probably seen that only 7 listings show up when you make these searches. Well, you want to be somewhere in those 7 listings, and you want to be as close to the top of them as possible. In fact, you want first place if you can get it. Citations are one of the quickest and most effective ways to make that happen. And every local listing service relies on citations to decide who gets top-of-page placement.
If you read my last blog post and followed my advice you've already built some citations by claiming your listing and by normalizing your NAP across each listing that you claimed. Now you're going to go build even more citations.
Chapter 2
How to build lots of citations quickly?
You're going to want to invest $20.00/month in a tool called Whitespark. You won't have to do this for the rest of your life or anything. In fact, you can probably pay for just one month with Whitespark and then cancel the service, so long as you use it right away.
Whitespark has a tool called "local citation finder" that's one of the best on the Internet. You tell it the city that you are located in and the type of business that you run. In about 10 minutes it will generate anywhere from 100 to 500 places where you can go add or claim a directory listing.
It will tell you where your competitors are, too, and how many citations they have.
It also allows you to check off each citation as you build and submit it. If you spend an hour each day submitting your NAP and website to each site on the list that Whitespark generates, then you will really boost your local search rankings. Once you've gone all the way down the list it's pretty safe to cancel the service. By the time you've built 150 citations you're probably doing better than 99% of your competitors.
And some of the places that you'll be updating are going to be directories that people visit and check directly, bypassing Google entirely. That means that you're going to get additional visibility from real people who wouldn't have seen you any other way, people who are going to pick up the phone and call you.
All of this work also boosts your website ranking, too, since it increases the number of website links traveling from someone else's site to your own site. That's just another trust factor that makes Google and other search engines feel a lot more confident about listing your business closer to that coveted top spot.
It's time consuming, and maybe even a little tedious. But it's not really that difficult, and it's going to be worth it when you're signing that many more personal training clients. Remember, I didn't promise easy. :) I told you this was going to be the hard but effective way to score new clients.
And you're taking it all one step at a time, which will help you build and grow naturally. You won't see overnight results, but taking each of these steps builds your marketing muscle so that you ultimately attract more business than ever.
So keep at it! I'll see you next week with even more simple tips to help you out.