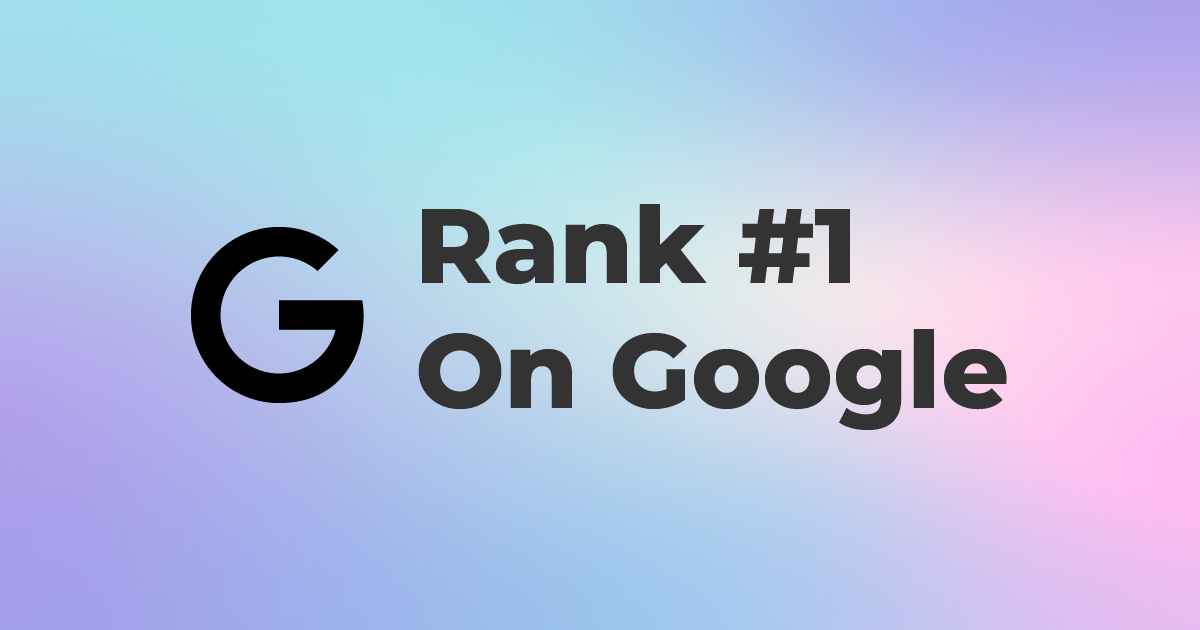 You've got a question, and like most of us, you're going to ask Google. You type in what you need to know and thousands of search results pop up. More than likely, you're going to choose the website that's at the top of the page. Maybe you scroll down to the second or third choice, but you probably don't make it all the way to the bottom of the page.
In fact, the number one result on Google gets 31% of all clicks and is 10x more likely to receive a click than the number ten result. And the second page of search results? Only .78% of users will click on something there.

So what does this all mean for your personal training business?
It means that if you want to get more traffic and more leads for your fitness website, you need to be in the top few search results.
And "search engine optimization" or SEO will help you get there. SEO is a set of techniques for optimizing your website so that it can achieve a higher position in search engines' results. This helps your fitness business get more traffic.
To the inexperienced, SEO might seem like a complicated concept. However, if you learn the basics, it's a powerful, effective, and totally FREE form of marketing that anyone can take advantage of.
How to Improve Personal Trainer SEO:
Chapter 1
Set up your Google Business Profile.
Creating a Google Business profile takes just a few minutes, and is one of the easiest things you can do to ensure visibility in local search results.
When you set up your profile, you supply your business address to Google. Google then sends a card to your business address containing a PIN which you use to verify the address.
Once that's done, within a couple of days you should see your business included on the 'map pack' that Google displays when users in your area enter a search for your type of service.
Here are Google search results for "San Francisco personal trainers":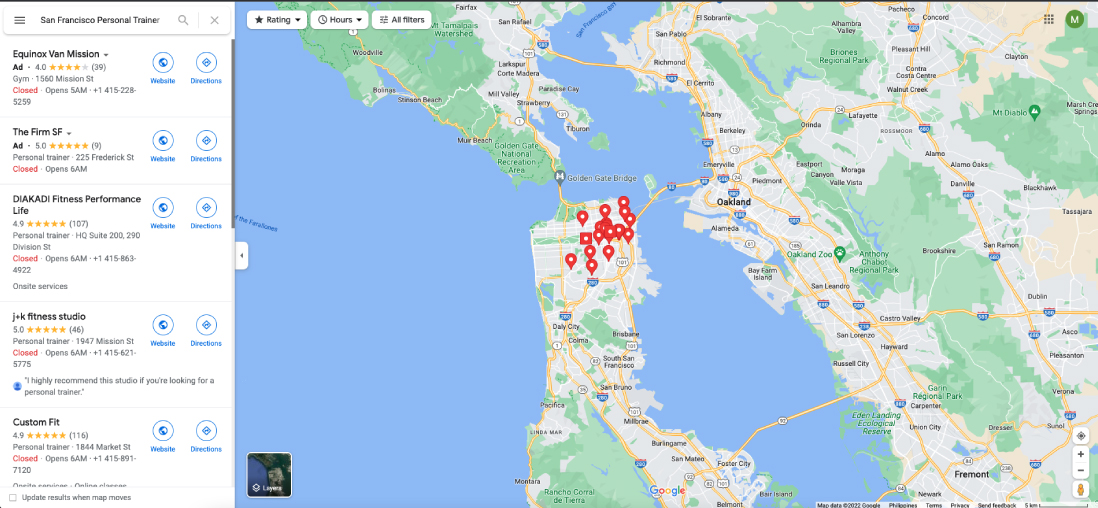 Because these fitness businesses have made an effort to register their business with Google Business, their businesses come up before any other search results for the phrase "San Francisco Personal Trainers". Accordingly, they enjoy a massive advantage over their competitors.
Depending on how many other similar businesses in your area have registered with Google Business, you may even find yourself occupying the top spot!
When setting up your Google Business profile, it's really important that you provide all the information that Google asks you for, including business category, services, products and opening hours.The more information that you can supply to Google, the more likely it is to surface your business in local search results and map packs.
As you enter your business information, Google gives you a score for how complete your listing is — try your best to get this up to 100%. Make sure that your name, address, and phone number are consistent online.
Chapter 2
Get local citations.
Citations are online mentions of your fitness business, which usually display your business name, address, and phone number—collectively known as NAP (Name, Address, Phone).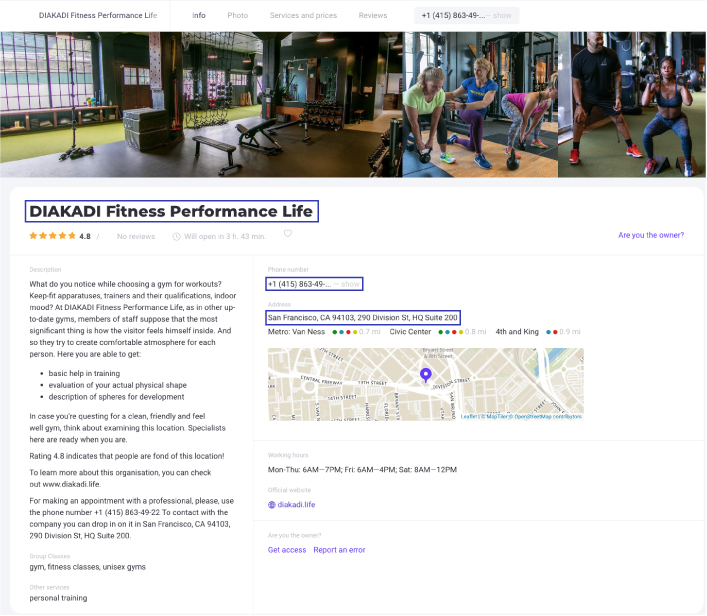 Why Are NAP Citations Important?
According to Moz, citation signals are one of the top ranking factors. Most likely, this is because consistent NAP information across the web serves to further verify the data Google has on file (GMB) for a particular business. Inconsistent NAP information, on the other hand, serves only to confuse, mislead and misdirect both Google and potential customers. This leads to a poor user-experience – not something Google is a fan of.
Google isn't the only place people search for businesses. They also search via Facebook, online directories, etc. Having an accurate NAP listed on those sites will allow potential customers to find your business, which translates into more customers and revenue.
So when it comes to local SEO, your job is two-fold:
Make sure existing citations are correct and consistent.
Build more relevant citations.
How to find citation opportunities? One way is to use Whitespark's local citation tool.
Just enter your location and some keywords related to your business (e.g., personal trainer). The tool will do the heavy lifting for you to find citation opportunities for your business.
Chapter 3
Optimize URL, title tags, headers, meta description, and content.
A big part of SEO is incorporating the right keywords (like what you do and your location) in the right places on your website. You should make sure that your homepage and any other important pages reference your location in four key places:
Title tag
Headings
Body copy
Meta description

Additionally, it's worth adding the location in the URL where relevant. For example, if you offer personal training, bootcamp, and yoga in San Francisco, create three separate pages with three separate URLs, for example:
www.fitbiz.com/personal-trainer-san-francisco
www.fitbiz.com/bootcamp-san-francisco
www.fitbiz.com/yoga-studio-san-francisco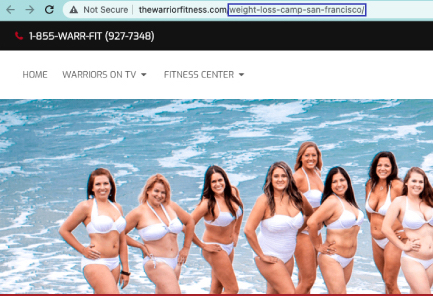 URLs that have a keyword have a 45% higher click through rate.
In other content on your website, (like your blog, bio, and services page) make sure to include keywords that are relevant to your business. Going back to our example from above, you would want to include phrases like "personal trainer San Francisco", "Bootcamp San Francisco", and "yoga San Francisco" in other places throughout your site. Think about what else someone might be searching for in your area, optimize for those search phrases.
Chapter 4
Seek out online reviews — particularly Google ones.
Google has this to say about reviews on Google Business Profile:
"High-quality, positive reviews from your customers will improve your business's visibility and increase the likelihood that a potential customer will visit your location." Source: Google Business Profile Help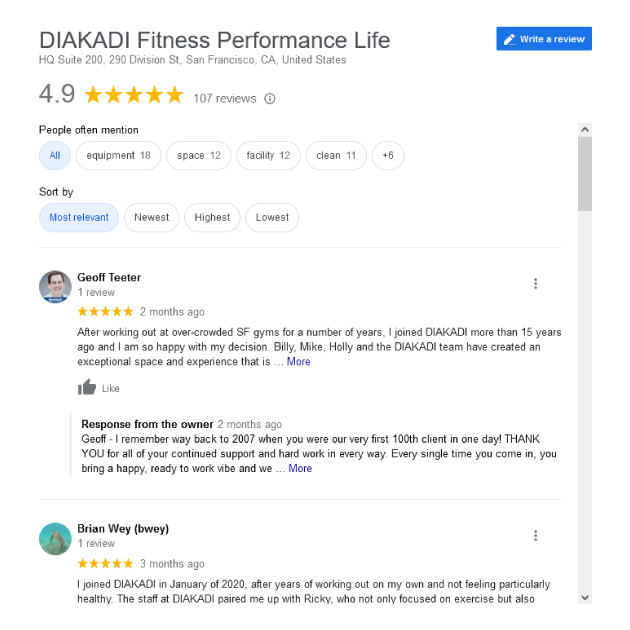 This is a fairly large hint that Google treats Google Business reviews as a ranking signal. So, it's important to encourage any customers who are happy with your product or service to leave a review.
You can use 'Google Place IDs' to send your satisfied customers a direct link to a page where they can leave a review. Google provides some useful information on how to do this on its Google Business Help site.
Not only can these reviews help to give you a positive ranking signal, but the little stars beside your business name that appear after a customer writes a review will also help your business stick out from the crowd on Google's map results.
Chapter 5
Create local content.
Google continues to get smarter, which means content creators are now able to truly write for users, not search engines. But while writing about general topics will attract a wide crowd, sometimes it's more important to hone your focus and write about local or industry news to attract a local audience.
Be the local authority for your industry by promoting local industry gatherings, news, employees, and other educational content on your blog. Think of top-of-the-funnel content that goes beyond what your business sells.
For example, do you have a lot of great walking tracks or outdoor gyms in your city? Why not create a guide that shows locals and visitors alike where they can have fun being active outside in your area.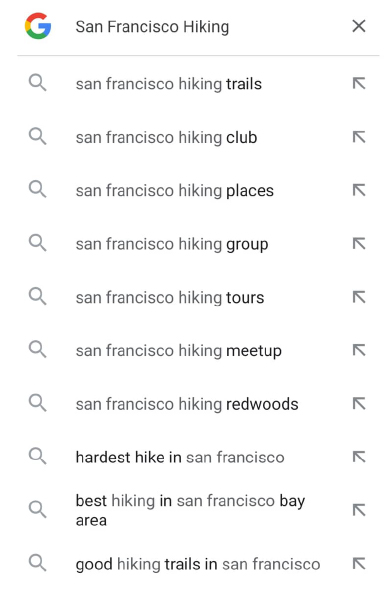 Chapter 6
Ensure your website is mobile friendly.
Nearly 60% of all Google searches are performed on a mobile device, so it's important to make sure that your website is just as easy to view on a phone as on a computer screen.

Some of the most common ways people will use your site in a mobile environment is to look up reviews, find directions to your location, and search for contact information.
Make it easy for your prospects and customers by making your site mobile friendly. Most website builders will let you see a preview of your site's mobile version. Make sure everything loads correctly and that the formatting is ok. Avoid large blocks of text if possible, aiming instead for short paragraphs that are easy to scan.
Chapter 7
Get inbound links with relevance and authority.
Inbound links are incredibly powerful opportunities to boost your local SEO. Inbound links (or backlinks) occur when another site directly links to your website or content in theirs. Every inbound link tells Google you're a legitimate company, which can also raise your domain authority.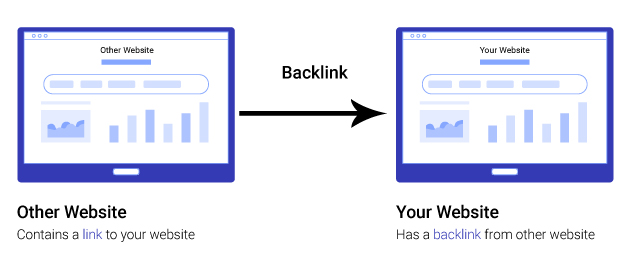 Here are a few ways to get inbound links:
Sponsorships or partnerships
Guest blog posting
Start with your own personal network, which may include the Chamber of Commerce, business improvement districts, licensing bureaus, trade associations, resellers, vendors, and/or manufacturers and other affiliates
And a slower, but effective way – create great educational/informative content that is so good, people want to reference it on their own websites
In general, you can get inbound links through various forms of networking. Consider sponsoring a webinar or meet-up, hosting a community event, promoting something local you love, and building relationships with prominent people and influencers. Additionally, learn to feel comfortable reaching out to partners to see if they can feature you in their partner directory.
Talk to and about (positively, of course!) other people in your industry, and act as a resource provider for the community. If you're an active participant in community conversations, the buzz around you grows in the form of inbound links, social media growth, and media coverage.
Use personal trainer SEO to grow
If you're trying to get more personal training clients, optimizing your presence online can make a big impact.
Simply put, SEO entails thinking about what your ideal clients would be typing into Google and making sure that your website shows up in their search results.
It's important to make sure that all your relevant contact info is correct and consistent, and that the info is registered with Google Business. Include your location in all the right areas of your website including URLs, Meta descriptions, headings, and copy.
Reviews from happy clients can make a big difference, as can having well-written content on your site and guest posting on other sites. Make sure your website is just as easy to view on a phone as it is on a computer. Reach out to others in your local community to form relationships that can help you get your website in front of more people.
These simple actions can make a huge difference when it comes to driving traffic to your site. All in all, leading to a more successful and profitable personal training business.