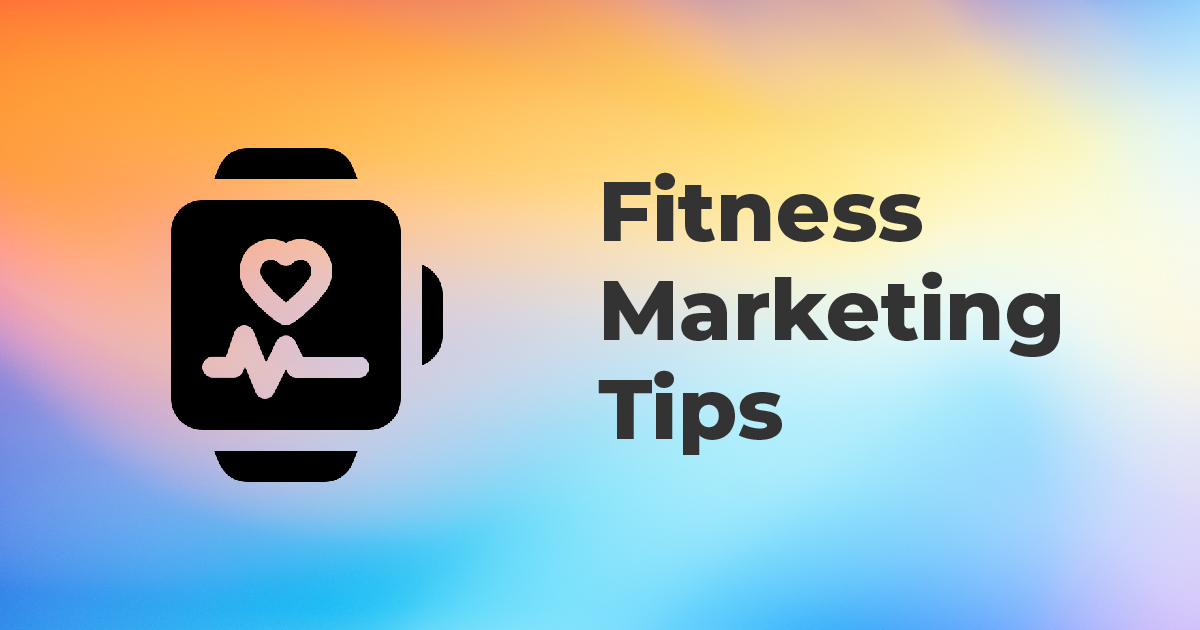 You're ready to take your personal training business to the next level. You need to up your marketing game so that you can start bringing in more clients and making more money.
You're in the right place, because we are going to share the best personal trainer marketing tips that will help you grow your business. These tips aren't quick fixes. They are solid strategies that will bring you real results if you're committed to building a profitable business.
Are you ready?
Let's dive in.
Table of Contents:
Chapter 1
Build a solid marketing strategy
Marketing takes a lot of effort, and it only works with the right strategy. Here are some of the first considerations you should make that will inform the rest of your marketing plan.
1) Nail down your niche
All marketing efforts take time and money. The best way to make sure that you are making the most of these precious resources is to only market to people that will give you the highest ROI on your marketing efforts, AKA your niche. Nail down your personal training niche and tailor all of your marketing content to that target audience.
Tips for figuring out your niche?
Think about who your happiest clients are ; these are the people that understand the value of your service, have worked with you the longest, and are eager to share their positive experience.
Make sure your niche is the right size. For example, targeting "people that want to get in shape" might be a bit too broad. Whereas, "people with rotator cuff injuries" might be a little too narrow.
Pick a niche that matches your passion and your skills. This part is especially vital because it determines how you will excel in your business and build your reputation.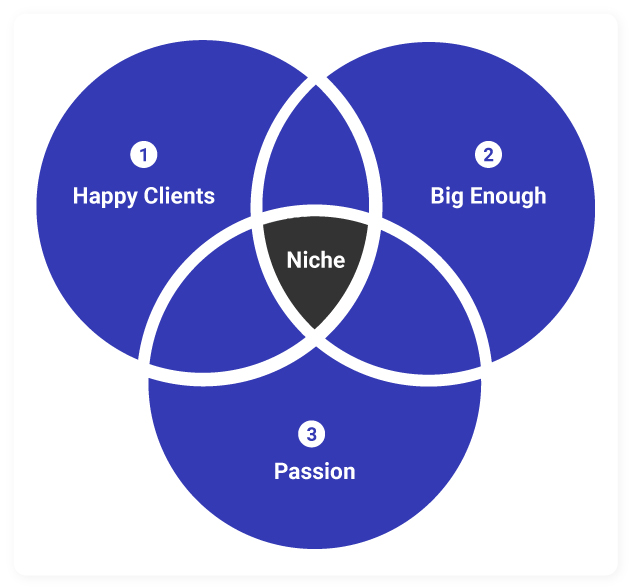 2) Develop a unique value proposition
Once you know your niche, you can determine your unique value proposition. Your unique value proposition is "a clear statement that describes the benefit of your offer, how you solve your customer's needs and what distinguishes you from the competition."
If your niche is busy moms that want to get in shape, how exactly do you help them do that? What makes you stand out from other trainers helping the same group?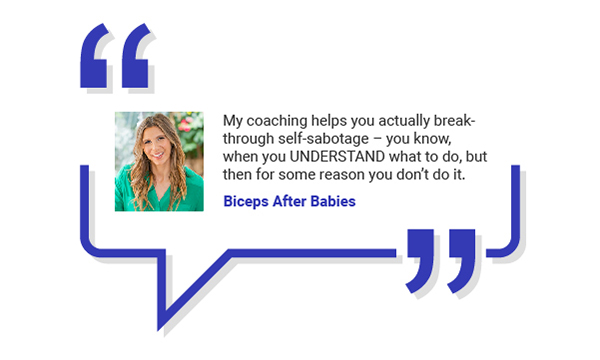 Get clear on your UVP. This is important because it will appear prominently in all of your marketing materials.
3) Only speak to your ideal client
Within your niche are your ideal clients. These are the specific types of people that you work with. You should know your ideal client like the back of your hand! Who are they? What are their hobbies, goals, challenges? Age?

Use this information to inspire every single marketing effort. Speak to your ideal client only to keep your marketing content relevant and effective.
Chapter 2
Grow your following with Instagram
If you want to find, connect, and convert your ideal clients anywhere in the world, there's no denying that Instagram is one of the best mediums. Instagram has roughly two billion active users worldwide and is the 6th most visited website in the world.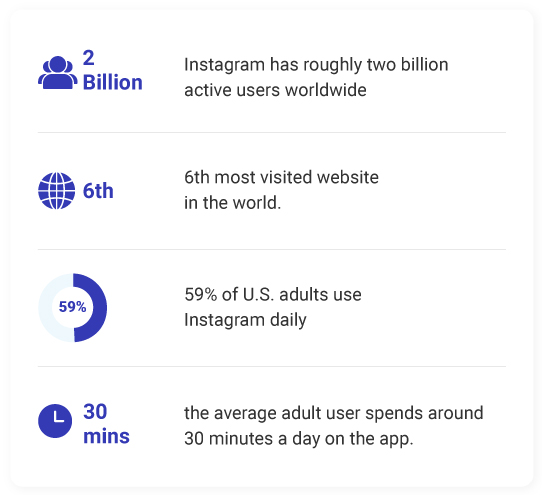 Here are the tips you need to start taking advantage of this powerful marketing tool for your fitness business.
4) Set up a business profile
To get the most out of marketing on Instagram, make sure your account is set up as a professional profile. This will allow you to take advantage of the Instagram business tools like analytics and ads. You can choose this option when creating your account, or switch an existing personal account to a business account.
Fill out every part of your account completely. Make sure you select your business category and include your business address and contact information.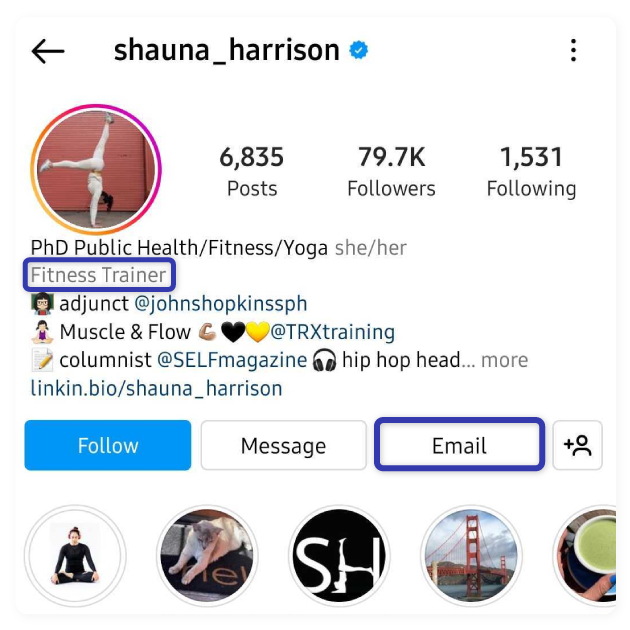 5) Make your account easy to find
While setting up your personal training profile, you'll want to optimize for keywords that will help people find you. You may be inclined to put a unique and creative name in the "name field" of your Instagram bio, but instead, you should think about what people are actually searching for on social media.
Here are a few great examples:
Kate · Personal Trainer NYC
Online Personal Trainer · Jamie
Online Health Coach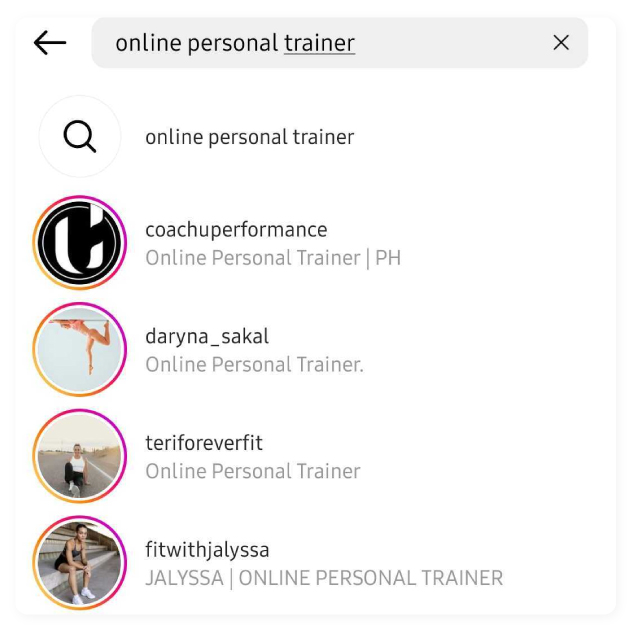 If your business has a physical location, like a gym or fitness studio, you'll also want to set up a location tag on your account. This will help you show up in location search results and make it easier for guests to tag you and "check in" to your location on their own accounts.
6) Create a great content strategy
As a personal trainer, you want content that's engaging and entertaining and that ultimately converts followers to paying clients. Here are some ideas to help you build your content framework:
Showcase parts of your personality online outside of fitness.
Use social proof to convince your ideal clients you know your stuff..
Highlight what makes you different..

Tackle your ideal clients' doubts head on..

Ask for sales often.

Figure out your main content pillars and create content within those categories..

7) Use all of Instagram's features
To make the best use of Instagram, be sure to take advantage of the many tools it has for sharing content. Use Reels and go Live to build your following. Post regular feed posts and stories to connect with your audience.
Chapter 3
Leverage email marketing
Believe it or not, email marketing is one of the most effective digital marketing strategies for personal trainers — even more effective than social media! This is because email is a direct way to communicate with your audience and gives you total control of your content distribution. Be sure to check out Fitness Email Marketing: The Definitive Guide, but in the meantime, here are some of our best email marketing tips: \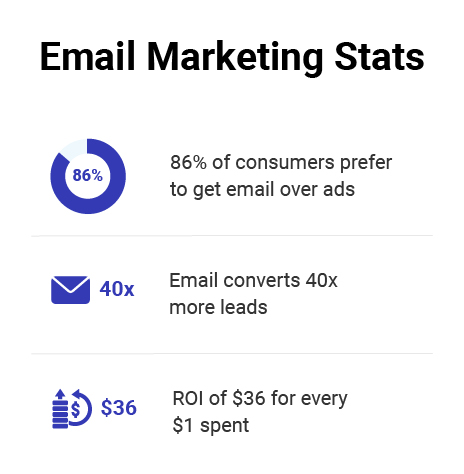 8) Choose the right email marketing software
For personal trainers, we recommend these three email marketing providers:

9) Create a high converting lead magnet
A lead magnet is a piece of content that you give away for free in exchange for someone's email address.** **Lead magnets drive conversions and help you not only build your email list, but turn that list into paying clients further down the road.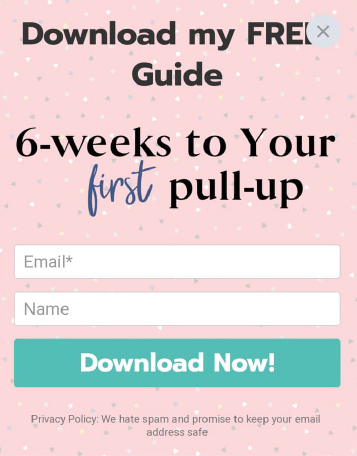 10) Build an email list of ideal clients
In addition to your lead magnet, make it easy for prospects to sign up to receive your emails. Include a pop-up on your website, a sign up form at the end of your blogs, a QR code on flyers at the gym, and a link on your social media pages.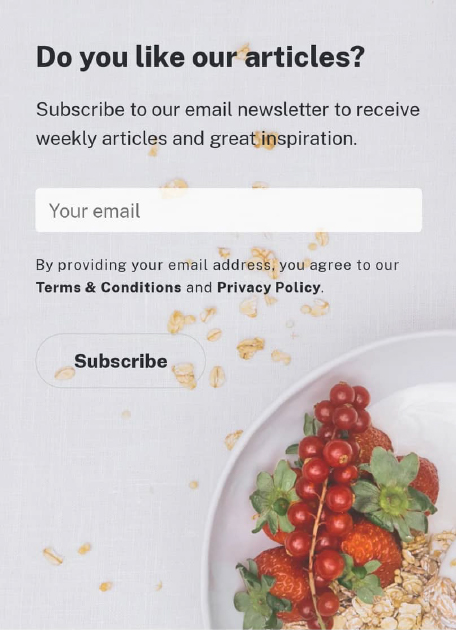 Let people know what joining your email list will entail. Will you be sending a monthly newsletter? How about some good exercise tips straight to subscribers inbox? Let people know that you'll be sharing valuable content and important updates about your personal training business in future emails.
11) Create a strong sequence to nurture leads
The order of your sequence is important, as you want to deliver as much value as possible and time asking for sales correctly. Your email workflow should consist of about 80% value driven content and 20% sales driven content, where you actually pitch your personal training services or programs.

Chapter 4
Build a steller website that drive qualified leads
Your website is actually a great marketing tool that can help you find and convert leads. You just need to build it correctly. The following tips will help.
12) Choose a great website builder
There are plenty of website builders to choose from, but the top three that we recommend for personal trainers are: Squarespace, Wix, and Wordpress. Check out this blog to determine which one is right for you.

13) Focus on the right pages
The pages that every personal trainer websites needs are:
A killer home page
A great bio
Service pages
For more help, our blog How to Write content on Your Personal Trainer Website goes into exactly what you need to put on each of these pages.
14) Promote your brand
Use your website to promote your brand by adding a logo, cohesive colors and fonts, and high quality images and videos. Your website should work with other brand collateral to tell the story of your business.
Chapter 5
Get to the top of Google with SEO
The number one result on Google gets 31% of all clicks and is 10x more likely to receive a click than the number ten result. And the second page of search results? Only .78% of users will click on something there.

Search Engine Optimization or SEO is how you ensure that your online content is showing up in the prime spots on Google.
15) Set up a Google Business profile
Set up your Google Business profile by providing relevant and accurate information about your business including your address to Google. Google will then send you a PIN via mail that you can use to verify your address. Once that's done, within a couple of days you should see your business included on the 'map pack' that Google displays when users in your area enter a search for your type of service.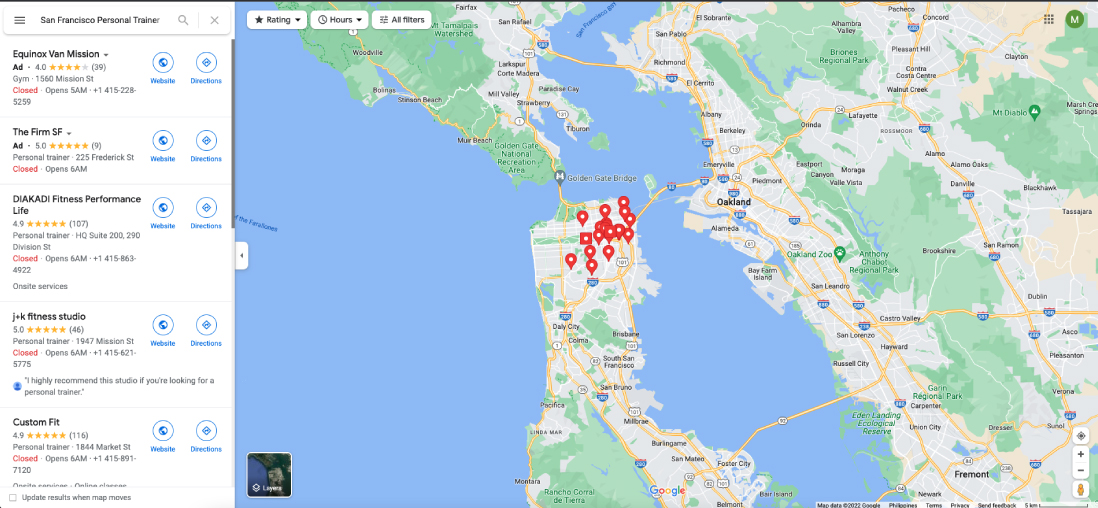 16) Optimize URL, title tags, headers, meta descriptions, and content
Include relevant keywords like your location in key places to help the right people find your website. Optimize your URLs, title tags, headers, meta descriptions, and the content on your web pages for the proper keywords.

17) Seek out online reviews
"High-quality, positive reviews from your customers will improve your business's visibility and increase the likelihood that a potential customer will visit your location." Source: Google Business Profile Help
It's important to encourage any customers who are happy with your product or service to leave a review. You can use 'Google Place IDs' to send your satisfied customers a direct link to a page where they can leave a review. Google provides some useful information on how to do this on its Google Business Help site.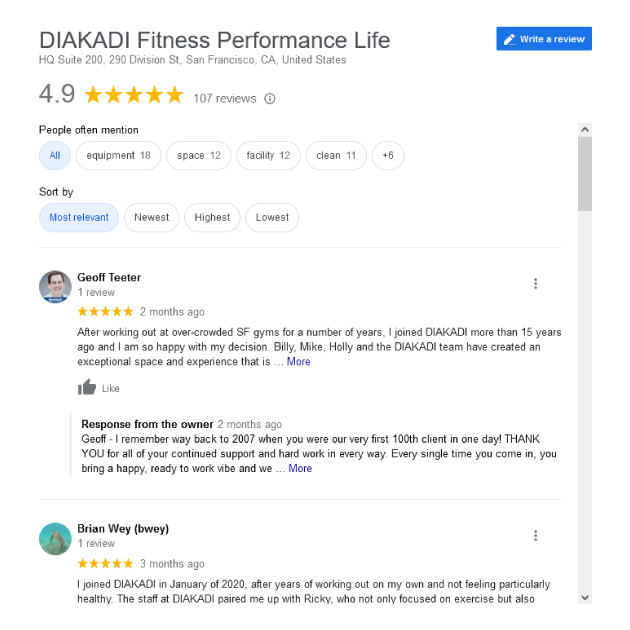 18) Make sure your site is mobile friendly
Nearly 60% of all Google searches are performed on a mobile device, so it's important to make sure that your website is just as easy to view on a phone as on a computer screen.

19) Build authority with inbound links
Inbound links (or backlinks) occur when another site directly links to your website or content in theirs. Every inbound link tells Google you're a legitimate company, which can also raise your domain authority.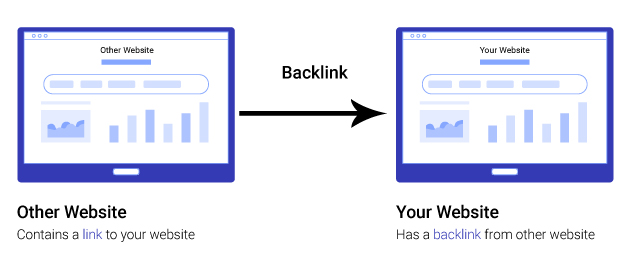 Chapter 6
Increase traffic with a fitness blog
Blogs are a great marketing tool that many businesses are using to great success. A fitness blog can help you connect with more leads online and show those leads that you are an expert in your industry.
20) Write about what people care about
When deciding on topics, think about your ideal clients, the problems they have, and your main content pillars (i.e. how your training solves those problems). You want to make sure that you are choosing topics that people are interested in, but that are specific enough that they haven't already been overly covered online.
21) Conduct keyword research
By using a tool like Keyword Everywhere or SEMrush, you can see what key phrases people are searching for on Google so that you can optimize your post to reach the most eyes.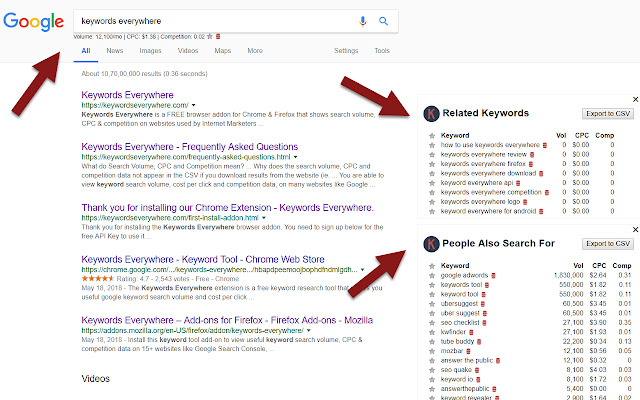 22) Format your blog correctly
The typical structure of an engaging blog post is as follows:
Title - something catchy!
Hook - describe the problem, and then tell what solution you have.
Body - give the solution.
Call to Action (CTA) - tell the readers what to do next.
You will want to use headings and subheadings (just like you see here) to break your blog into sections. Keep paragraphs on the shorter side to avoid any large chunks of text. It's also a good idea to break up your content with images and videos.
23) Use your blog to make sales
Your blog can indirectly make you money by being a great platform to share lead magnets or to sell your services. While answering questions or explaining a topic, end with a Call to Action that tells readers about how you can help them even further.
Chapter 7
Give your business an instant boost with Facebook Ads
With over 2.9 billion active users, Facebook is a great place to spend a little money towards targeting advertisements to ideal clients. Facebook ads need eye-catching media, great sales copy, and a link to your landing page so that you can collect leads. Here are a few more important tips.
24) Nail down your offer
Facebook ads are all about the offer. You want to give people a reason to click on your ad and get to know you. So the first thing you need to do is nail down your unique personal training offer. Here are to great options:
Free personal training session
Downloadable freebie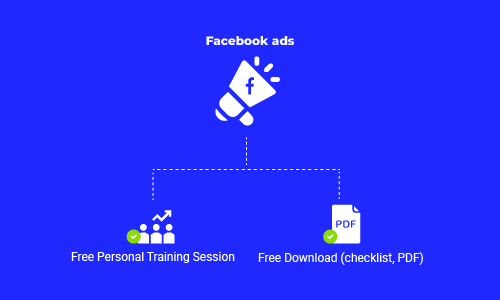 25) Determine your goals and budget
Your marketing objectives will influence how much money you want to spend on Facebook ads. Get clear on your numbers and how much you will make per lead. Remember, you want to make more money on your ads then you're spending to run them.
26) Conduct A/B testing
Don't put one ad out and call it a day. Constantly experiment with different images, videos, copy, and offers. Analyze your results and create new ads accordingly.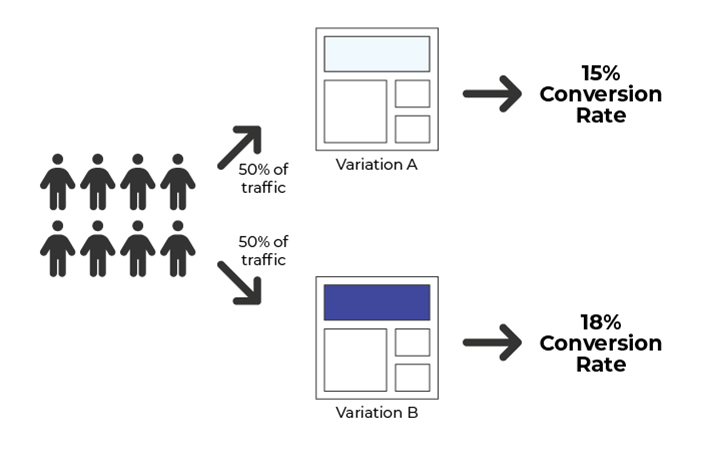 Chapter 8
Convert more leads into paying customers by leveraging online personal training
Getting leads to your door is only half of the battle. Converting them to paying clients is the next and most difficult half! And in 2022, online personal training can help even if you are a local personal training business.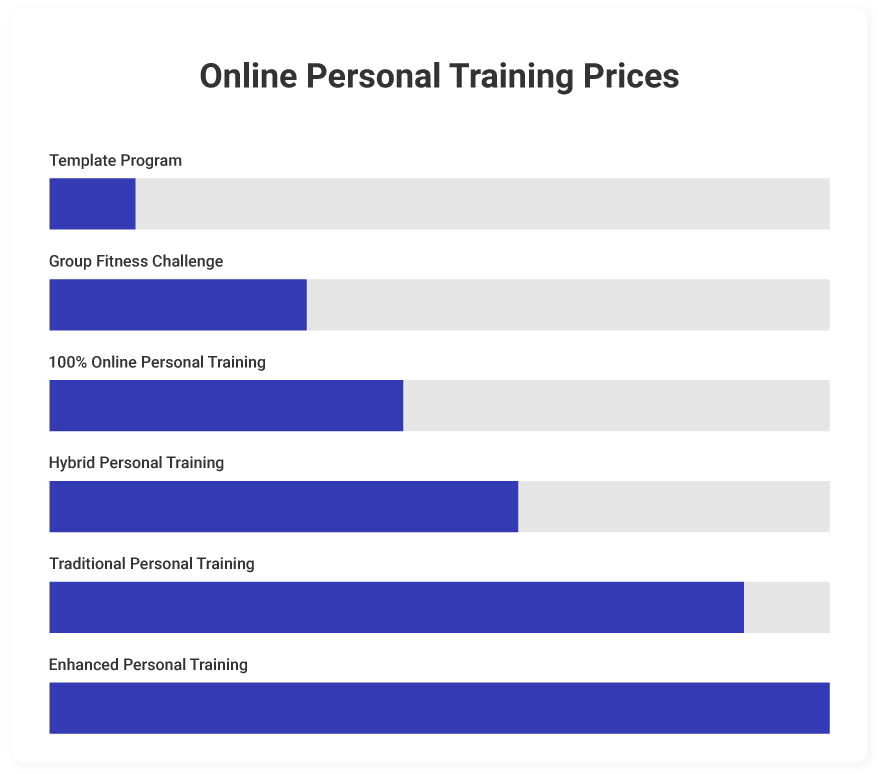 Let's talk about how to use online personal training to attract more clients.
27) Include 1-on-1 online personal training
Online personal training involves delivering your personal training package to clients remotely. This doesn't entail just meeting with clients over Zoom. Instead, you deliver your services in a variety of formats (like videos and instructional guides) for clients to complete on their own time.
A fully online personal training package allows you to work with clients from all over the world that aren't a good fit for the traditional personal training model. Offering this greatly expands your reach.
28) Offer hybrid personal training
Hybrid personal training involves delivering most of your training remotely, but still meeting with clients either virtually or face to face on a consistent basis. This is great for clients that want the flexibility of online training but still need a little more support.
Advertise hybrid personal training as the best of both worlds, and use it to serve even more clients.

29) Scale with group personal training
Another great way to use online personal training is to create a group training program. This involves training many people at once through a personalized workout plan, one-on-one and community support, and additional resources like nutrition and habit coaching.
You can use online group training as a more affordable option for clients that want a community training experience.
30) Use template program as a lead generation option
When it comes to your marketing efforts, having a lead generation option is so important. You can utilize online personal training to build a template program that you can offer as a lead generation tool.
A template program can help you passively bring in clients, and often, you will be able to sell those clients on more personalized services later down the road.
Bonus Tip: Deliver more value with online personal training software and keep your clients for life
To leverage online personal training, you're going to need the right tools. TrainerFu's online personal training software can help you deliver online personal training to more clients so that you can grow your business faster.
TrainerFu can help you provide a customzied experience to each of your clients, and allow you to monitor their progress and provide support more easily. By making training effortless for your clients with the right app, you'll be able to attract and retain more personal training clients than ever before.
Marketing is a major part of building a successful fitness business, but the efforts will be wasted if you can't deliver. Use TrainerFu to bring more clients to you and bring them the amazing results they are looking for.