How to Attract Clients Who Have $100 to $399 Per Month to Spend on Fitness?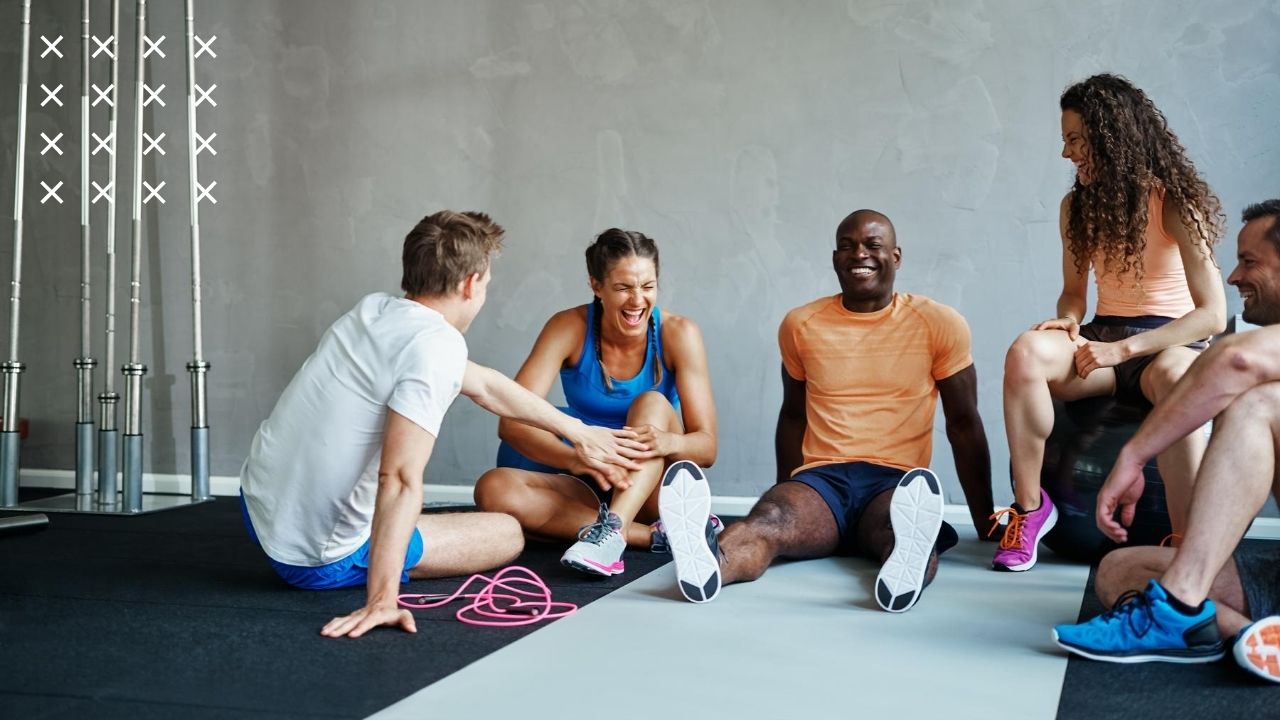 The average price of a personal training session in the U.S. is about $65, so a client who takes two personal training sessions per week will spend $520 per month on fitness. That's expensive for most people.
On the other hand, the average gym membership costs around $65 for the entire month. This leaves a big pricing gap between gym membership and one-on-one personal training. And, currently, not many fitness products are compelling enough to catch the attention of this mid-priced segment of the general population.
In reality, prospects who can't afford one-on-one personal training – but who are also looking for something better than a gym membership – are left with few choices. For example, someone who has $200 to invest in fitness will end up getting a gym membership for $65 and pocket the remaining $135. Unfortunately, this is a lose-lose situation for both the fitness industry and the customer; the customer is unable to maximize his value and the fitness business loses potential revenue.
So, in this article, we'll help you develop a foolproof strategy to capture this mid-priced market segment. But, before we come up with the solution, we need to understand why this big gap even exists in the first place.
The reason is actually very simple: one-on-one personal training requires a lot of in-person time from a personal trainer. If a personal trainer is investing eight hours of his or her time per month on a client, then there is no way to reduce the monthly cost to less than $500. As a result, to capture business in this mid-priced segment, a fitness company has to introduce products that require fewer hours from personal trainers – and yet still provide unparalleled value to customers.
But how, you ask? The answer is through personal training software, which has come a long way in recent years. The #1 benefit of modern personal training software is that it enables personal trainers to dial down their in-person time as much as they like – while still providing massive value to their clients. Other highlights include the ability to:
Deliver workout plans and exercise videos directly to the client's personal training app, which allows your clients to be confident and avoid second-guessing themselves when they're working out alone.

Hold your clients accountable. The software allows you to monitor your client's progress. For instance, did they complete their workouts? Are they eating right (nutrition tracking)? Are they sticking to their new habits? Did they track their weight today?

Keep your clients engaged. Build a strong, supportive community through the private social network that is built right into the training app. Use it to educate your clients about important topics with in-app courses, or nudge them in the right direction with automated messages.

Be available when your clients need you with the in-app chat feature. Plus, provide feedback and positive reinforcement by commenting on their activities in the news feed.
As you can see, modern personal training software helps you deliver an amazing training experience to your client – even when you aren't with them. In fact, your company can leverage personal training software to introduce a variety of mid-priced products that are also very profitable for business.
Introducing Product Ladder
What new products should you introduce? Here's a simple way to think about the new product strategy. Plot a graph where the X axis is value and the Y axis is the price of your products. The graph should form a ladder, and no individual step should be too high or too low.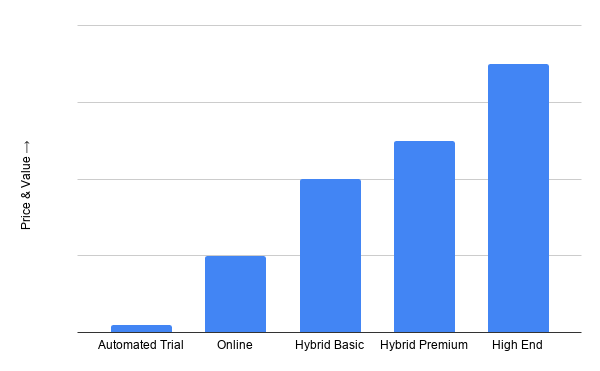 Here are some examples of products that you could add to your offerings to build your fitness product ladder.
Hybrid Personal Training
In-person: 1 or ½ (biweekly) sessions per week
Price: $299 to $399 per month
In hybrid personal training, a client meets with their personal trainer once a week or once every two weeks; the rest of the training is delivered online directly to the client's app.
Personal trainers primarily use the in-person training sessions to demonstrate new exercises and make sure clients can perform them correctly. They can also use the in-person sessions to perform assessments and set new goals.
Hybrid training is a great option for anyone who is looking for an affordable training option because it can easily be adopted to train both beginners and experienced clients. We strongly encourage every fitness business to offer a hybrid option.
Online Training Or Performance Plan
In-person: 0 sessions per week
Price: $199 per month
With online training, everything is delivered through the personal training software. Additionally, the personal trainer can opt to include one to two video or Skype calls each month. This is a great option for remote or experienced clients. What's more, this style of training could also be adopted for beginner clients by including safer exercise options in their workout plan.
Similarly, the performance plan is something you could offer to clients who are graduating out of in-person training. It may be just right for clients who have decided to go out on their own, but who also want to keep themselves accountable and continue progressing.
Online Group Challenge Or Body Transformation Contest
In-person: 0 sessions per week
Price: $129 per month
Think of a transformation challenge as an online group training with a start and end date. Generally, they are six, eight or 12 weeks long. Participants in the transformation challenge will have similar goals and, as such, work that you do for one client can usually be applied to other clients, as well, with minimal customization needed. (That's how this option can be offered at a lower price point than online training plans.)
Once a transformation challenge is complete, participants can transition to hybrid personal training, a one-on-one training plan or even another transformation challenge.
High End
In-person: 2 to 3 sessions per week
Price: $599 to $799 per month
There's no reason not to include in-app training with multiple sessions of one-on-one training, as well. In-app training enables you to add more value to your client's training by providing extra accountability, support and motivation – even when you're not with them.
Automated Fitness Trial or Challenge - The First Step in the Product Ladder
In-person: 0 sessions per week
Price: $0 to $21
By offering few of the above mentioned products, you will surely have a product line that can satisfy the needs of a much bigger segment of population. Having said that, prospects still need to know, like, and trust you before they would buy from you. Automated fitness challenges let your prospects try your service risk free and enable you to build the know like and trust factor. It is the key first step in building a high converting product ladder.
So what are automated fitness challenges? They are a short (5-10 days) automated challenge that delivers a small value to your prospects. With TrainerFu you can automate everything from registration to the delivery of the workouts, habit check-ins and educational courses for your automated fitness challenge.
There is a lot that goes into building an automated fitness challenge. Our comprehensive guide will help you with everything you need to make your first challenge a success.
Unexpected Benefits
Building a product ladder will help you capture business from prospects looking for more affordable personal training options. But, that's not all. Other benefits include:
A Sales Machine Without the Hard Sell
In order for prospects to want buy high-end personal training packages from you, both of these factors must be true:
They know, like and trust you.
They understand the value of high-end personal training.
If either of these conditions are not met, the prospect's risk tolerance would be low and they may not be willing to jump ship just yet.
Here's where your product ladder comes into play. A high-converting product ladder allows you to offer a no-risk free trial or a low-risk transformation challenge to your prospect. Then, as you nurture the know-like-trust factors, the prospect will naturally want more from your business and, thus, move up the product ladder.
Increased Retention
Life happens and situations change. As a result, a training option that is ideal today may not be perfect tomorrow. However, with a product ladder, your clients can easily move up or down the ladder to suit their changing needs – rather than leaving your business altogether.
A Monthly Pricing Model
The subscription model lets you sell once and be done, ensuring predictable revenue. Plus, the in-app training allows you to deliver value to your prospects both during and after their in-person training session. Per-session pricing no longer makes sense; it should be fairly easy for you to sell monthly pricing to your prospects.
Product Ladders Are Everywhere
Look around and you'll find product ladders everywhere. Take email marketing software – such as MailChimp and Constant Contact – for example. All of them have a product ladder built into their business. Here's what MailChimp's product ladder looks like:
Free
Essential ($9.99 per month)
Standard ($14.99 per month)
Premium ($299 per month)
Mailchimp doesn't make any money on its free tier for obvious reasons. But, if you ask them, they'll tell you that most of their paid subscribers convert from their free tier. So, what do you think would happen if MailChimp stopped offering its Free, Essential and Standard plans and only offered a Premium plan? Most likely, there wouldn't be a MailChimp in a few years time. Unfortunately, most fitness businesses are MailChimp without the Free, Essential and Standard tiers, and that's why they have to get really good at hard selling.
Consider another industry vertical – appointment-booking software. Here is Acuity Software's product ladder:
Freebie
Emerging ($15 per month)
Growing ($25 per month)
Powerhouse ($50 per month)
Last but not least, here is TrainerFu's product ladder:
Free
Trainer ($29 per month)
TrainerPlus ($45 per month)
Studio ($59 per month)
Studio Branded ($99 per month)
Gym Branded ($169 per month)
Not only do product ladders help you capture big market segments, but they also double as a sales machine for your business.
Product Ladders Are Not an Installment Plan
Don't confuse the product ladder with session packs, which are a common way to sell personal training. Remember, the product ladder allows you to deliver an ongoing value to your client at various price points. Conversely, with session packs, the monthly spend for clients is about the same, but with a 10% to 15% discount when they buy session packs in bulk.
Characteristics of a High-Converting Product Ladder
For clients to convert from a lower step on the ladder to the next level, they have to find value in the product on the next level up – and that can only be achieved if the products on the steps are well-aligned and not much different.
For example, it's easy to see the value of high-end personal training when a client is in a hybrid plan. The same is true for hybrid plans when a client is in a transformation challenge. On the other hand, a ladder that contains group classes to hybrid plans wouldn't convert very well because the products are so different.
Start Today
If you're already using personal training software, you should be able to offer hybrid training, online training and a performance plan to your clients right away. Offering these packages doesn't require a lot of work and can positively influence your bottom line by bringing in new clients to your business. Don't wait. Start today!
TrainerFu is a modern personal training software that helps you build a high-converting product ladder into your fitness business. Start your 14-day free trial today!