So you're ready to go all in on email marketing?
Good thinking! Email marketing is a powerful way for personal trainers to grow their business and reach new customers.
If you've already spent a little time building your email list of potential clients, then your next step is keeping those prospects engaged and informed with well-written email content!
Easier said than done, right?
Coming up with email content ideas for your fitness business can be intimidating, and writing emails can be time-consuming! We want to make it a little bit easier by sharing some effective ways to engage with your email list and simple templates you can follow to craft the perfect email every time.
Let's get to it.
Chapter 1
How email marketing works for your fitness business
Before setting out to write emails to your list, it's important to understand the purpose of email marketing and how to use emails in the right way to grow your fitness business.
You've probably already spent some time building your website. You may use social media, well-written blogs, or other means to drive people there. Getting people to visit your website is great, but most people that come to your website are not quite ready to buy.
But instead of prospects leaving your site, to maybeee think about your offer or to (more likely) forget about you and never return, it's important to capture those leads and push them down your sales funnel.
The funnel already started by getting them to your website. Blogs, social media posts, podcasts, YouTube tutorials are all examples of "top of funnel" content. This content captures the attention of your audience and educates and informs instead of directly asking for a sale.
When you get someone to enter their email address in exchange for your lead magnet, you are pushing them further down the funnel. Each email that you send them is a touchpoint, reminding them of who you are and (hopefully) getting them to like and trust you. The idea is that by the time someone makes it all the way to the bottom of your funnel, they are primed to buy from you!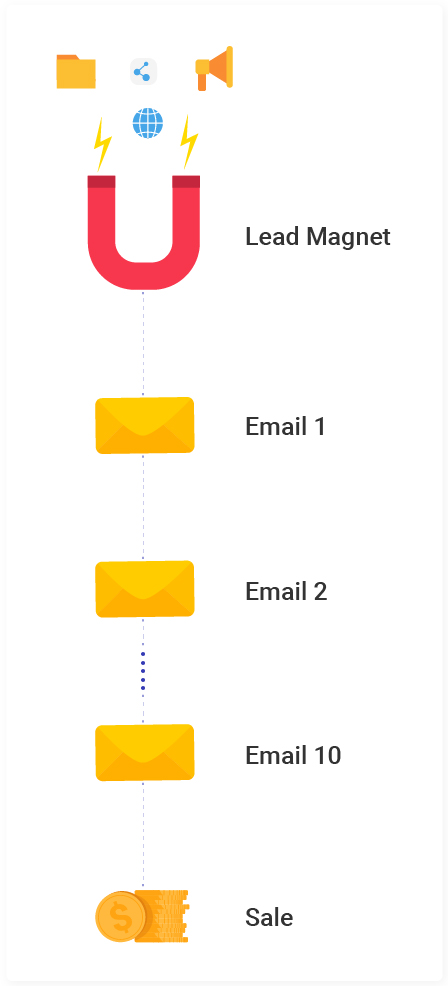 Your emails need to help you get your prospects to the bottom of the funnel. This means your email content needs to walk that fine line of keeping them engaged and interested, not annoyed or bored and provide a whole lot of value. Eventually, you will also use emails to directly ask for sales.
Clearly, getting your email content right is important. Ready to hear some specific ideas for your emails?
Chapter 2
Fitness business email content ideas and templates
As we just discussed, your goal with email marketing is to generate actual sales, so writing them takes a little intention and strategy. A combination of the following email ideas can help you nurture your relationship with leads and turn them into paying customers.
Deliver value with educational and how-to emails
Value, value, value. Valuable content is what's going to make your emails irresistible to open and keep subscribers on your list . As a personal trainer, you have a lot of knowledge that people want to know. Deliver value by sharing some of this knowledge through educational or how-to emails.
Think about what your ideal client struggles with or is curious about and write an email that helps them solve their problem or learn more about a certain topic.

Subject : Value + Curiosity - "Get Better Sleep Tonight with these 3 Proven Steps"
Intro: Discuss the problem, really dig into your reader's pain points and struggles.
Body: Save the day with your solution . Explain how to do a certain thing or give knowledge that you have around a subject.
CTA: Engagement or soft sale…
Let's talk a little about soft selling. At the end of every email, you will want to include a CTA. In most cases, instead of directly asking readers to sign up to work with you, you'll instead ask for more engagement or lead readers to where they can find out more about a certain topic. Soft selling is about building relationships and keeping readers engaged, instead of a hard sale that might push someone away and make them unsubscribe.
Use email to get ahead of client objections
As we mentioned earlier, email marketing is how you move prospects down the funnel and persuade people to work with you/buy from you. Getting an ideal client to join your email list is a huge step in the right direction, but they will still have plenty of objections keeping them from working with you.
Email is a great place to call out some of those objections and explain why a potential client should sign up for your program, buy a personal training session, or whatever other action you'd like them to take next.
Here are some common objections you might tackle in your emails:
Personal training isn't worth the money.
It's too expensive to work with a personal trainer.
It's going to take a long time to see results from personal training.
I can get the same results just going to the gym.
You're probably feeling pretty fired up about these objections right? You know that they aren't true, so use your email content to turn doubtful prospects into bought-in believers.
Here's how you might outline this type of email:
Subject: Question - "Is personal training worth it?"
Intro: Dig into this objection a little more. Show the reader you understand where their objection is coming from.
Body: Time to change their belief with your content. Use facts, proof, examples, and persuasive language.
CTA: Do you have more content on this subject? Point your readers there. Or perhaps, invite them to schedule a consultation with you so that you can talk through any of their other objections to personal training one-on-one.
Pro tip: Marketing is all about persuasion. We love this book as a resource for learning how to use language to change people's minds.
Bust some common myths
As a personal trainer, a lot of your online content will be about busting common fitness myths and showing your audience that there's a better way.
This can help you establish yourself as an expert in this fitness industry and build trust with your audience. This trust is vital for turning those prospects into paying customers. Here are some examples of some common fitness myths:
Cardio is all you need to lose weight.
You have to avoid fatty food at all costs.
Lifting weights will make you bulky.
Your template for this type of email will be similar to tackling client objections.

Subject: Polarizing statement - "Cardio is keeping you stuck."
Intro: Lean into this polarizing statement without explaining anything just yet…
Body: Time to explain yourself. Use the body to provide facts and explanation that satisfies your audience and turns them on to your new way of thinking.
CTA: Engagement or soft sale
Use emails to enforce your brand
A big purpose of email marketing is to build your unique brand. Email offers a lot of freedom and the ability to share more about yourself than you would on other types of content like social media posts.
Using a consistent voice, fonts, and colors in your emails will contribute to creating a memorable and recognizable brand. However, you can also send emails with the specific purpose of telling your story and a little more about what you do.
Some examples:
Your story : Why'd you get started into fitness? What transformation has a healthy lifestyle brought to your life?
Why you: Do you have a background in physical therapy that you use to teach clients proper alignment during exercises? Or maybe you're trained in breathing techniques that you share with clients to help them get better sleep? Something makes your business special, and it's very important that you share that something with potential clients.
Storytelling can be a powerful way to engage with your audience. Try to keep paragraphs relatively short and easy to read. Even when telling a story about your business, tie it back to how it helps your customers. It is all about how you can help someone else reach their goals.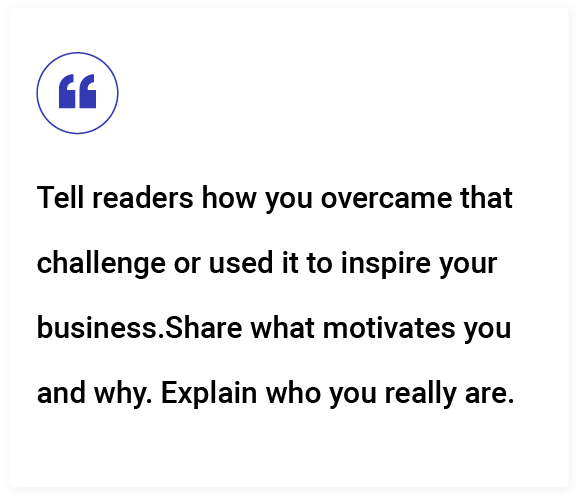 Subject: Interest sparking hint at what's inside - "It all started when…"
Intro: Lead in and get readers interested in what you have to say next. Start with a problem or challenge.
Body: Tell readers how you overcame that challenge or used it to inspire your business. Share what motivates you and why. Explain who you really are.
CTA: Relate this story back to your readers if possible. Ask for engagement or soft sell.
Success stories and social proof emails
When it comes to using emails to convert prospects into clients, nothing is more powerful than social proof. Share the amazing results that other clients have gotten through working with you.
If your leads have been on the fence, hearing these success stories just may be the thing that pushes them toward working with you. You want to show your leads that these kinds of results are possible, and make them start imagining how their life could look if they work with you.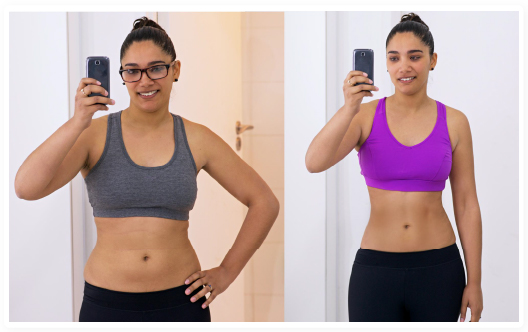 Subject: The result or success
Body: How was life before the client started working with you? How is life afterwards? What are the results? What are the intangible things the client liked the most (like learning to love being active or sharing their new healthy routine with their family)?
CTA: In testimonial emails, you might be a little more outright about asking for a sale. You've just shown your potential client what results could be possible for them, now tell them to take the next step of starting the process to work with you.
Don't forget to share your offer
And of course, last but not least, you need to write emails that share your offer with your email list. These are the emails that push your subscribers to buy what you're selling. For personal trainers, this might be a spot in your newest program, an online course, an in-person training session, etc.
Keep your offer emails straightforward and simple. Include all the relevant details and clearly describe what the offer entails. Consider creating a sense of urgency by letting subscribers know that the offer is only available for a limited time or offer a discount for anyone that signs up within a certain number of days.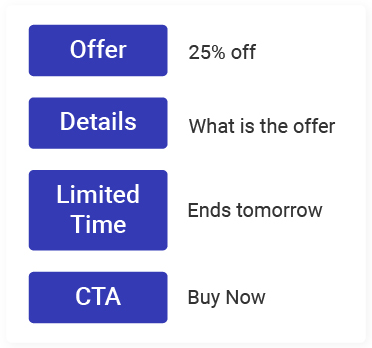 Subject: To the point offer
Body: Give readers all the details. What is the offer? What's included? Create a sense of urgency by telling readers they have a limited time to act.
CTA: "Buy now", "sign up here", "join the program today".
Chapter 3
How to organize email sequences
All of these types of emails work together to move prospects down your funnel and help you make sales. When sending emails out to your list, it's important to get the sequence just right to nurture that relationship and persuade them to work with you.
One great thing about email marketing platforms like Mailchimp and ConvertKit is that you can write all of your emails in one day and put your sequence on a schedule. When someone signs up for your newsletter or lead magnet, they will automatically be put into a sequence, and will receive your emails in the order you choose at the frequency you set.
Pretty cool, right?
Remember, when organizing your email sequence, 80% of the emails should provide value . The other 20% of your content will be dedicated to asking for sales. Educational, how-to, and myth-busting email content are all examples of valuable emails. Be sure to lead with value and soft-selling to keep your audience engaged.
Further down your sequence schedule, you can begin to introduce more direct CTAs and offer emails. Here's a very basic example of an email flow:
Deliver lead magnet
Value + Value + Value
Objection handling
Why us?
Sales
Value + value + value +
Social Proof + Ask for a 1-on-1 call
Offer email

Chapter 4
More email tips
Most email marketing service providers have templates that you can use to create your emails with ease. Use these templates wisely, and aim for a consistent look with all your emails. Plain text emails can be more personable as they look like they're coming from a real human.
When coming up with content for the email ideas listed above, don't be afraid to repurpose content from other channels. Sections from good blog posts can make great educational emails. You might bust some myths that you've already talked about on Instagram Reels. As renowned marketer Seth Godin says: "Delivering your message in different ways, over time, not only increases retention and impact, but it gives you the chance to describe what you're doing from several angles."
Email marketing is a great way to deliver your message and nurture those important relationships with your would-be clients. The right mix of email content can push interested prospects in the right direction and help you make sales. For everything else you need to know about email marketing for fitness businesses, including how to choose the right email marketing software, check out Fitness Email Marketing: the Ultimate Guide.