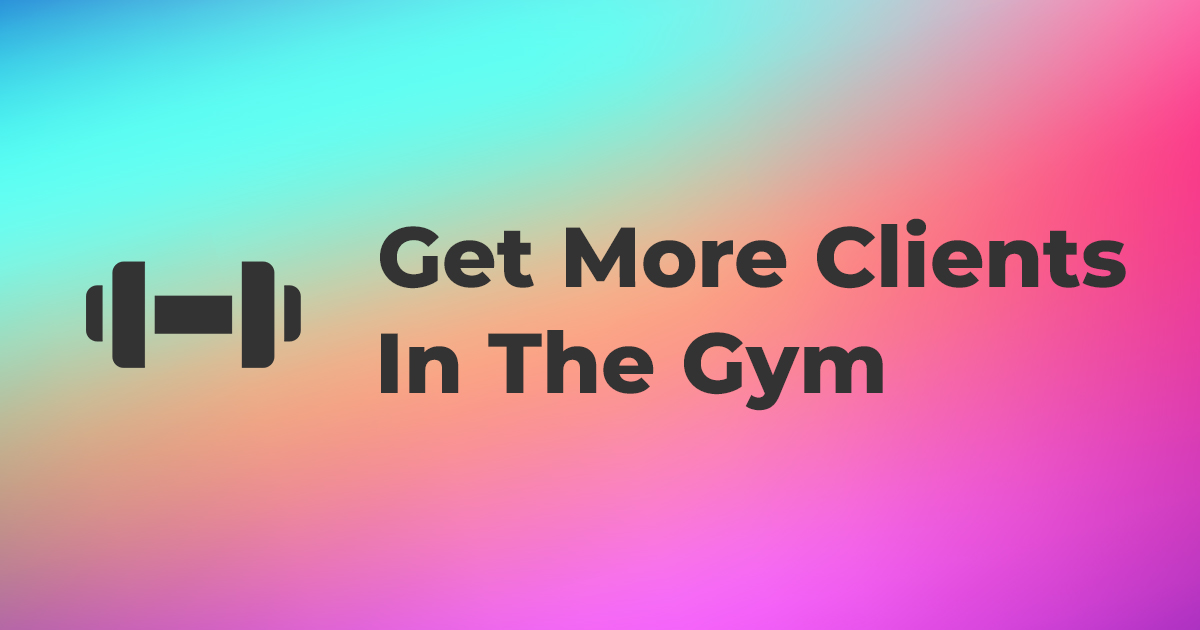 You're passionate about helping people get healthy and reach their fitness goals.
You've put in the hours to become a personal trainer so that you can do just that. You have what it takes to train clients and get them results, and you're ready to put your skills to good use.
Whether you are just starting out or are simply ready to take your personal training business to the next level, finding more personal training clients is likely an ongoing challenge.
We can help!
Here are 8 actionable tips that can help you get more personal training clients in your gym:
Let's go over each of these in detail so you can start building your client roster and doing more of what you love.
Yeah, yeah – we know this sounds cliche, but the truth is, it really works! Being friendly opens up a lot of doors, and can help you connect with and convert more clients.
A lot of people know the value of personal training. They may already be slightly interested in the idea of working with one. It's up to you to show them that you are the personal trainer that they want to work with.
Walk around the gym floor. Be genuine when offering help. Have real conversations with people and actually listen to what they have to say when asking about their training goals. Make people feel like you truly want to help them – not like you are just looking to make an extra buck.
Tip 2
Host a seminar that creates demand.
When trying to convert people to your personal training services, you will come up against many different objections. Many people will think that personal training isn't worth the money or that they can get the same results by themselves.
You know that you can help them succeed, and bring them much better results than they can get going at it alone. You need to enlighten them.
And the best way to do that is to give a seminar or workshop that delivers value and creates demand for your service!
Hosting a seminar that creates demand doesn't have to be complicated. Simply follow the "Why, What, How," formula:
Why isn't what they are doing working?
What right steps do they need to take instead?
How do you help them take the right steps?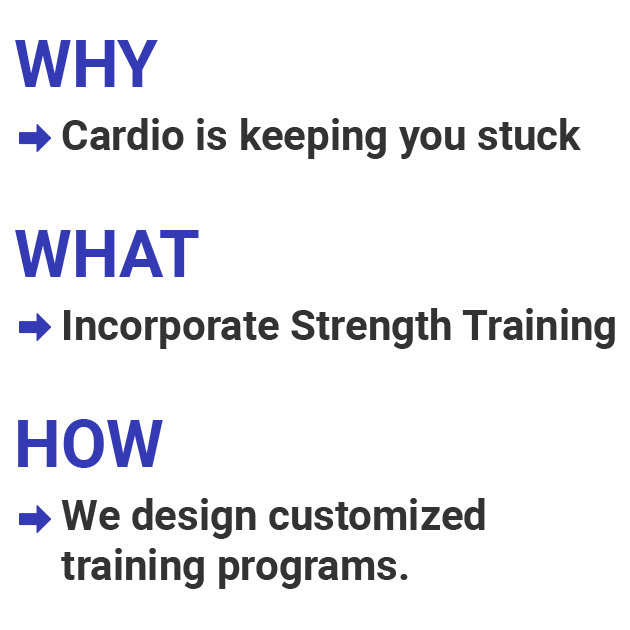 Think about your ideal clients and their biggest struggles. Design a seminar that is tailored to their needs.
Advertise your seminar all over! Hang flyers in the gym and other areas where your ideal clients are likely to hang out. You can also take to the internet to advertise by creating an "Event" page on Facebook and/or sending an announcement email to your list.
The more people you can get to attend, the better. Be sure to end the seminar by offering your services to attendees to get them motivated to take the next step. You may even offer a discount or incentive for any attendee that commits on the spot.
Tip 3
Run a free fitness challenge.
Another great way to bring in leads at your gym is to host a free fitness challenge. Just like hosting a seminar, leading a fitness challenge helps people get to know you and helps you show you know your stuff.
Consider a short fitness challenge where participants will get a glimpse into what it's like to work with you. If they have fun or see results with the challenge, they'll be more than happy to work with you longer term. If offering a free challenge doesn't make sense for you, charge a small fee to cover the cost of your expenses – be sure to keep the price low enough to attract a lot of participants.
When structuring your challenge, you can use the same "Why, What, How" formula you used for your seminar.
Here are a couple of example ideas to inspire you:
7 Day Summer Slimdown
5 Day Spring Kickstarter Fitness Challenge
2 Week Strength Challenge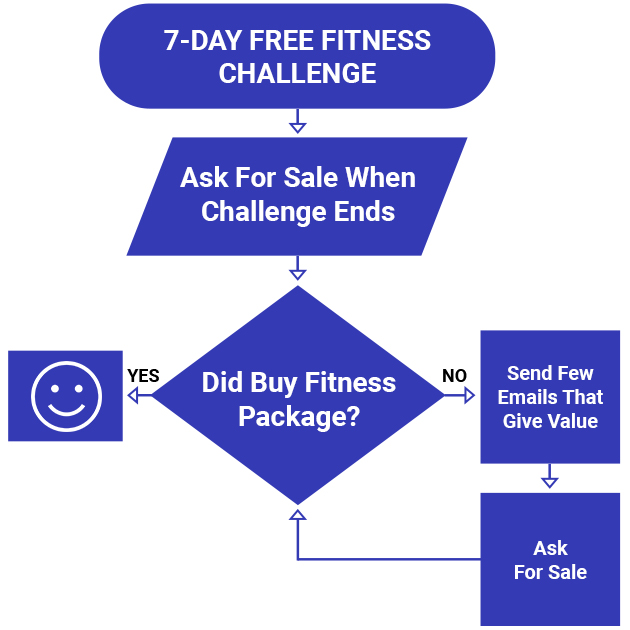 Advertise your free challenge the same ways you would your seminar. Be sure to tell existing clients to spread the word and share on all your socials. (You might even use a fitness challenge as a lead magnet to collect email addresses of potential clients. Read more about the power of email marketing here!)
Extra tip: The best way to make a challenge work for your business is if it's fully automated. This saves you a ton of time and helps you deliver the most value. You can do this using TrainerFu. We have a full tutorial you can check out here!
One way to get to know a lot of people? Teach group classes at your gym. The more people that know you and get to experience your teaching style, the more people you will have to convert.
Try to build relationships by introducing yourself to attendees (bonus points if you remember names at the end of the class!) At the end of the group classes, briefly pitch your services.
Taking and teaching group classes is a great way to get to know the people that are already going to your gym. Becoming a part of a fitness community is valuable for a lot of reasons and can help you form connections with many potential clients.
Tip 5
Offer free assessments.
Clearly, offering people your expertise for free in the form of a seminar or fitness challenge can be a great way to get more leads. However, these things can take a decent amount of your valuable time.
Another great option that takes less commitment is offering a free assessment to entice clients. Help potential clients get a better picture of their fitness level by offering free BMI tests, tape measurements, endurance tests, or other assessments.
Show people where they are to give them an idea of where they could go with your personal training. Let those potential clients know how your personal training program could improve their specific assessment and help them reach their fitness goals.
This is a quick and easy way to create more demand for your personal training services.
Tip 6
Develop partnerships outside the gym.
One thing successful business owners in all industries do well is network. This can help you get more personal training clients in the gym.
Partner with businesses that serve the same clients but aren't competitors. You might host a short seminar at a local juice shop or partner with a fitness apparel brand for cross-promotional opportunities. Getting your name out there is important and helps you build your brand.
Get creative and reach out to people to make connections. You never know what those connections might lead to in terms of growth for your business.
Tip 7
Make sure you are getting referrals.
Referrals are huge in the personal training industry. In fact, they might be your best source of new clients and an undeniably effective form of free marketing. So you definitely want to make sure that you are getting referrals.
The first step? Providing value to existing clients and getting them results.
People that are satisfied with your services will happily talk to their friends and tell them about your personal training. And if people aren't satisfied with your services? You can bet they will talk as well! Control the narrative in a positive direction by giving your best to existing clients.
You can also encourage happy clients to spread the word, even offering incentives – like a discounted session if they get a friend to sign up. Great personal training will naturally bring more clients to your door. Leverage your existing clients to expand your reach.
Tip 8
Combine in-person with online personal training to convert more leads.
All the methods we have discussed so far will get you more leads, but that's only half of the battle. You still need to convert them to paying clients. Having great sales skills is a big part of being a successful personal trainer. But there's another way to convert more people.
Create a unique offer that is actually better than traditional personal training for most people that come to your gym.
This standout offer is to combine in-person training with online personal training. This type of training meets the needs of more prospects than traditional personal training models. Let us explain…
Traditional personal training can get expensive. Since most personal training clients will probably want to do 2-3 sessions per week, personal training can average around $520-$780 a month.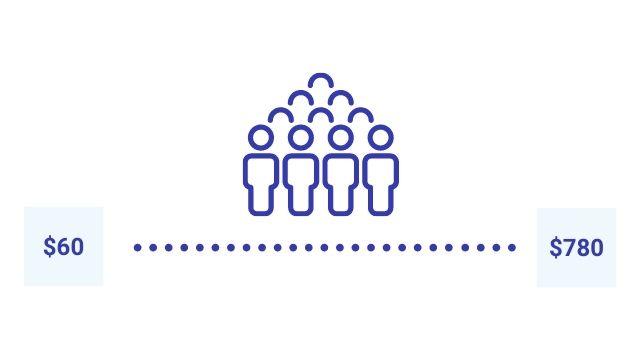 For many people, that is a cost that's a little out of reach, so they stick with a gym membership. However, only 34% of US gym members are satisfied with their price/performance ratio at their gym, and wish for better products or services.
That means there are plenty of people that are unsatisfied with the gym. These people fall short on being able to afford traditional personal training, but are still willing to spend a little extra to get that personalized experience they are looking for.
There you have a gap in the market, and you can serve this gap by offering online personal training in addition to your traditional personal training services. Online personal training is less hands-on and lets you deliver the majority of your services remotely. By expanding your services, you will be able to attract and convert many more people on the gym floor that are looking for affordability, flexibility, and customizability.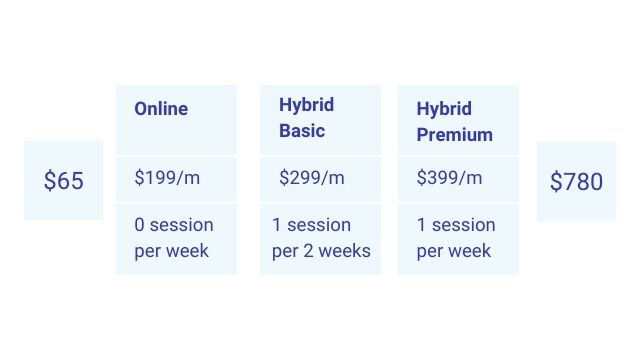 Plus, with online personal training you can scale more quickly as less of your time is used in traditional personal training sessions. This means you can help even more people reach their health goals, and make good money doing it!
Get more clients in the gym now
So to recap, there are several ways you can bring in more leads and get more personal training clients in the gym. Making connections and being friendly goes a long way. Remember the importance of networking and building community. Give potential clients a glimpse of your services by hosting seminars and fitness challenges and offering free assessments.
To tap into a highly profitable market and get even more clients, consider expanding your services to include online personal training. You can easily do this by using a personal training platform like TrainerFu. Follow this link to try it for free today.