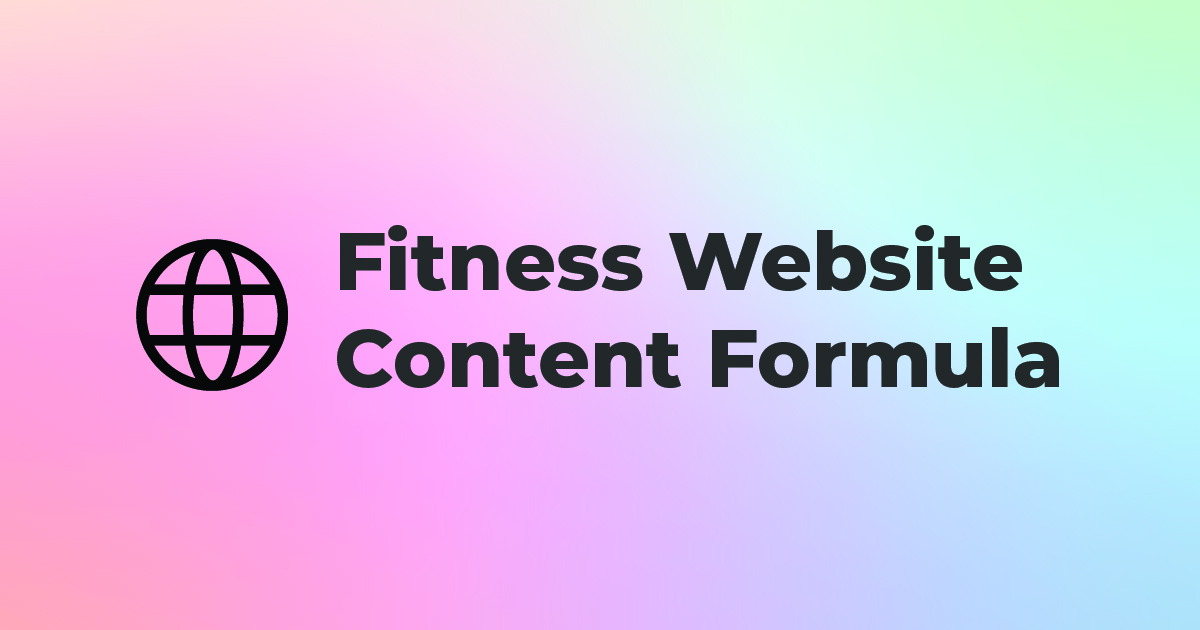 When you're starting out in your fitness business, building a website may be one of the first things you do. Many personal trainers build websites to look professional. It can give you that extra boost of legitimacy to throw a web address on your business card or to share your website with friends online.
But did you know that a website can do so much more than that?
Websites can actually help you grow your business! A great personal training website can be like your most effective salesperson that works for you 24/7 without asking for a salary.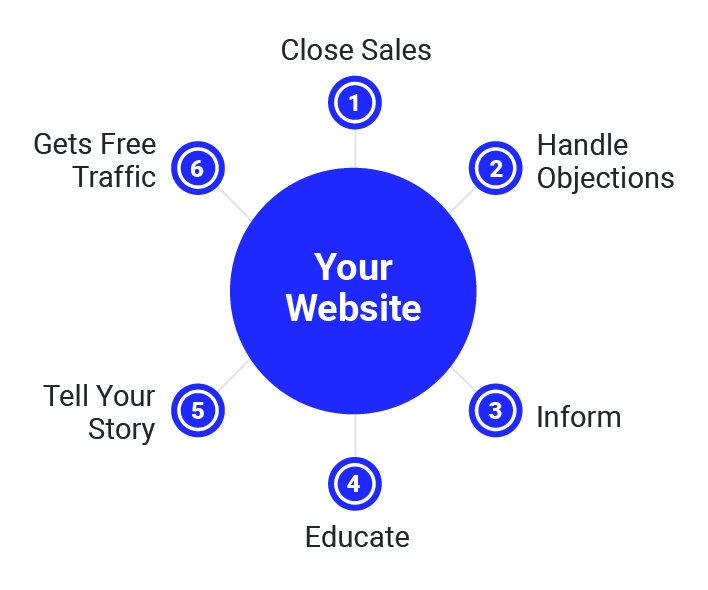 A personal trainer website can help you drive free traffic from Google. And more importantly, it can help convert your visitors into your personal training clients – if you know how to build the site correctly and write good content.
In this post we will help you build such a website. We'll share the three most important pages your site needs and how to write the content on each of them.
Table of Contents:
Chapter 1
Get to know your ideal client
Ok, first things first. Before we talk about the content that you'll include on your website, it's important to first touch on your ideal client.
Your ideal client is the type of person your business serves. Every personal trainer should get clear on who their ideal client is.
When thinking about your ideal client, think about your niche and the audience you are targeting. Then, you might even get more specific. List out your ideal clients demographic, hobbies, lifestyle, challenges, and fitness goals. Think about the kind of person they are, the kind of words they use, and the type of personal training they would receive the most benefit from.
As you move forward with writing your website content, write directly to your ideal client. Keeping them in mind helps you tailor all your content so that it speaks to them and helps them feel aligned with your brand and business.

Think about it, you wouldn't speak about your business to a senior with mobility issues in the same way you would a marathon runner that wants to start weight lifting!
You want your ideal client to land on your page and feel seen and understood. You do that by writing all your content with them in mind.
Chapter 2
How to write a personal trainer website homepage
The homepage is the most visited page on any website. So, it's pretty important to spend time creating it with the right content. It needs to catch a reader's attention and help them make a quick decision on whether they want to know more about your business, and maybe even buy from you.
We'll break down each of the sections you should have on your homepage in order of how they would appear on a screen.
Hero section
This is your first impression. This is the main section of your site that visitors will see. The imagery and text here is "above the fold" meaning that it can be seen without having to scroll. The purpose behind this section is getting readers to scroll and explore your site a little more.
That means you need to have a powerful headline and subheadline . Your headline should be an emotionally driven benefit. What is the benefit that you provide – not the service. Then, your subheadline right underneath will explain how you deliver than benefit.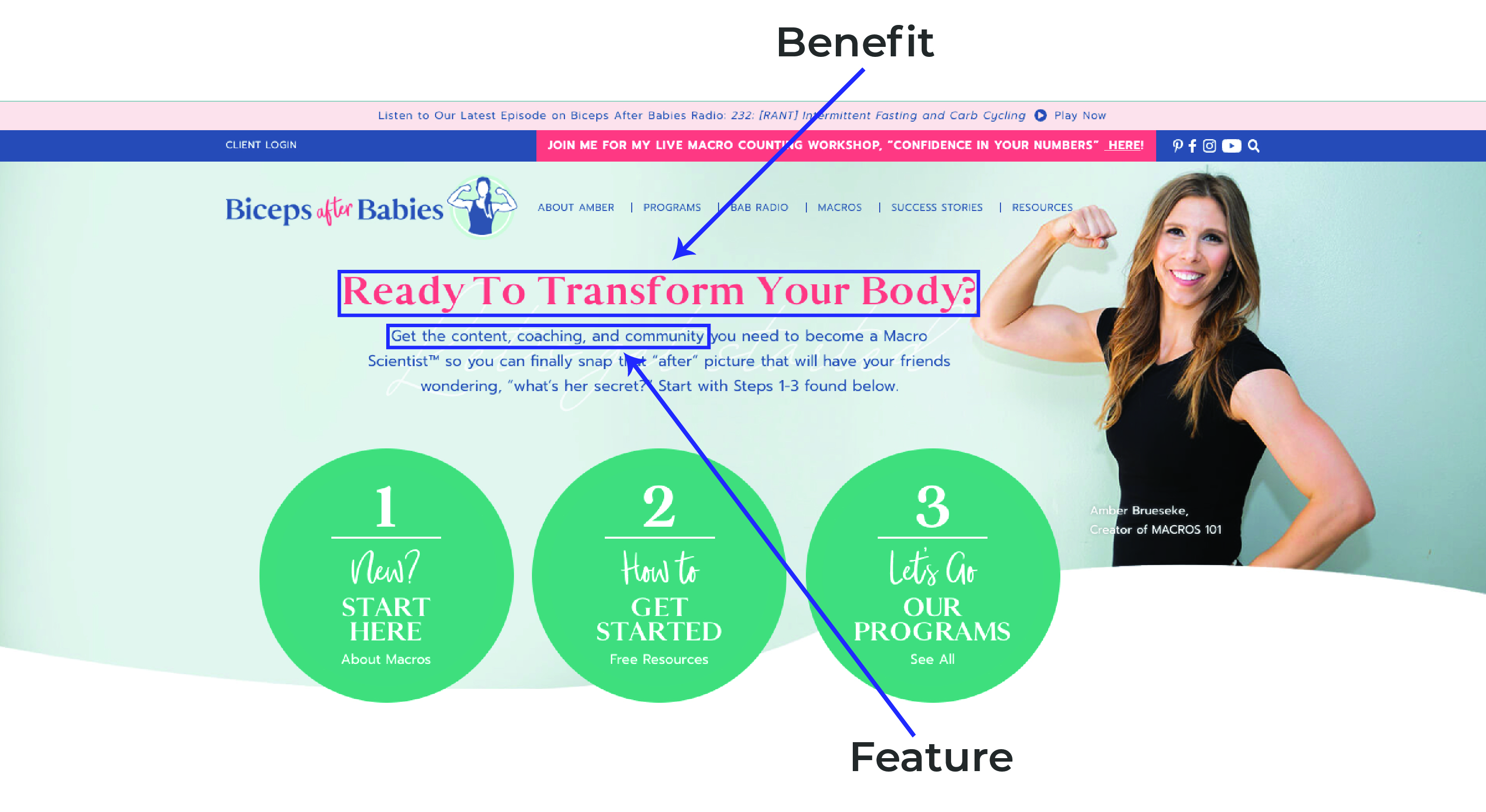 Here's an example of what we mean: Your feature might be "Personal training from an experienced instructor of fifteen years," but your benefit would be "Feeling better in your body than you have since high school!"
Here's another one: Feature = Weekly group fitness classes
Benefit = A fun time working out with a supportive community
Lead with the benefits of your business, then explain the features of it. Don't worry about getting too detailed here, you'll have plenty of space for that on other areas of the site. Instead, think about sparking interest in your business by calling out a desirable benefit.
Go ahead and include a Call to Action or CTA, right here in your hero section. This might be a button that sends them to booking a consultation or maybe to another section of your website. You may capture some leads here. Other readers will keep scrolling; let's move onto the next part of their journey on your homepage.
Social proof
Social proof is powerful. When making a buying decision, we want to know what other people have to say about a product or service. We trust individuals' experiences more than we trust what a business is telling us about themselves.
Include social proof on your homepage to build trust and show readers that you have proven results. Ask happy clients for testimonials that you can quote on your website.
Remember that pictures are also persuasive. Include "before and afters" along with client testimonials, or share pictures of clients having fun working out. Bonus points for video testimonials that show real people sharing their happy experiences of working with you.

A great way to format this section is by letting users scroll horizontally to move from one testimonial to the next. The more real clients you can highlight social proof from, the better!
Introduce yourself
Your home page should also include a short section where you briefly introduce yourself. There is a pretty simple formula you can follow to write an effective bio for this section of your site.
Who you are
Who you help
What results do you get?
What are your qualifications?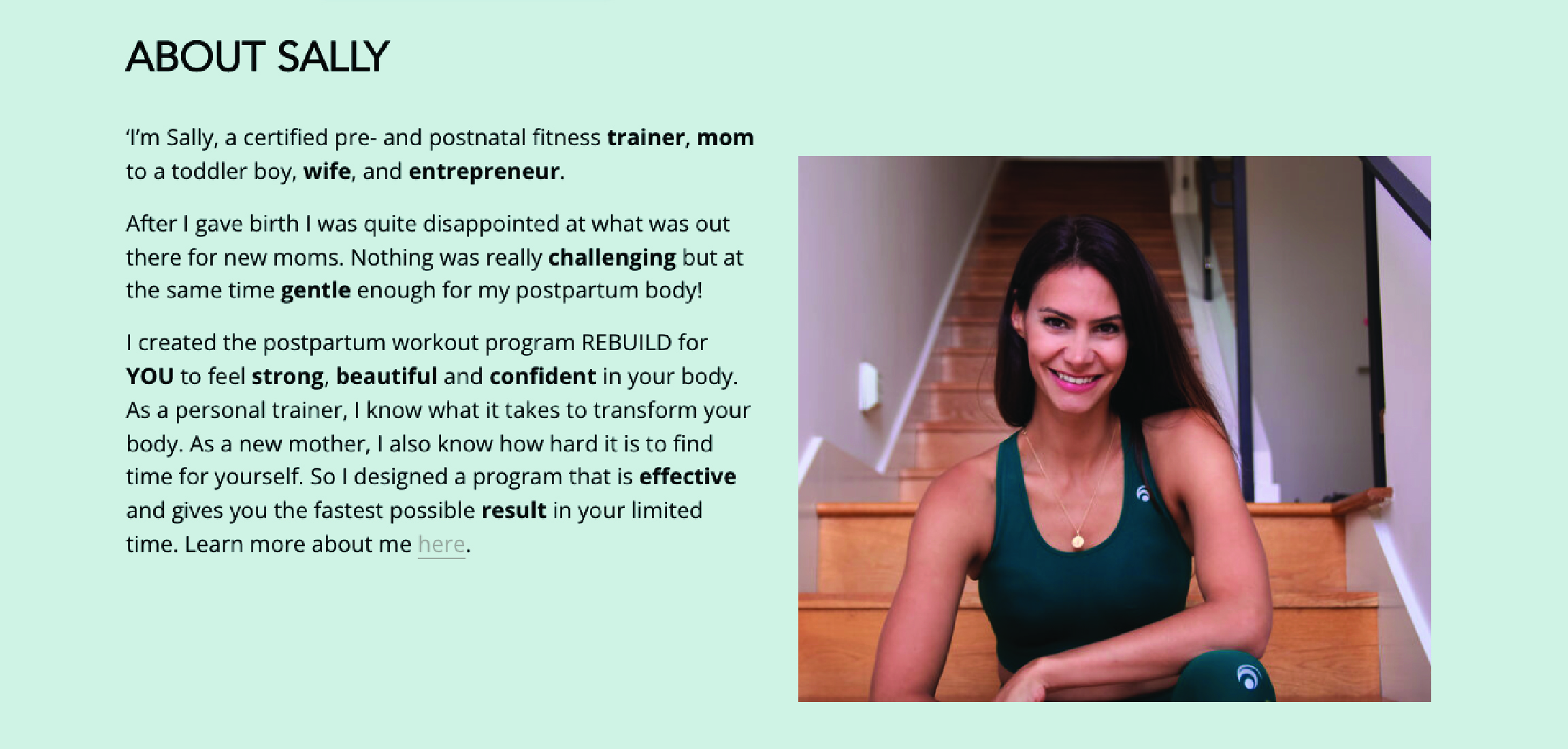 Here's this in action:
Hello, my name is Andrew. I help seniors with mobility issues fall back in love with being active! I have a bachelors in occupational therapy and got my PT certification in 2012.
Hi, I'm Desiree. I teach working moms how to get fit in under 30 min a day, helping them shed weight quickly! I have been a physical therapist for nearly ten years and have owned a fitness studio since 2018.
End this section with a link to your "About Me" page where readers can learn even more about who you are and what you do.
Services
Briefly touch on your services on your home page. Highlight your main two to three offerings with brief descriptions under each.
For example:
1
2
3


    * Online personal training
    * Fitness Challenge
    * 1-on-1 in-person training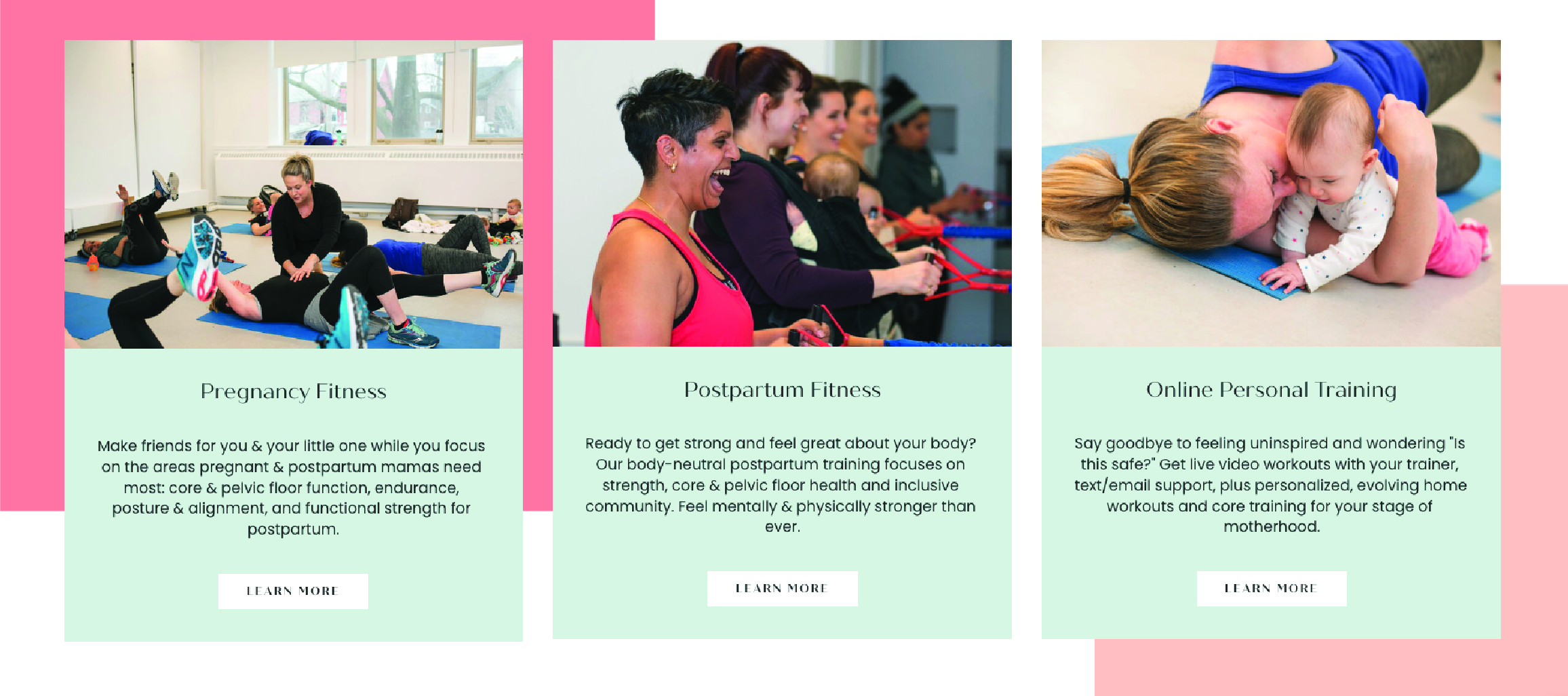 Keep talking to your ideal client in this section. Tell them a little about each service and what makes it a great choice for them. Include links to each individual service page where interested readers can learn more. We'll talk about how to write these pages in just a bit.
End section
End your homepage with another strong CTA. CTAs are supposed to drive action and encourage readers to take the next step. In this section that step might be scheduling a consultation, downloading your lead magnet, joining your newsletter, etc.
All of your most important pages on your website should have CTAs. Here are some tips on making them actionable:
1. Make it easy for readers to book a consultation call. A big mistake many people make is to simply use a contact form. This is a passive approach that slows down the whole process of getting in touch with your future clients. It requires extra steps (emailing, calling) that burdens them and makes them think twice about whether they really want to reach out to you.
You want to strike when the iron is hot – when they are excited to hear from you so they can get started ASAP. Do this by having one step that requires a single click of the mouse to connect with you.
Calendly is a good example of an app that lets you do this. All the prospective client has to do is follow the link and choose a time slot that works for them for a call.
2. Use a low barrier offer.
Get clients involved with a low barrier to entry offer that they can sign up for right then and there! Ask for the email address in exchange for your offer.
A short, free fitness challenge (e.g.,10 weight loss, or 21-day summer shred) is a fun and high value offering that motivated prospective clients will be eager to join.
To make the process as easy as possible for your future client, go with an app that will automate the entire challenge for you. The simpler the process is, the more likely your clients and prospects are to stick with you.
TrainerFu is a good example – their software will let you automate everything from registration and payment to delivering workout videos. This video shows you how to (easily) set up your entire online challenge through TrainerFu.
Chapter 3
How to write a personal trainer bio page
Your actual about me page will be an extended version of the introduction you did on your home page. You will want to use this page to share a little bit about yourself of course, but also keep in mind that this page should also be about your client. Think about tying your own experience back to how it helps you clients.
Let's break down the components that every bio page needs.
Who you are
This sounds straightforward, but you'll need a little finesse here. You'll want to include your name of course as well as your qualifications like your educational background, certifications, and relevant experience.
You'll also want to help people feel like they know you on a more personal level by sharing pieces of your identity. Don't get caught up feeling like you need to tell your life story, but think about how you relate to your ideal client and share those parts of yourself with them. Talk about the other hobbies and passions that you have, a little bit about what you do when you're not working. Are your ideal clients parents? Maybe talk a little about your children or include a family photo on this page.
Who you help
We already talked about getting clear on your niche. This is the type of people you help. Help website visitors decide if you are the right client for them by telling them exactly who you help and how. Get specific – don't be afraid about pushing away the wrong clients, you're looking for your ideal client and want them to know when they've found you.
Here are some examples:
I help Fremont residents lose weight without them having to go on restrictive diets.
I help seniors who are mostly cooped up at home get back into a more active lifestyle.
I help busy moms find more energy and feel beautiful in their own bodies.
What's your story?
What makes you special? Why do you want to help these people and how do you do it? What's your motivation?
This step is where you differentiate yourself from others in your field, and explain to your prospects what makes you unique and better.
"I tried every diet out there: paleo, vegan, gluten-free, keto, you name it. Then I realized that strict dieting wasn't for me or my body, and figured out how to achieve weight loss by eating whatever I wanted (within reason!).
"It's both my belief and experience that you don't have to follow some crazy strict diet to lose weight and live your best life."
Here are some prompts to help you find your story/angle:
How did your personal training style evolve/develop? Was there something you changed along the way that helped you and others succeed more?
What motivated you, and what continues to motivate you, to be a personal trainer?
Have you discovered anything related to health and fitness that has changed your and your clients' lives for the better?
Ultimately your answer should be able to fit into this template, or one similar to it:
"I love helping/doing < Your target identity/niche >. But I noticed there was a < specific problem/lack in the industry >. So I started my own business to make a difference."
Why should they trust you?
Your entire bio will help you build trust with readers and establish your expertise. This section is dedicated to reinforcing that with proof.
Show website visitors actual results you have gotten clients. You can include several testimonials or short blurbs from past clients. Use photos, if possible, of whose success stories you're sharing. This will make them (and you) more real and relatable to the reader, in turn building further trust and interest.
What's the next step
Use what you learned in the previous section to create a strong CTA for the end of your bio.
Be sure to tell readers what they get out of taking action! What benefit will they get from your lead magnet? Or is your first consultation free and includes a free assessment? Entice readers to take the next step.
Chapter 4
How to write personal trainer service pages
When building your personal trainer website, it's crucial to have pages dedicated to your services. This is the best way to show people what you offer and give them a quick sales pitch on each offering.
You may organize your site by having one main service page on your navigation header, then have dedicated pages for each service that users can navigate to if they are interested in learning more about a particular service.
Every service page should have an SEO focused title, like "personal trainer NYC" or "bootcamp Sunnyvale". This will help your website come up when someone is searching for a particular service on Google.
Here's how you can lay out each service page.
Hero section
Keep this section simple, but strong. Here's your formula:
Headline - Name the service.
Subhead - Explain the benefit of the service. \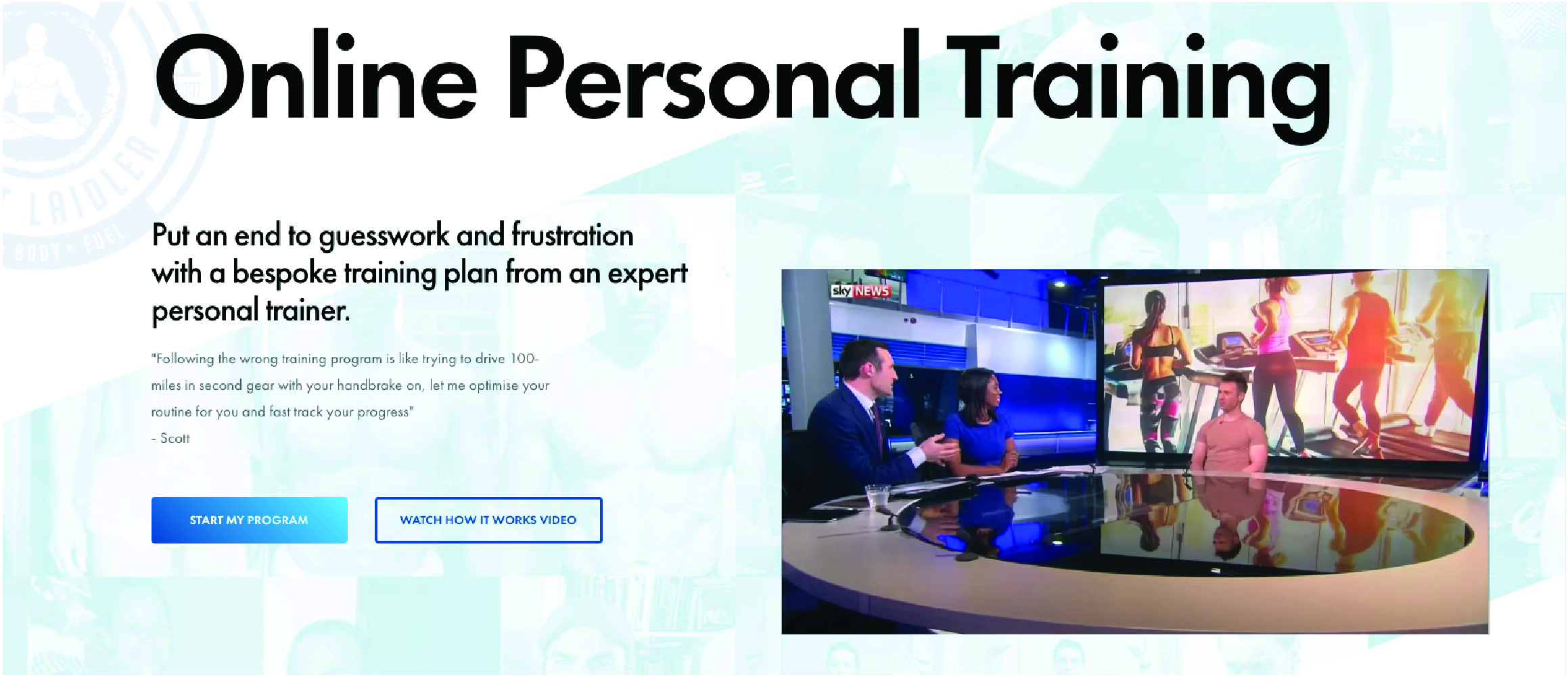 What's included in the service?
The next section on this page should get more detailed on what the service entails. Explain to readers exactly what they will get. A certain number of dedicated one-on-one sessions? Unlimited access to online resources? How about additional content like habit coaching and nutrition guides. List it out in bullet points.
Your process
Up next, tell clients how you deliver the service. Let them know what it would be like to work with you and what they can expect throughout the process. You may even include a "FAQ" section where you can discuss typical client questions head on.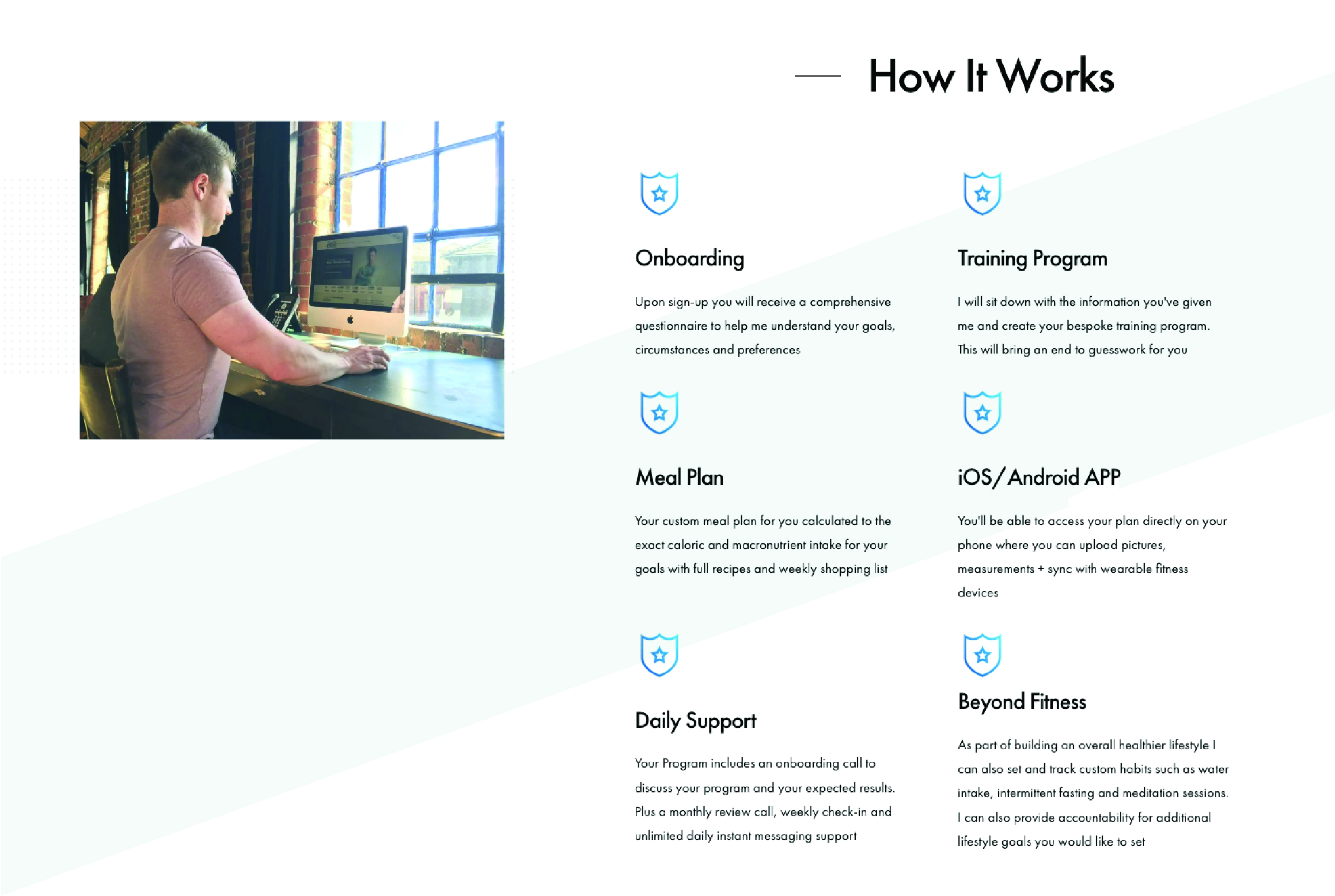 Pricing
To list pricing or not? There's actually a pretty big debate on the matter, and both sides have a good point.
On one hand, you don't want to give people sticker shock or scare someone off that doesn't fully understand the benefit they are paying for. On the other hand, you don't want people to be confused, or leave your site looking for another trainer that has their prices listed up front.
Consider including a pricing range under each section, that gives prospective clients an idea of what it might cost. Really building out the sections above this one, will make it easier for people to understand what all is included in a service and wrap their minds around the pricing for it.
Let readers know that they can reach out to you if they have any questions about a particular service that you didn't answer, and include a CTA for them to sign up if they are ready.
Bonus: Footer
Most website builders will allow you to include a footer at the bottom of every one of your web pages. Don't let this space go to waste. Put this info in your footer so that it's readily visible no matter what page of your site someone is on:
Your address (good for SEO if you are trying to get more local clients)
Your email address
Your phone number
Link to schedule an appointment

Chapter 5
Ready to make your website work for you?
Creating the right content on your website can help you attract more ideal clients and turn them into paying customers. Keep that ideal client in mind as you write your different pages. Speak to them and help them see that you are the expert that can solve their problems.
Having a great website is just one part of a great personal training marketing strategy. We have a lot of great resources that you can check out to learn more!
How to Build a Memorable Fitness Brand