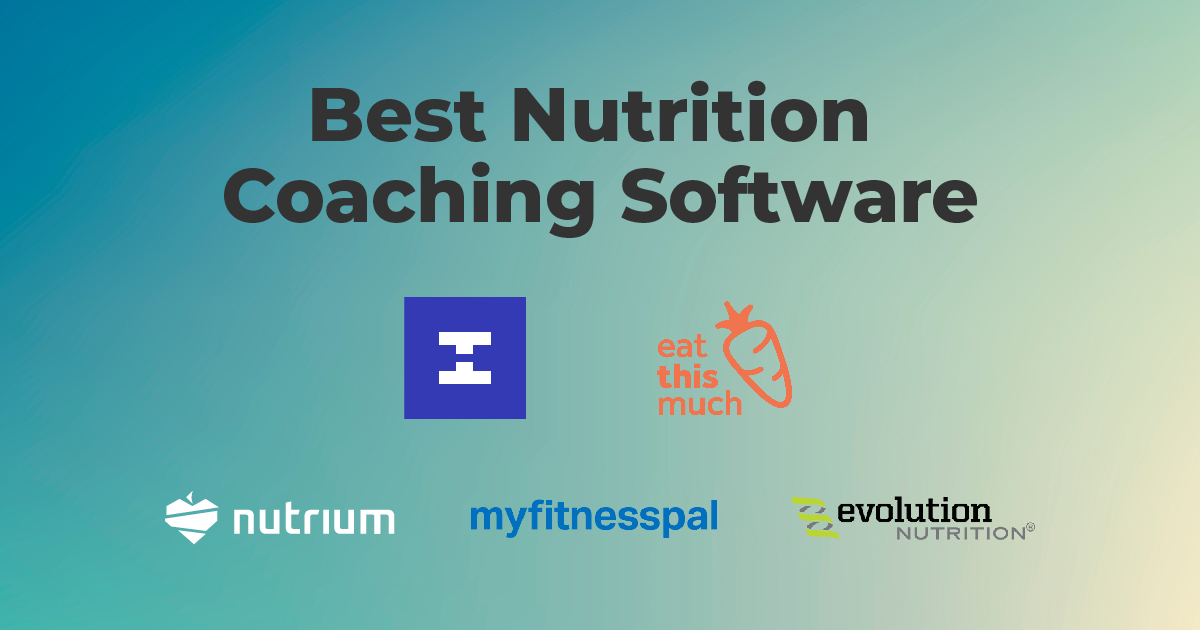 Nutrition coaching software is designed for various types of professionals that help clients reach their health goals with nutrition planning. From personal trainers and coaches to dietitians and nutritionists, every professional needs something unique from their nutrition coaching software.
Fortunately, there are many different apps and platforms, you can choose from to streamline your work with clients, whatever that looks like for you. And since what works best for one person may not work as well for someone else, this post isn't about telling you _the best _nutrition coaching software.
Instead, we will showcase the pros and cons of several options, so that you can decide which one is right for your business. The five options that we will compare are:
MyFitnessPal
Trainerfu
EatThisMuch
Evolution Nutrition
Nutrium.io
Inside this blog:
Chapter 1
Do you really need nutrition coaching software?
Before we dive too deep, let's first talk about why you might want a nutrition coaching software to run your business. Is it really necessary?
Helping clients reach their health goals through nutrition is important work. As you probably know, it's not always easy to keep clients on track and deliver valuable content without spending hours tied to a phone or computer.
Nutrition coaching software can automate and optimize many of the tasks you complete on a daily basis. Nutrition coaching software can save you major time, so that you can work with even more clients. The right software can help you focus on more important parts of your training or coaching, instead of spending your time doing repetitive tasks.
Your clients can also use the nutrition software which will help them stay on track. This allows you to deliver better value and get better results – which of course means you can charge more as well.
Chapter 2
What features to look for in a nutrition coaching software?
To help you determine the best nutrition coaching software for you, we are going to compare the top five by features. Note that none of the software we will be comparing has all of the features we are discussing here, and every software implements each feature differently from other platforms.
The following are some of the most important features to consider. However, what your business needs will be totally dependent on the type of work you do and how you would like to serve your clients.
Client meal logging
When it comes to nutrition coaching, tracking clients meals is clearly an important way for you to help hold them accountable. And of course, if you're dealing with several clients in a given day, you need a way to stay organized and easily keep up with what each of them are eating and how their meals are fitting into their fitness goals.
The right nutrition coaching software can help you maintain this open line of communication with clients so that you can motivate and support them. It can help you keep an eye on their daily food intake, so that you can help them adjust and stay on track. Let's look at how each platform does it:
MyFitnessPal is a very popular calorie counting app that clients can use to log every meal. You can become friends with clients on the app, so that you can see their meal log in your newsfeed. MyFitnessPal makes it easy for clients to search different foods and add in the calorie count for everything they've eaten in a given day.
Calorie tracking is the most accurate way to keep up with a client's meal log, but it can be pretty tedious to clients and some will forget to do it. TrainerFu supports three different ways for clients to log meals with both detailed and more basic tracking options.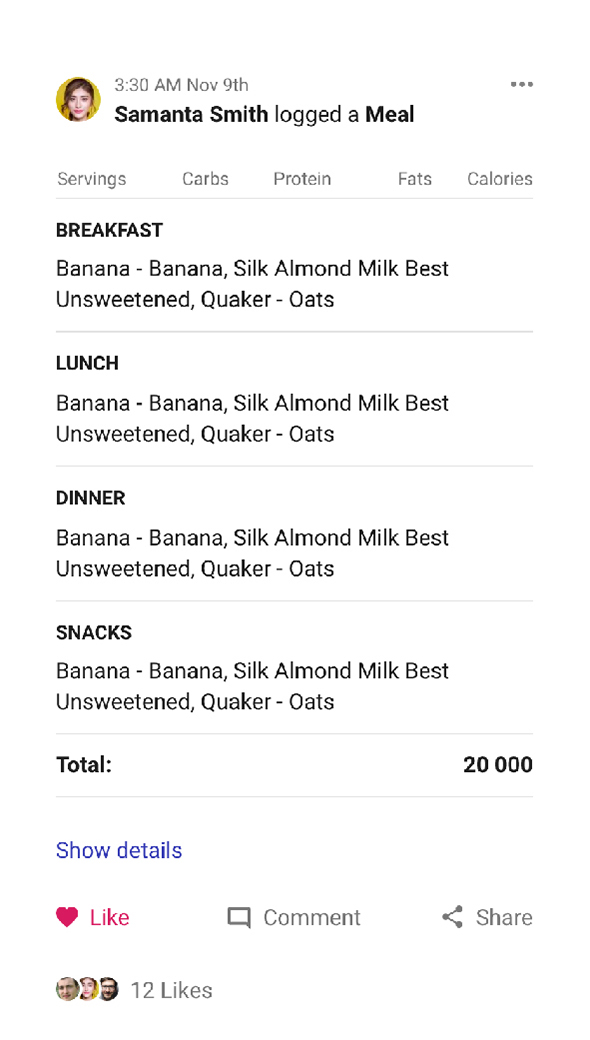 EatThisMuch, EvolutionNutrition, and Nutrium.io
These three are meal planning software. In each, you can prescribe meals to clients, clients can check-off the meal they ate, and the software will track the calories and nutrition.
In theory, this is very easy as clients can just check off their meals. However… There's one big problem. Most of the time clients won't exactly follow the meal plans exactly. They will eat some snacks on the go or sub out meals. In these apps, it is either not possible or easy to track meals when you go off your meal plans, making this feature pretty limited for you and clients.
Meal planning
Your clients are working with you because they need to be told what to eat. A big part of your job is helping them plan meals that fit their dietary and nutritional needs. You can do this the old fashioned way, sure. But to deliver your meal plan contents to clients more seamlessly, focus on this feature in nutrition coaching software.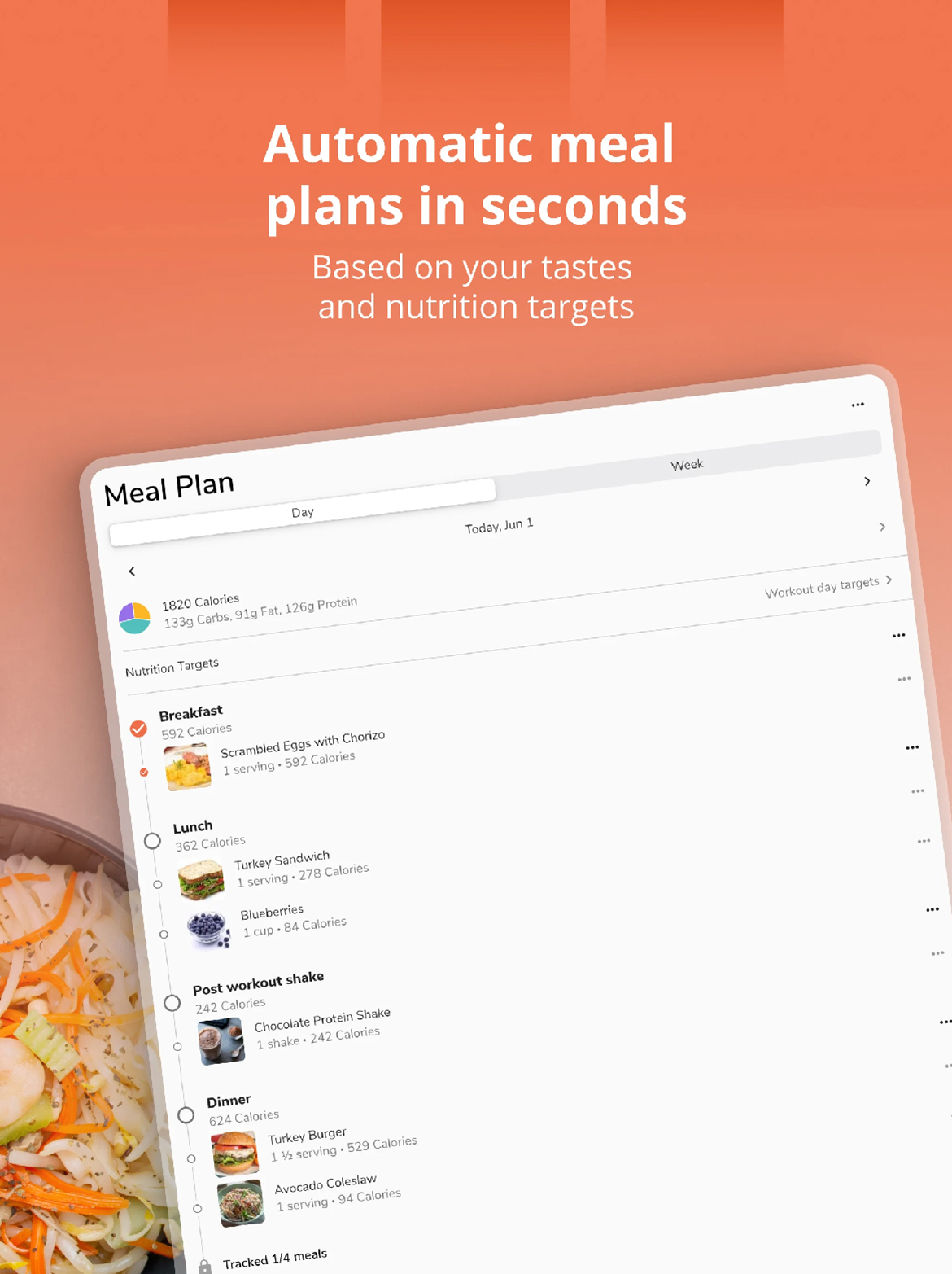 EatThisMuch, EvolutionNutrition, and Nutrium.io are all focused on meal planning, while MyFitnessPal doesn't have a meal planning feature. Trainerfu will allow you to send meal plans if you have them ready in a PDF format.
EatThisMuch, EvolutionNutrition, and Nutrium.io differ in how they implement meal planning features. All three allow you to build grocery lists for your clients and create detailed meal plans. EatThisMuch also automates some of the meal planning process and aims to make shopping and meal preparation easier for clients.
Habit based nutrition coaching
Some clients will need help losing a certain amount of weight. Some clients want to gain muscle. For some clients, strict meal plans make a lot of sense to help them reach their goals. For others, sticking with a meal plan is tough. They might instead want a different approach that teaches them how to make their own nutrition choices for the long term.
This is where habit based nutrition coaching comes in. This helps you do more than simply give clients meal plans to follow.
Some nutrition coaching apps like TrainerFu have habit coaching features that will help you guide your clients into creating healthier habits. TrainerFu makes this easy by allowing you to schedule recurring habit check-in messages and reminders to clients so that you can easily monitor how they're doing and keep them on track.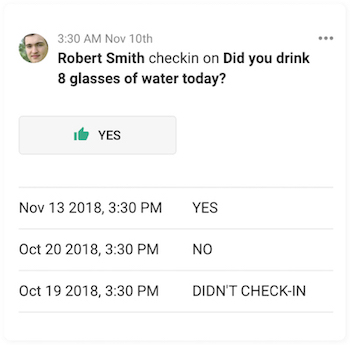 Habit based nutrition coaching can keep clients more motivated. Instead of simply telling them what to eat, you're teaching them to incorporate healthier eating into their lifestyle so that it becomes a habit that sticks.
Coach engagement
Planning great nutrition is only half the battle. Making clients actually execute the plan is the other half! When helping clients reach their health goals, supporting, motivating, and holding your clients accountable is incredibly important.
Because of this, using a nutrition coaching software with coach engagement features can be really helpful. Both MyFitnessPal and TrainerFu have a feed feature that will let you see what your clients are doing and interact with them.
Trainerfu has gone one step further with the engagement feature. The Trainerfu feed is similar to a Facebook group news feed. You can post content, questions, comments, etc., to inform, enage, and educate your clients. Here, you can prompt clients with questions to find out:
Are they eating right?
Are they eating enough?
Do they have any questions?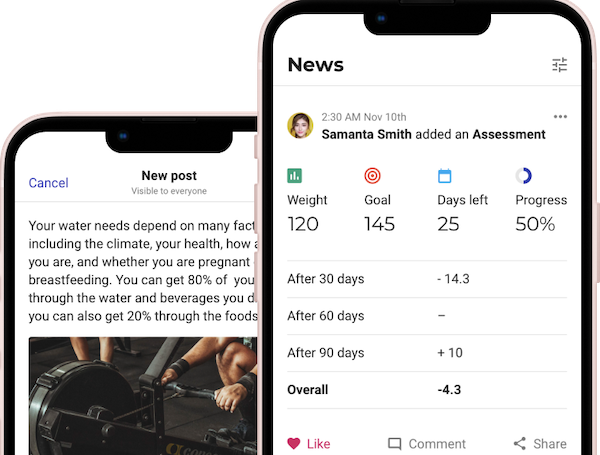 Keeping clients engaged and even creating community support can be an added bonus of the right nutrition coaching software and can help you bring better results to clients.
Content delivery
Not only will you be building meal plans and monitoring your clients calorie intake. You also want to educate your clients with great content that helps them stick to their program and create lasting change.
EatThisMuch and Evolution Nutrition allow you to create PDFs within the platform. However, other than that, they are pretty limited when it comes to content delivery.
With TrainerFu, you can set up a content pipeline that automatically sends your personalized content to clients. This helps you add value to your programs without having to invest too much of your time.
Fitness training
If your scope of service is only nutrition then this feature may not be important to you, but if you are a personal trainer, having an all in one software is really important. This keeps you from bouncing from one app to another or having content for clients in various places.
TrainerFu is an all in one software that allows you to incorporate nutrition coaching and much more into your training. With TrainerFu, you can deliver workouts, meal plans, habit coaching, and everything else you might need for a well-rounded program.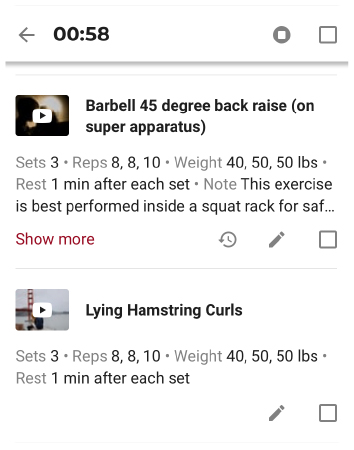 Price
When choosing the right tools for your fitness business, cost considerations play a big role. That's why it can be really helpful to get multi-functional tools like TrainerFu that give you more bang for your buck. Ultimately, the right software is a wise investment in your business. When things are running smoother, you can make more money.
Here are how the top nutrition coaching software stack up:
| | |
| --- | --- |
| MyFitnessPal | Free |
| Trainerfu | $29/month for 20 clients |
| EatThisMuch | $79/month for 10 clients |
| Evolution Nutrition | $69/month for 50 clients (Pro Plan) |
| Nutrium.io | $44.8/month for 25 clients |
Note: These are the prices as of August 24, 2022.
Chapter 3
Final recommendations
The best nutrition coaching software for you depends on the type of work you do and your needs. If you are a dietician or nutritionist and meal planning is critical, you'll probably want to use EatThisMuch.
If you are just starting and want to save money till you build your business use MyFitnessPal. Its features are limited, but it can help you keep clients on track when it comes to nutrition.
If you want extra features like appointment booking along with meal planning use Nutrium.io.
Lastly, if you are a personal trainer and do nutrition coaching as a part of a more comprehensive package, choose TrainerFu to easily deliver all components of your training. Try TrainerFu for free to get started.