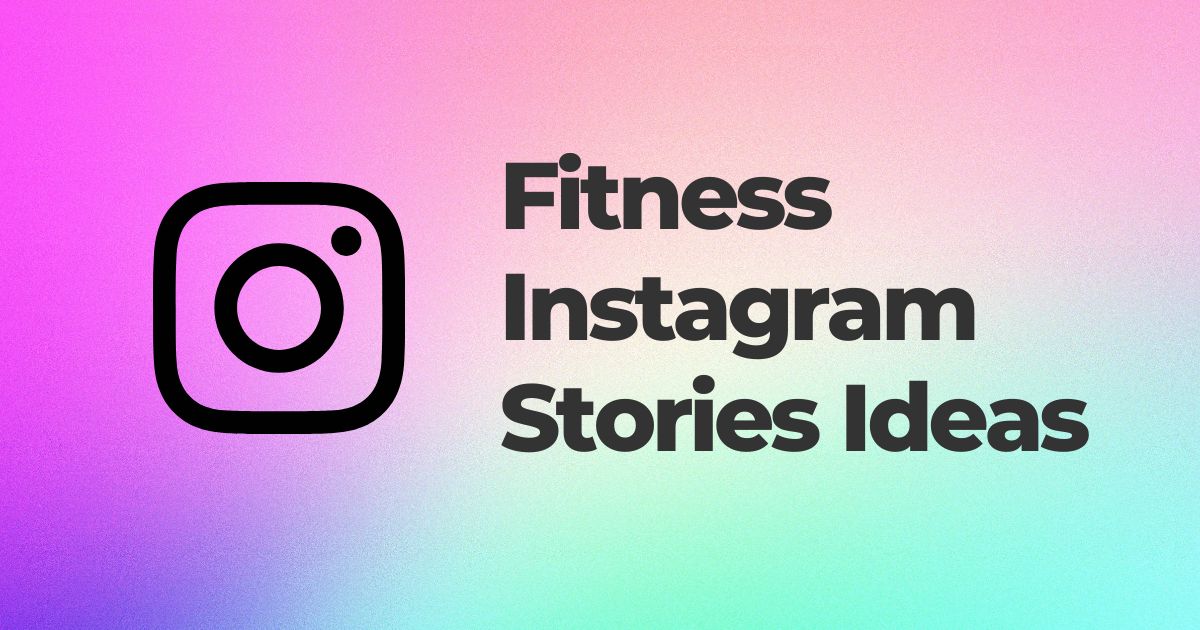 Instagram is full of options.
Some users like to hang out on the traditional feed, scrolling through pictures and carousels. Other users might spend more time on the "Explore" page, discovering new accounts and checking out what's trending. Reels are another popular form of Instagram entertainment, where users watch, create, and share short videos.
But this blog is about yet another way to use Instagram! Where you can share all of these kinds of posts and more with your followers for shorter periods of time. Where you can create engaging and interactive moments, share branded graphics, use storytelling to capture your audience, and much more!
Yep. It's Instagram Stories and if you're not using them for your fitness business, you are missing out on a stellar avenue to connect with your audience and build your brand. To put it in perspective, 500 million accounts are using Stories daily and 58% of users say they are more interested in a brand after seeing it in a Story.
However, as you probably know, coming up with consistently great ideas for Instagram Stories as a fitness business can be challenging. That's why we want to share some Story content ideas personal trainers can use to make the most of this Instagram feature.
This post will help you feel more inspired to show up consistently on Instagram Stories and start using this tool for your fitness business.
Table of Contents:
Chapter 1
Why should you be using Stories on your fitness Instagram account?
Before we dive deep into great Instagram Story ideas for your fitness business, let's first talk a little more about what makes stories special and the impact they can make on growing your account as a personal trainer.
Stories are different from other types of post because they only exist on your page for twenty-four hours. One thing that is great about using Instagram Stories is that it doesn't take as much time to produce as other types of posts (looking at you, Instagram Reels) and can help you be in front of your audience more often.
Stories can be short, one-off shares or you can use them to create more of a narrative that has a beginning, middle, and end. Here's a fitness Story example: You start a workout. You struggle. You come out victorious! You treat yourself to a smoothie at your favorite cafe.
Your audience enjoys following along with your Stories in this way, and using Instagram Stories to share actual, well, stories can be a really fun way to keep them coming back for more.
With this in mind, let's get into some specific ways that you can use Stories for your fitness account.
Chapter 2
Story ideas for your fitness account
Alright, now for the part you've been waiting for — actual content ideas for your Stories.
We'll give you some general Story ideas along with some examples of how to incorporate the ideas for a fitness account. Your Instagram Stories should compliment your overall content plan on Instagram, helping you stand out from the competition and generate real sales.
Keep in mind as you're creating a Story strategy that you can also select Stories to be featured on your highlights section at the top of your profile. These selected Stories will live on your page for as long as you want them to. This makes relevant business information (like hours, pricing, testimonials) easy to find, right under your bio and contact information.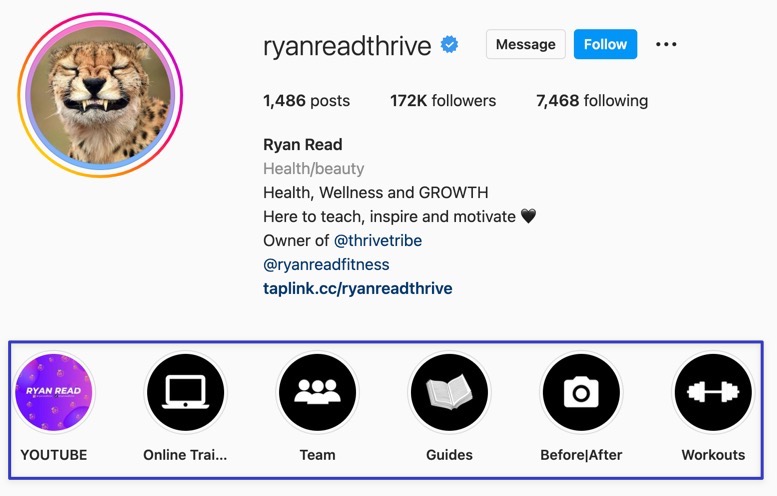 @ryanreadthrive using highlights effectively
Behind the scenes stories help you connect to your audience
Instagram Stories are arguably the best place to give followers a glimpse into your daily life. This helps you be more relatable and builds the like factor, which is incredibly important for converting followers into paying clients!
You can build your behind the scenes Story with a beginning, middle, and end. For example, you might share a shot of your grocery cart, a text based Story of a recipe, a video of you making it, and an image of the final product on your plate.
Behind the scenes can also show glimpses of your life outside the business. This is where shared identities come in.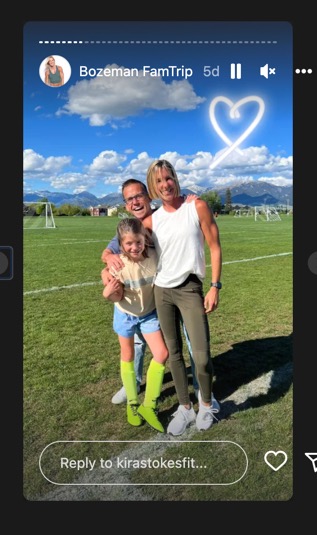 Think about your ideal client. What part of their identity do you relate to? Maybe it's being a mom, a pet owner, a nature lover, etc. You can highlight a couple of these identities on your Instagram Stories by simply sharing pictures or videos as you go through your day to day of what your life is like outside of your fitness business.
Tips and how-tos establish your expertise
Sharing educational content is important for all businesses, especially in the fitness world. In fact, educational, "pillar" content should be about 40% of your overall content plan, and Stories are a great place to incorporate tips and how-tos that highlight your expertise.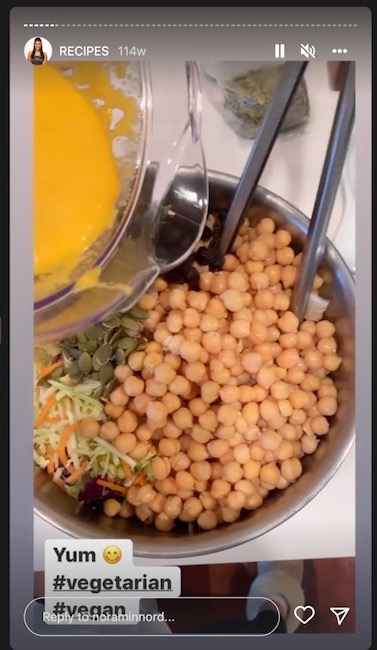 When sharing how-tos and tips you can use the first Story to catch your audience's attention with a hook, like a common misconception or a surprising fact. The rest of the stories in the series can continue to shed light on the topic. Text and photos work just fine here and are easy to create. Be sure to keep the text blocks on each slide relatively short to hold your audience's attention and keep your Stories easy to read.
You might also consider building up to an important topic with a couple of days worth of tidbits on the subject, then record a video of yourself explaining it in full detail.
To come up with great educational content, start by digging into what you're most passionate about, something that you want more of your audience to know. You might also think about common myths that your followers and clients have and use Stories to bust those myths with the truth. Use your knowledge and expertise to teach your followers what you know and build that connection and trust.
Social proof helps you build trust
Along with establishing expertise, it's also important to build trust with followers. You will constantly want to share social proof on your account that shows followers what it's like to work with you and the results that you bring to your clients.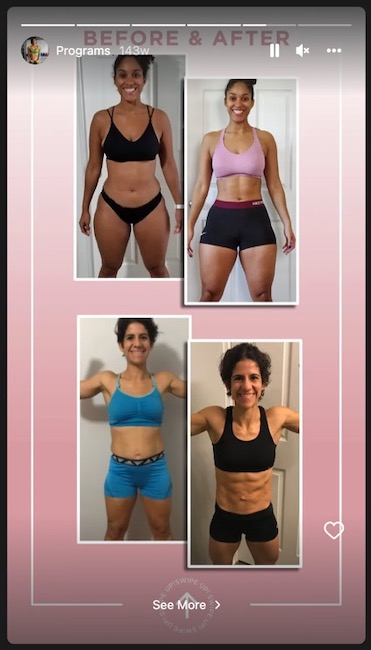 Stories are a great place to do this. Here are some ideas:
Share clients having fun during a workout.
Highlight client results with before and after photos.
Celebrate client wins and milestones.
Share text based Stories of client testimonials.
Remember, your followers love a good story and what better story to tell than someone's experience working with you!
These are a great type of Story to feature on your highlights. You can add these to your highlights after you post them, putting all of your social proof in one central location. Having a lot of social proof in an easy to find place on your profile helps interested followers make their decision to work with you.
Convert followers with a call to action
Stories are a great place to encourage your followers to take action. This means sharing your offer and inviting your audience to take the next step!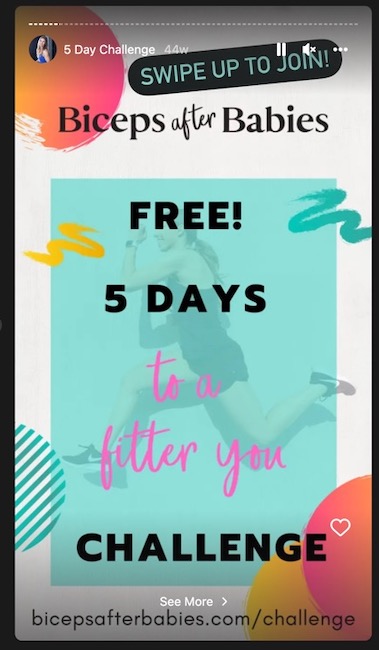 In some Stories, you can come out and ask for a sale. You might present your offer and tell followers how to sign up for your program or schedule their first consultation with you.
You may also ask for action that doesn't directly lead to a sale. Other calls to action might include:
"Share this story with a friend"
"Follow the link in my bio to learn more"
"Check out my latest Reel"
Highlight what makes you different
In a saturated fitness market, it can be hard to stand out from the crowd. Stories are a great place to highlight your competitive advantage and share what makes you different from all the rest.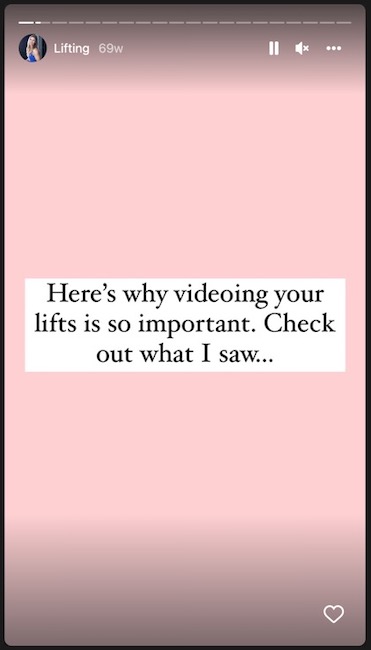 Here are some examples:
Share FAQs about your signature program.
Record a quick video of the workout routine you swear by.
Talk directly to the camera to explain what sets your personal training apart.
Create a series that highlights your training and education.
Increase engagement with interactive stories
Lastly, one of the best things about Stories is that your audience can interact with them in more ways than other types of posts. Story badges and buttons allow you to do things like ask your audience a question, conduct a poll, share your favorite workout song, and more.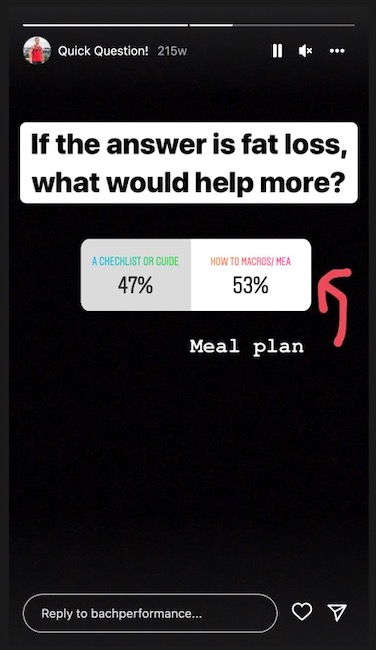 These are all features that you can include on the other types of Stories listed above, but interactive stories can also stand alone as a way to communicate with your audience. Through these types of Stories, you can answer questions about your business, find out what kind of content your followers want to see, and gauge interest in programs or upcoming launches.
One big part of building a following on Instagram is being active on your account and engaging with your followers. These kinds of Stories are a perfect way to do this.
Chapter 3
Make an amazing story for your fitness business today
Instagram Stories are one of the easiest ways to show up on Instagram and can help you stay consistently connected with your followers. Keep these ideas in mind as you go through your day and see where you can take a moment to share something with your audience.
Stories are one of the many great features on Instagram that can help you build your brand and grow your fitness account. If you need more advice for creating your Instagram marketing strategy, check out our Ultimate Instagram Marketing Guide For Personal Trainers.