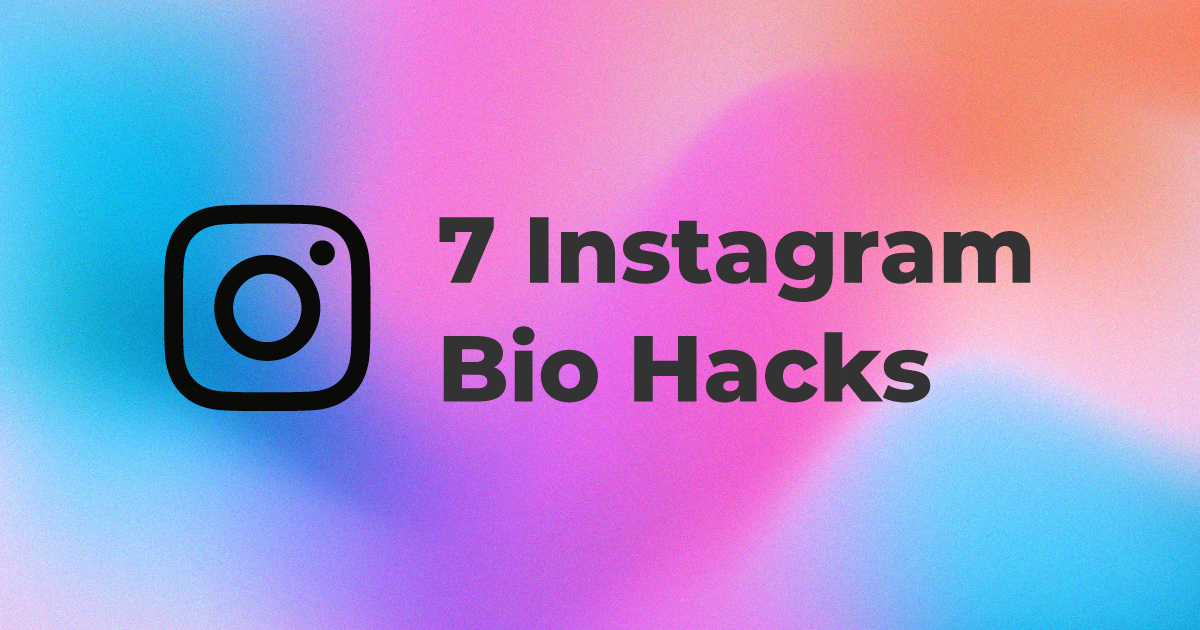 Your Instagram bio is the #1 most important thing for you, on your Instagram account.
Think about it:
It's the first thing people see when they land on your profile.
Your profile photo, along with your title and description, is the first impression viewers will have of you.
If you do it right, your Instagram bio will land you:
More followers
More leads
More paying clients
…with a minimal amount of effort compared to churning out content.
In fact:
Your Instagram bio will yield a higher ROI than anything else you will EVER post on Instagram. Period.
It goes without saying that getting your bio right should be your No. 1 priority as a personal trainer on Instagram.
The good news is, creating a killer fitness bio isn't complicated or time-consuming.
It requires just a few simple but crucially important steps that many trainers overlook, to their own detriment.
We've broken it down into 7 simple tips and tricks you can take. Read on to learn what they are:
Tip 1
Add a short title to your name
At the top of your Instagram bio is your name. "No duh," you might think – the obvious thing is to leave it at that.
Big mistake.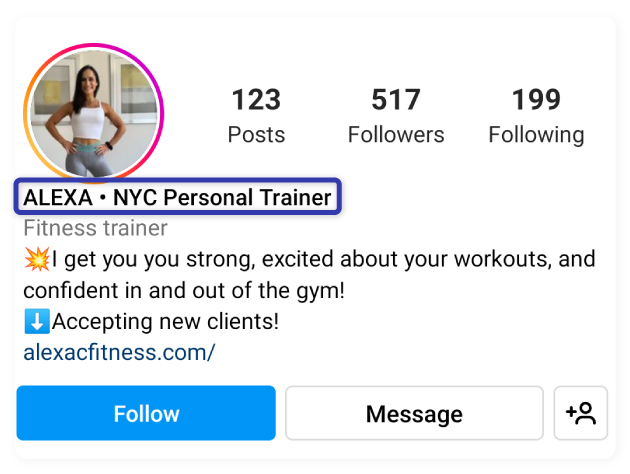 @flex_with_lex
Potential followers (and clients) on Instagram use keywords to find people. Adding a title along with your name is a golden opportunity to help these potential new followers find you.
For example, let's say you live in NYC. If you add "NYC Personal Trainer" next to your name then your profile will appear in searches using that phrase.
Imagine if you only used your name – you'll miss out on all that possible traffic! No one is going to search just by name, after all, unless they already know (or have heard of) you.
Tip 2
Your profile photo must be (really) good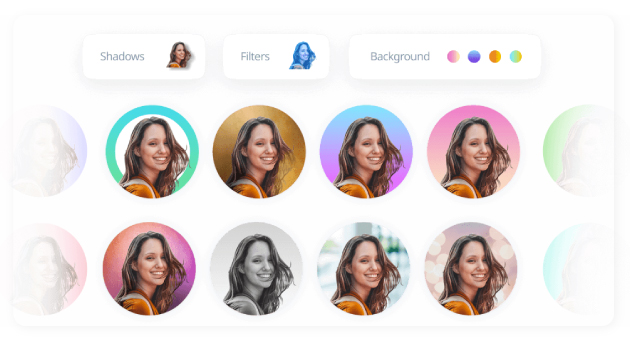 Profile Picture Maker
Hear us out.
When people are scrolling through the search results for a personal trainer on Instagram, your photo is the only thing that will differentiate you from all the others.
Needless to say, it's crucial you have an awesome photo so that your potential follower picks your profile to explore above all the others.
Use good lighting and good composition – your photo should, in that sense, be a work of art. Now is not the time to be off-centered or too experimental.
Make sure you show your face. People are drawn to faces – it's hardwired into us. If you feature your face rather than a photo of you from far away, viewers are more likely to be drawn to your photo and also spend more time looking at it.
Color scheme also matters. Your photo is going to show up on a list alongside many others. Dynamic, interesting color schemes – especially contrasting colors between you (the subject) and the background – will help yours grab the viewer's eyes and stand out.
On the whole, make sure your photo, while being true to your brand, is as dynamic and professional-looking as possible.
If you feel you need some help with making sure your photo looks good and stands out, there are some very cool free resources out there – like Profile Pic Maker – to enhance your photo and make it look as awesome as possible.
Tip 3
Answer the questions: "Who do you help?", and, "What results will I get?"
Once you've grabbed viewers' attention with a great photo and title, you'll want to immediately let them know who your target audience, or niche , is.
You need to do this in the shortest, simplest, clearest way possible.
A great trick to doing so is by answering two simple but crucial questions: "Who do you (the personal trainer) help? " and, "what results will I (the client) get?"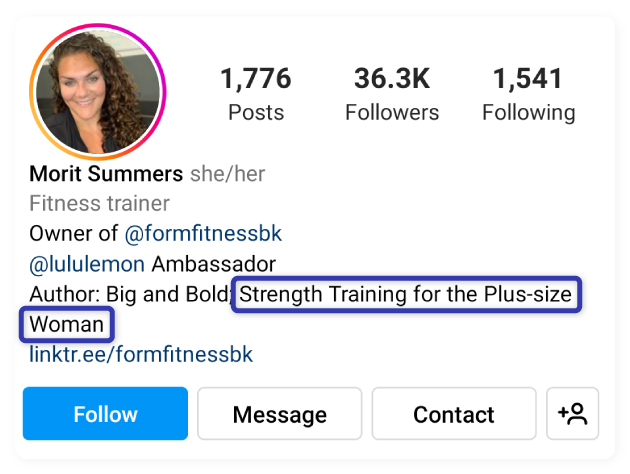 @moritsummers
This to-the-point approach will readily help readers figure out if you're the right fit for them, and is a key step in building trust.
Here are some examples
I help new moms get fit and STAY fit!
I train newbies who want to run their 1st marathon
Former contortionist => I know how to help you get flexible
Think of it as your "elevator pitch" – you need to be able to explain who you help and what you do (what results you give) within Instagram's bio 150-character limit.
Next to establishing your niche, but sure to allot some of your character count limit to mentioning any credentials you have.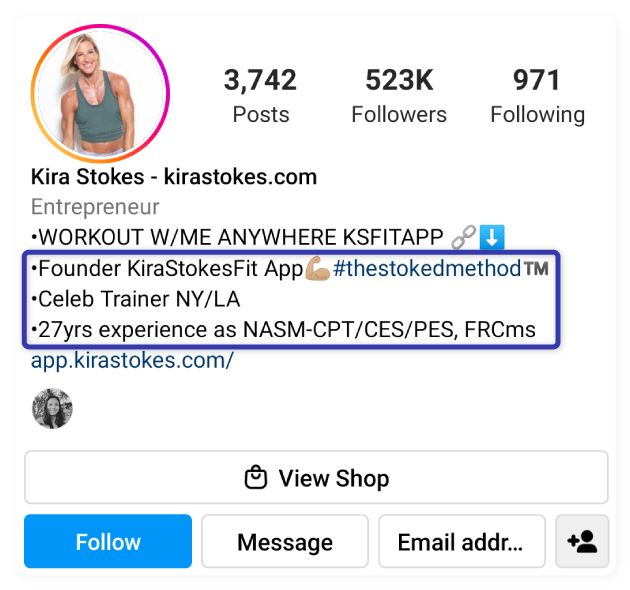 @kirastokesfit
Here are examples of credentials:
3x marathon winner
Owner of [X] Studio
Former full-time dancer
MS in physiotherapy
It's great for readers to know who you help and what you do, but credentials and experience are that extra step to helping them feel confident that you can back up what you say.
Tip 5
Use emojis to attract the reader's eye
Each emoji does take up 2-3 "characters" on your Instagram fitness bio. But it would be a mistake to leave them out.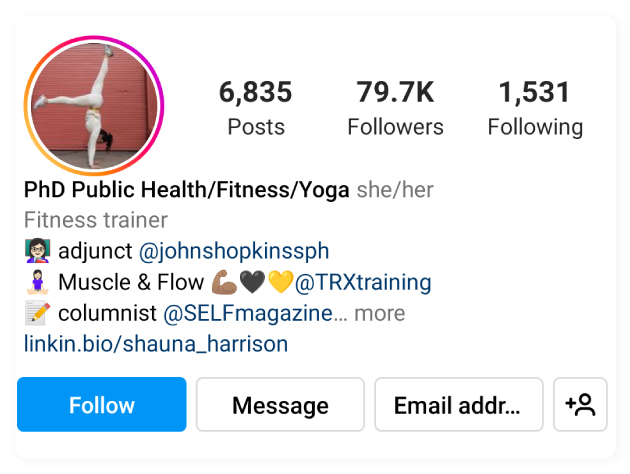 @shauna_harrison
Emojis are appealing for a reason. Especially considering how limited Instagram's text formatting options can be.
They're an easy way to draw the eye, and add life and personality to your bio. Carefully choose a few that reflect your brand/persona and add them next to your bio information.
Don't stick multiple emojis together – use one here and there so that they are tastefully interspersed.
Tip 6
Have a call to action
Now that you've gone to all the effort to get visitors excited about who you are and how you can help them, it's time to take action.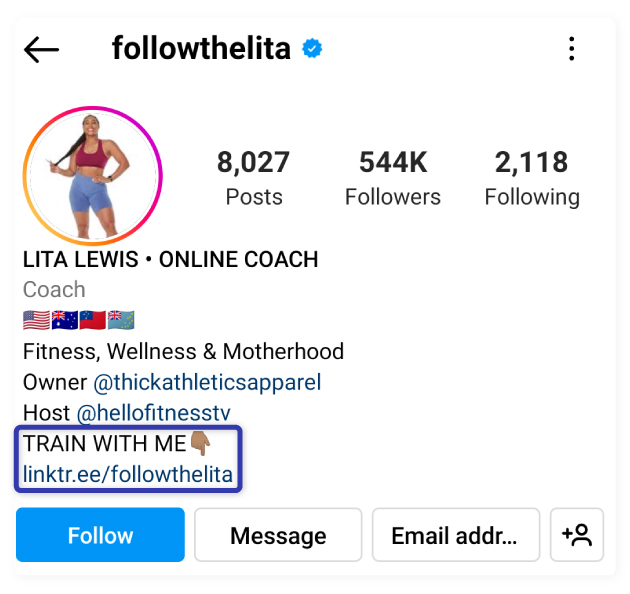 @followthelita
A clear call to action (CTA) is, in our opinion, pretty much a requirement.
By now your readers/new followers should be excited to work with you – especially after all the effort you've put into making your bio relevant and unique. You wouldn't want them to potentially wander off at this point because they're unsure of what to do next!
There are many types of CTA's you can use, but there's two in particular that we recommend.
First, have the potential client schedule a call with you.
This option is good for people who are really gung-ho and ready to get started on their personal fitness journey. They like what they see and they're eager to talk with you face-to-face (or at least voice-to-voice).
To make this step as convenient as possible, use an app like Calendly that allows the client to sign up for a time with you that works for them. It'll also set a reminder for both you and them so you don't miss your appointment.
Most people, however, won't feel ready for a call just yet. They are still trying to decide if they'd like to work with you long-term, and they need a more low-key option.
That's why one of our favorite CTA's is joining an online fitness program.
Have a short, pre-made challenge (7 days is a good length) and give your followers easy directions to opt in and complete it. You can make it free or charge a small fee.
This may sound like a lot of work – but you can easily create a fully-automated fitness challenge using Trainerfu.
Automating your fitness challenge(s) will save invaluable time and provide a high-quality experience for your potential client. TrainerFu will do nearly all the work for you – you simply enter the relevant information, while the app takes care of tracking, notifications and everything else.
Unsure of how exactly it works or what that looks like?
Here's a simple video that walks you through the process: https://www.youtube.com/watch?v=2lWbAuwT4nI&t=2s
Tip 7
Add a bio link to funnel readers
Instagram, unfortunately, only allows one link to be included in the bio section.
However, this is something you can work around.
If you want to have more than 1 call-to-action button and additional information for your bio, then you can use a link-in-bio page.
This tool is simply a page where you can add multiple links as needed (linktr.ee is a popular choice). And then on your instagram you can link to your link-in-bio page.
This way, you can have multiple CTA's and as much extra info for your bio as you need. For example you can link to:
Your website
Your blog posts
Details about your programs and services
Portals to schedule a call with you, or join one of your programs
Your contact information
The most successful marketers, on Instagram or anywhere else, are the ones who are constantly adjusting and paying attention to which strategies bring the most success.
Don't be afraid to experiment a little bit, even rewrite or change your bio up later if need be. After all, your bio isn't stuck the way it is the first time you write it – take advantage of tweaking and editing it from time to time to keep things fresh and get the most optimal results.
BONUS TIP: Post content on your Instagram account regularly
This isn't directly related to your Instagram bio, which is why it's a bonus tip. 😉
Once you've got all 7 steps down, and you've attracted new viewers and (hopefully) followers, it's important that you retain them.
This means having an active Instagram account with new posts on a predictable basis. This is something every fitness influencer should already be doing, but it's worth mentioning why.
Imagine if viewers on Instagram found you and read your amazingly-written bio…only to notice that you have a "dead" account with either no posts or posts that haven't been updated in months.
Kind of a turn-off, right?
After all the work you've gone to in making sure you have a stellar bio, be sure that your account is active with recent posts.
If you haven't posted at all, be sure to make at least 9 new posts – that's the number of posts visitors will see every time they look up your Instagram account.
After that, make sure you post on a regular basis. There's no need to post a ton of content – just a few photos and updates on a weekly basis will let followers know that you're active and interested in sharing your experiences with them.
Summary
Your Instagram bio will yield far higher ROI for your fitness business than any content you post. Therefore, nailing your bio is critical
Next to your name, be sure to use a title that will help visitors find you via search results (for example, "NYC personal trainer", for people searching "NYC")
Have a great-quality, dynamic photo that reflects your brand and character
Your bio should answer 2 simple but important questions: "Who do you help?" and, "What results can I (the client) expect?"
Build trust by mentioning your qualifications, and consider using emojis to draw the eye
Include a CTA (Call to action) . Free trials are great because they are usually easier to commit to
Add a link to your bio, directing your readers to an additional bio page (or website) with further info
Be sure to post on your account regularly! No one wants to visit a "dead" Instagram account.
Follow these steps and you'll stand out from the crowd and be well on your way to gaining followers and clients.