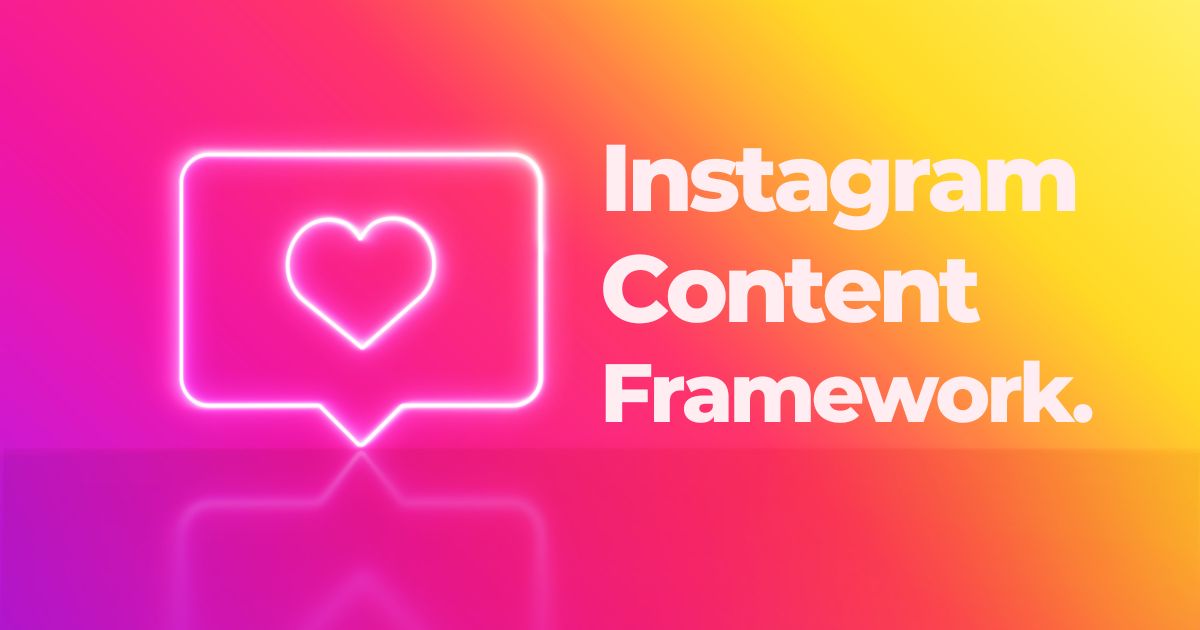 Does creating content for your fitness Instagram accounts feel like a never-ending task?
Do you know you need to post on Instagram, but find yourself racking your brain for something to say?
More than likely, your Instagram account goes through some dry periods or you find yourself sharing generic content irregularly that doesn't seem to get much engagement or bring any new eyes to your fitness business.
Now there is nothing wrong with sharing workout videos, motivational quotes, and nutrition tips — these types of posts are useful to your audience and should be part of your Instagram content strategy. However, as you've probably noticed, these types of posts don't help you stand out very much or differentiate you from the thousands of other personal trainers on Instagram.
This means slower growth, lower engagement, and ultimately a whole lot of effort that doesn't lead to sales.
You need fresh post ideas for your fitness Instagram account now. You're in the right place! But this isn't the typical "30 content ideas to post in the next 30 days" kind of post. No, instead, we want to provide you with a lasting framework that makes generating great post ideas easier long term.
A framework that will help you:
Consistently generate your next 30 or 300 Instagram post ideas in no time
Create content that builds your brand and separate yourself from other fitness businesses on Instagram
Attract your ideal customers
Generate actual sales
Sounds great right? Let's get to it.
Your Instagram content idea framework
We are going to share:
The types of content personal trainers should be posting on Instagram
And how to come up with specific ideas for your business within each of these types.
By the end of this blog, you'll be able to put this framework into place so that you can stop posting stale, generic content and start standing out!
Table of Contents:
Chapter 1
Showcase your identity and build that like factor
Of course, a good bit of your content on Instagram will be related to fitness. However, have you ever noticed that lots of coaches and fitness instructors also share pictures of their dogs or families or other things that don't seem to be related to their business?
This kind of content makes an account more relatable and helps those fitness businesses build the "like factor".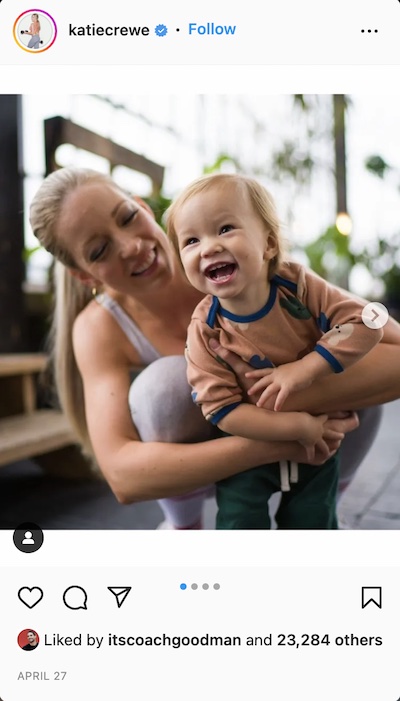 @katiecrewe sharing her love for her daughter
We all have multiple identities and pieces of our personality that we attach to. You may identify with being a mom, a dog lover, a traveler, etc. We are drawn to people that have similar identities. Think about what parts of your personality you might share with your ideal clients and share 1-2 of those traits with your followers online — in addition to your fitness content.
Your Instagram stories are a great place to share this kind of content. You can snap a quick picture of your dog during your morning walk or keep followers up to date on your weekend getaway. You don't have to overthink this kind of content, just share glimpses of your daily life to be more relatable and likable to the members of your Instagram community.
Chapter 2
Convince your ideal client with social proof
If you're in the market for a new pair of headphones, more than likely, you will spend a good amount of time reading reviews online before deciding which pair to buy. This is because other people's opinions matter to us when making purchasing decisions.
Your Instagram is a great opportunity to convert followers to paying clients and generate real sales, if you can win their trust and prove your results. This is where social proof comes in. Share with your followers the results and progress you have already helped others achieve.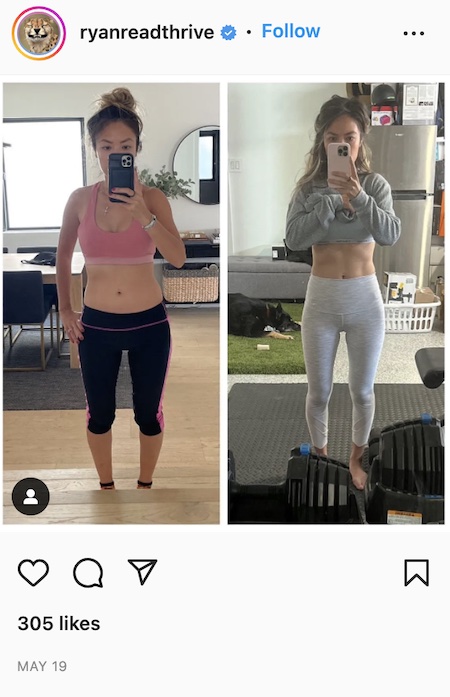 @ryanreadthrive sharing his client's success story
The first thing that comes to mind may be epic "before & after" transformations, which can be really powerful, but aren't always readily available. You can also share some of your client's smaller wins like simply having fun being active, achieving a new PR, or completing a workout goal.
Social proof is something we kept in mind when developing Trainerfu. Our app tracks everything and alerts you when a client achieves a milestone, big or small. This gives you ongoing social proof that you can share on your social media channels including Instagram.
Chapter 3
Highlight what makes you different
You know that there's something special about your fitness business. You know you have that unique factor that makes what you're offering better than your competitors. It's time to share that with your Instagram followers to help you stand out.
When creating this kind of content, you can think about the advantages of your approach and compare them to the disadvantages of your competitor's approach. For example, let's say you focus on fat loss without a restrictive diet. You'll want to share that repeatedly in your content, reminding your followers what makes you different and saying it a few different ways, like:
Why a restrictive diet won't help you achieve long term results
You don't have to starve yourself to reach your fat loss goal
Your restrictive diet is keeping you stuck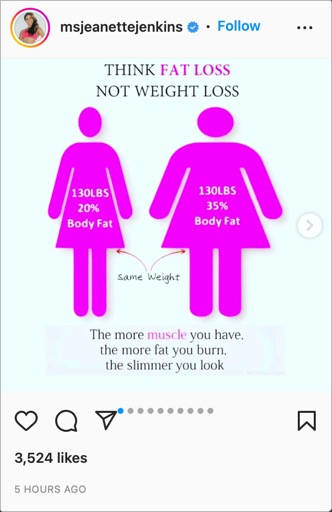 @msjeanettejenkins sharing her unique approach to weight loss
If you have a new way of doing something, special training, or a unique approach, make sure that you are making it a prominent feature in your Instagram content. This can help you stand out and be more memorable in an oversaturated market.
Chapter 4
Build trust with educational content
One of the most important parts of marketing your business on Instagram is sharing educational content that informs your client and makes them feel like they can trust you. You'll want to get really intentional about the kind of content you are going to share and how you can use your expertise as a personal trainer to educate your audience.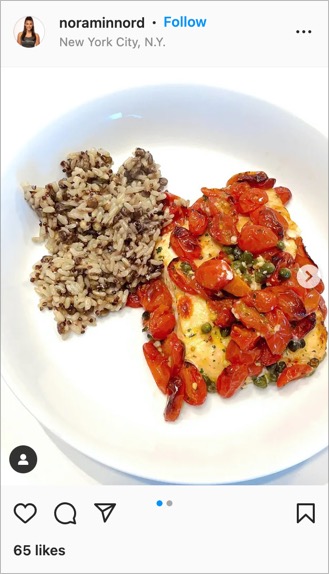 @noraminnord sharing her quick and healthy recipe
It can be helpful to decide four main "content pillars'' that you use to take your ideal client from point A to point B. Here's an example of four pillars you might see on a fitness page:
Workout
Nutrition
Mindset
Habits
Once you have your pillars, you'll break them down even further to generate your actual content ideas. Here's what one of the pillars from above might look like broken down:
Workout
Stretching
Foam rolling
Warmup
Exercises
Form cues
Doing this for each pillar will give you 25-30 subtopics to talk about on Instagram. That's a lot of content! These educational topics can help you build your authority online so that followers see you as a go-to source for all things fitness, making them much more likely to work with you when they're ready to hire a personal trainer.
Chapter 5
Tackle limiting beliefs and doubts head on
Your followers and potential clients will have countless objections, doubts, and limiting beliefs that will stop them from buying from you. It's your job to tackle these doubts head on and dispel them before asking for a sale.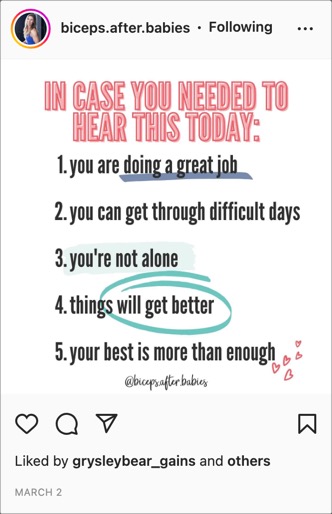 @biceps.after.babies handling common limiting beliefs
Here's some examples of some misconceptions your followers might have that would stop them from working with you:
Cardio is all I need to lose weight.
All personal trainers are drill sergeants.
I can use the workout from YouTube to reach my goals.
Lifting weights is not for girls.
Now, you know these things aren't true, so don't be afraid to call that out in your content. List these objections and provide explanations that help change the mind of your followers. Remember, people have short memories and it's ok to repeat yourself, especially when it comes to tackling your ideal client's doubts.
Chapter 6
Generate real sales
You're so familiar with the ins and outs of your business, that it's easy to fall into the trap of thinking that everyone knows what you're offering — this is not always the case. Your Instagram followers are bombarded with a lot of information every day, so if you want to generate sales, sometimes your posts need to be up front about it.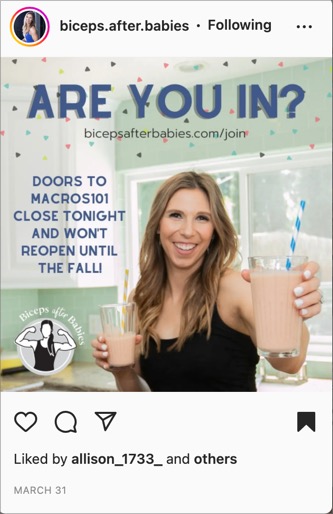 @biceps.after.babies asking followers to join her program
Whether you like it or not you need to ask for a sale. Remind your followers how to work with you, inform people what's included in your packages, regularly ask on your feed that you are looking for participants — these are the kinds of things that can help you generate actual sales on social media.
Putting it all together
Hopefully you're feeling pretty inspired to get out there and create some content for your Instagram. Let's put it all together with a well thought out plan. About 40% of your content on Instagram will come from those pillar content categories that you create. The rest can come from the other categories we talk about in this post.
Having a plan or content calendar can help you stay consistent. Decide which topics you are going to talk about on which days and stick with it.
You might simply keep track in a Google or iPhone calendar, or you can make use of great scheduling tools like Later and Planonly. These types of tools allow you to create multiple posts at once and schedule them to go out on your chosen days and times. Scheduling posts ahead of time, can ultimately shave off hours of work producing content as you go.
Content is one huge piece of the puzzle when it comes to making Instagram work for your fitness business. There are many other aspects of your strategy to think about, so be sure to check out our other posts to learn how to get more followers and turn those followers into paying clients.