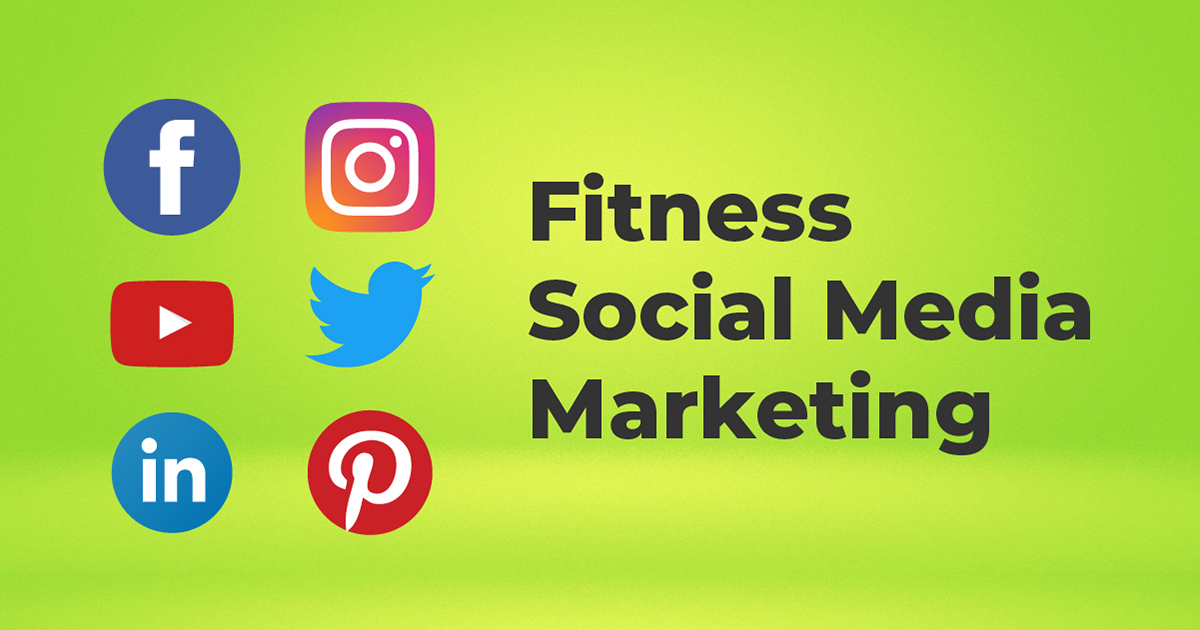 You may think of social media as an easy way to stay connected with friends, see funny videos, and post updates about your life. And of course, it's great for all of those things and more, but social media has also changed the game when it comes to marketing.
The value of social media can't be overstated, and business owners everywhere use these powerful tools with great success. Personal trainers can use social media to connect with ideal clients from all over the world and grow their businesses to new heights.
However, developing a solid personal trainer social media marketing strategy is no walk in the park. In fact, it can be quite overwhelming. If you want to make the most of social media for your business, you probably have several questions, like:
Which platforms are best for marketing?
What content should I post?
How can I possibly be everywhere with such a limited amount of time?
Can I really convert followers into paying clients?
And so on…
We are going to answer all these questions and more. We'll teach you how to market your fitness business on social media, so that you can feel more confident creating your strategy and utilizing these great platforms.
Table of Contents:
Let's get started!
Chapter 1
Why every personal trainer should use social media marketing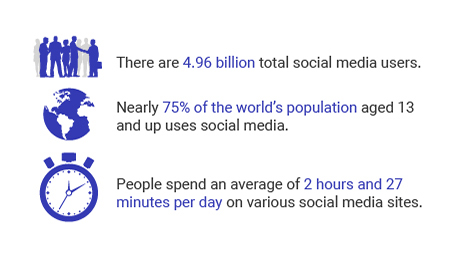 As of January 2022, there are 4.96 billion total social media users across all platforms. Nearly 75% of the world's population aged 13 and up uses social media, and worldwide, people spend an average of 2 hours and 27 minutes per day on various social media sites.
​​All this means that social media is most likely a common part of your client's everyday lives, so by using the platforms to market your business, you can meet them where they are and share content that encourages them to buy from you.
You can use social media to attract new clients, establish your expertise as a trainer, and reinforce again and again how you can solve your client's problems.
Social media is a great way to stay connected and stay top of mind. A good presence on socials can help sway your prospect's buying decisions and help you grow your business faster and more robust than you ever thought possible.
Chapter 2
Which social media platform should you choose?
Facebook, Instagram, TikTok, oh my! There are handfuls of social media platforms and not all of them are created equally. Let's talk a little bit about the main differentiator.
You can divide social media into two different categories. There's search based social media like YouTube and Pinterest. Then there's network based social media like Instagram, Facebook, Twitter, and TikTok. The way someone uses one app is different from the way they use another and people go to each site for different things.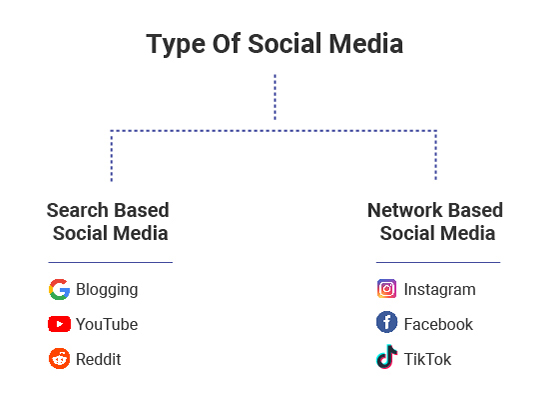 So which social media should you use?
It's important to think about where your ideal clients might be and what they use social media for. Think about your goals and current presence as well. It might be easier to get discovered on search based social media, but it's easier to engage with your followers on network based sites.
If you're just starting out, start with the one you're most comfortable with. Learn everything you can about the one you choose and focus your efforts there. Eventually, you will want to expand and add both search based and network based social media to your strategy.
Chapter 3
Content ideas for social media
One of the hardest parts of using social media as a marketing tool is coming up with content. Creating the right content can feel like a full time job, and it can be difficult to know what type of content will bring you the best results for your business. The following ideas can be useful for any platform and can help you connect and convert your ideal clients.
Figure out your four main content pillars and use them to educate your audience and build trust.
One of the most important parts of marketing your business on social media is sharing educational content that informs your client and makes them feel like they can trust you. You'll want to get really intentional about the kind of content you are going to share and how you can use your expertise as a personal trainer to educate your audience.
It can be helpful to decide four main "content pillars'' that you use to take your ideal client from point A to point B. Here's an example of four pillars you might see on a fitness page:
Workout
Nutrition
Mindset
Habits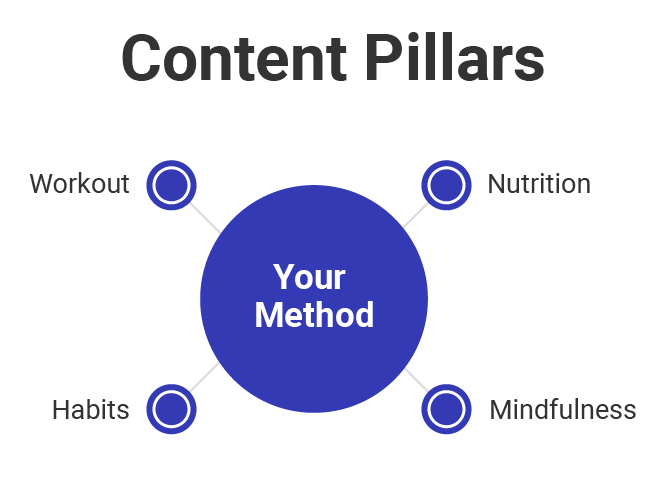 Once you have your pillars, you'll break them down even further to generate your actual content ideas. Here's what one of the pillars from above might look like broken down:
Workout
Stretching
Foam rolling
Warmup
Exercises
Form cues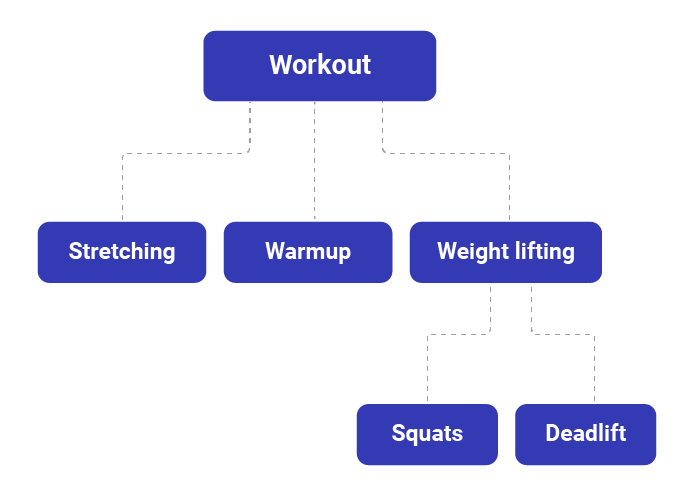 Doing this for each pillar will give you 25-30 subtopics to talk about. That's a lot of content! These educational topics can help you build your authority online so that followers see you as a go-to source for all things fitness, making them much more likely to work with you when they're ready to hire a personal trainer.
Showcase your identity and build the "like factor"
Of course, a good bit of your content will be related to fitness, but it's also important to share other pieces of your personality that aren't necessarily fitness based. This helps you to connect with your ideal clients in a deeper way and build that "like" factor.
We all have multiple identities and pieces of our personality that we attach to. You may identify with being a mom, a dog lover, a traveler, etc. We are drawn to people that have similar identities. Think about what parts of your personality you might share with your ideal clients and share a few of those traits with your followers online — in addition to your fitness content.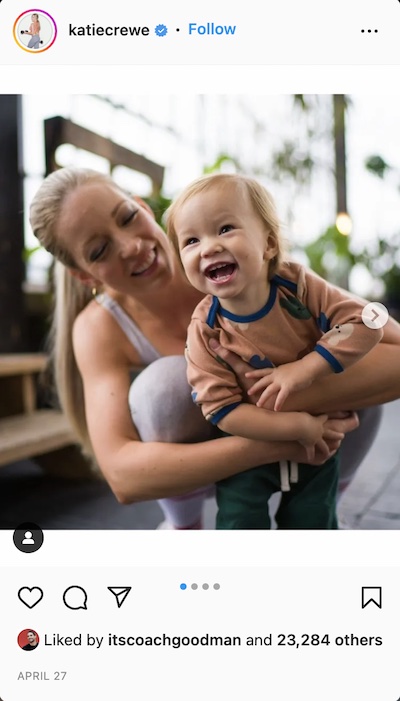 Some examples of this kind of content:
A picture of your family on vacation
A video of walking your dog
A clip of the new song you can't stop listening to
Convince your ideal client you know your stuff with social proof
If you're in the market for a new pair of headphones, more than likely, you will spend a good amount of time reading reviews online before deciding which pair to buy. This is because other people's opinions matter to us when making purchasing decisions.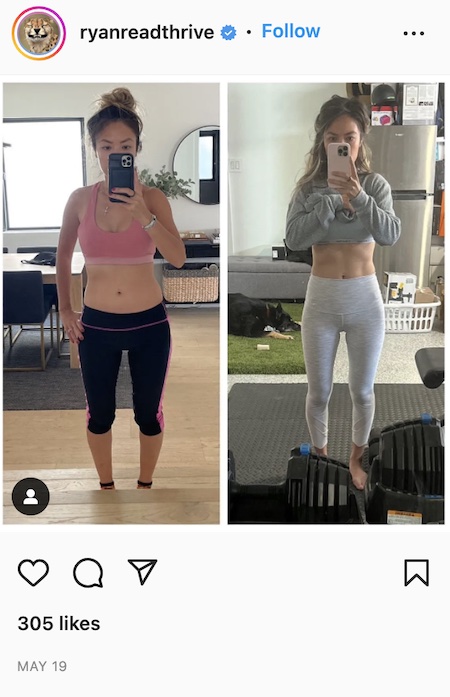 You can use social proof to your advantage of social media. Share with your followers the results and progress you have already helped others achieve. Gather testimonials from happy clients and share them online. You can also post some of your client's smaller wins like simply having fun being active, achieving a new PR, or completing a workout goal.
Social proof is something we kept in mind when developing TrainerFu. Our app tracks everything and alerts you when a client achieves a milestone, big or small. This gives you ongoing social proof that you can share on your social media channels.
Highlight what makes you different to stand out in a saturated market
Think about the advantages of your approach and compare them to the disadvantages of your competitor's approach. For example, let's say you focus on fat loss without a restrictive diet. You'll want to share that repeatedly in your content, reminding your followers what makes you unique and saying it a few different ways, like:
Why a restrictive diet won't help you achieve long term results
You don't have to starve yourself to reach your fat loss goal
Your restrictive diet is keeping you stuck
If you have a new way of doing something, special training, or a unique approach, make sure that you are making it a prominent feature in your content. This can help you stand out and be more memorable in an oversaturated market.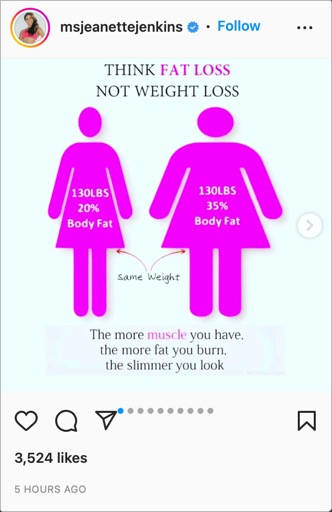 Think about the doubts your potential clients might have and tackle them head on
Your followers and potential clients will have countless objections, doubts, and limiting beliefs that will stop them from buying from you. It's your job to tackle these doubts head on and dispel them before asking for a sale. Remember, people have short memories and it's ok to repeat yourself in your marketing, especially when it comes to tackling your ideal client's doubts.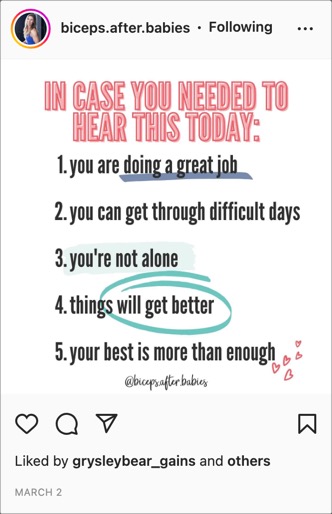 Generate sales by asking for them often
Remind your followers how to work with you, inform people what's included in your packages, regularly ask on your feed that you are looking for participants — these are the kinds of things that can help you generate actual sales on social media.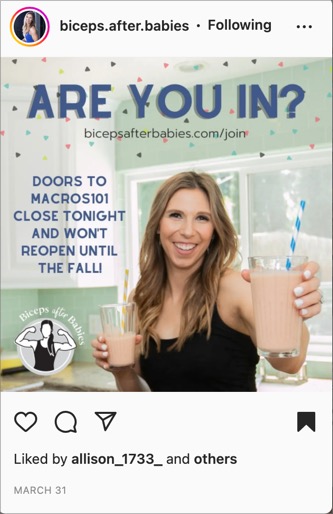 Repurpose your content
Creating different content for every social media channel can be overwhelming. Fortunately, you don't have to. Repurpose your existing content to make it work for other sites. A blog post or podcast conversation can be broken down into several Instagram or Facebook posts. A YouTube video can inspire multiple Instagram Reels. Make the most of your content by using it again and again; just be sure to optimize the content for each site.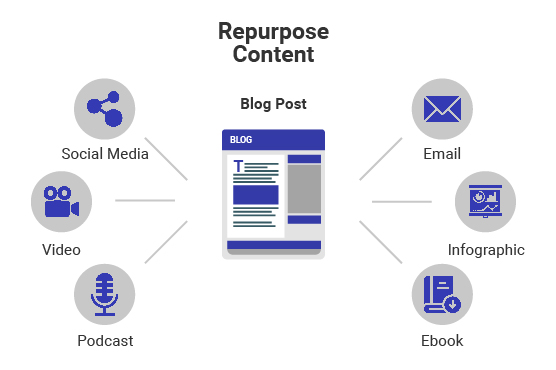 Chapter 4
How to build your following
Great content will do a lot of the leg work when it comes to bringing you new followers. However, there are still some steps you can take to continue growing your following online.
Stay active online
Most algorithms will reward accounts that interact and engage with their existing following by making their content more prominent. Be sure to post regularly, respond to messages and comments, and "like" other accounts' posts.
Ask your community to share with friends
One of the easiest ways to build your online community is simply asking existing followers to share your account with their friends. You can also outright ask for engagement in post by including a CTA in your captions.
Additionally, you can launch a giveaway or promotion to encourage users to share your content. Consider giving away a personal training session or some workout gear to one lucky follower that likes and shares your posts with their friends. This can be a great way to bring a lot of new eyes to your account quickly.
Cross-promote your socials
Make all of your online content work together to promote your business. Share your Instagram account on YouTube, include a link to your Facebook in emails – you get the idea. Also, make sure that a link to all of your social accounts is prominent in the footer of your website.
Chapter 5
Convert more followers into paying clients
Social media marketing is imperative for fitness businesses. The right strategy can help you find more ideal clients and convert them into paying customers.
However, to truly make the most of social media marketing, personal trainers need to have the right offerings. Instead of just traditional personal training which can be inflexible and expensive, offer online personal training to reach new clients.
Online personal training involves delivering some or all of your personal training remotely. Because it takes less face to face time, it can be a more affordable option. It's also ideal for clients that need a little more flexibility and the ability to complete a training program on their own time.
Having offerings that appeal to all types of clients makes selling your services through social media much easier. In addition to expanding your offerings, the steps above can be a great first step for formulating your social media marketing strategy. If you want to go deeper on some of these topics and get specific tips for different social media sites, be sure to check out some of our other great blogs :