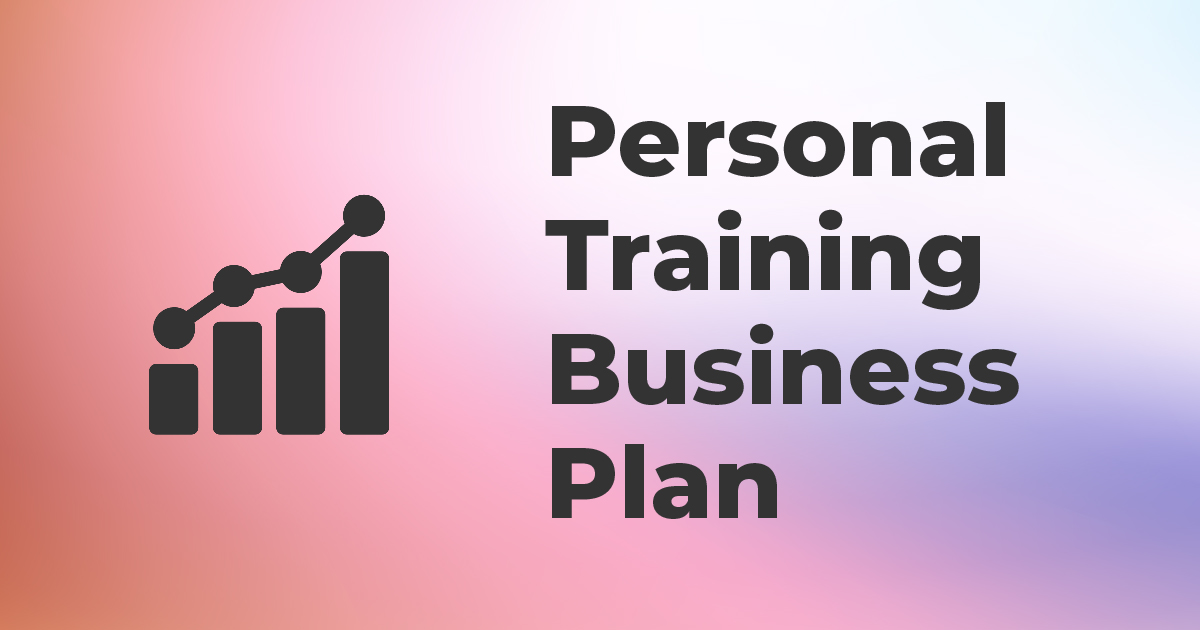 You're a pro at proper exercise form and chock full of awesome tips for meal prepping, but when it comes to actually running a successful fitness business – you might be feeling a little lost.
Being a personal trainer means wearing many hats, including that of a business owner. And to think like a business owner, you need to have a plan (and a backup plan or two).
We're going to share why having a personal training business plan is so important and provide step by step directions so that you can create one for your business.
Let's get started.
Chapter 1
Why you need a business plan as a personal trainer
If you didn't know, you definitely need a personal training business plan. Let's talk about why:
Business plans give you focus and clarity.
Without a plan you will often find yourself feeling like a lost puppy. And if this is your first time running a business, you'll inevitably run into big mistakes like: underestimating expenses, overestimating earning potential, wasting time on things that won't bring you results, and getting blindsided by the unexpected. Mitigate these concerns by preparing for them and getting focused with a business plan.
Business plans are crucial if you want to raise money from banks and investors.
If a time comes where you want to bring on investors in your business or take out a business loan, a business plan shows interested parties that you are focused and professional. It also helps them understand the ins and outs of your business so that they can make an informed decision. Most investors or banks won't even consider you without a well thought out business plan.
You need a business plan to expand!
You want your business to continue to grow. A business plan can help you determine the steps you will take to do just that. As your business expands, you'll also most likely want to bring on additional employees or stakeholders; a business plan helps them see what your goals and strategy are.
Chapter 2
6 steps for writing your personal trainer business plan
Now you know why you need a business plan. Let's get into how to write one.
1. Find your niche
When you sit down to write your business plan, the first thing to think about is who your business will be serving. This is your target audience or your niche. Getting really clear on your niche is crucial as it will influence important things like your marketing strategy and the services you will offer.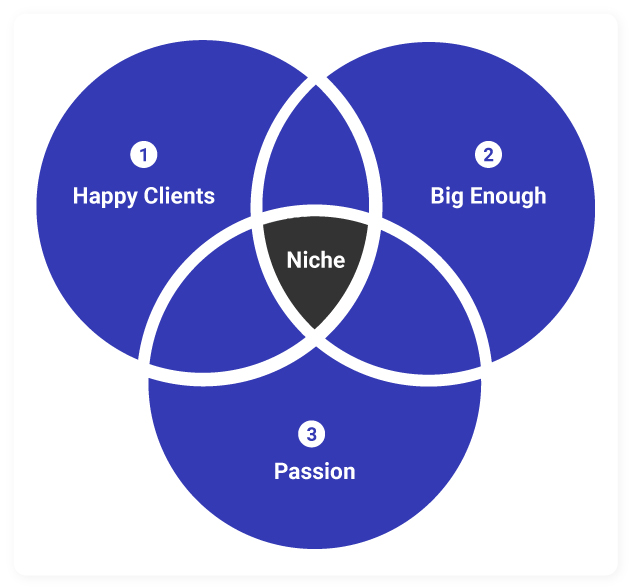 If you aren't clear on your niche for your personal training business, here are some tips to help:
Think about who your happiest clients are ; these are the people that understand the value of your service, have worked with you the longest, and are eager to share their positive experience. Are they busy women looking to lose weight? Or are they seniors looking to gain more strength and mobility? Which client have you been able to bring the best results?
Make sure your niche is the right size . So when thinking about your happiest clients (and not-so-happy clients), you may have a few segments come to mind. The important next step is making sure that those segments are the right size. For example, targeting "people that want to get in shape" might be a bit too broad. Whereas, "people with rotator cuff injuries" might be a little too narrow.
You've got to find the sweet spot, where the market is large enough to meet your revenue goals, but not so big that you aren't able to tailor your marketing efforts accordingly.
Pick a niche that matches your passion and your skills. Lastly, an incredibly important part of niching down is making sure you are qualified to work within your niche and that you actually enjoy doing so. This part is especially vital because it determines how you will excel in your business and build your reputation. The passion for what you do will come in handy when things get tough, and your expertise/experience in a certain area makes you more qualified than others to serve your particular niche.
Once you know your niche, you can break down your target market even further by creating an "Ideal Candidate Profile". When doing this, you think of the client you'd like to serve, getting as detailed as possible. Write down their demographic, hobbies, goals, etc. Getting specific within your niche will help you get a much better return on your marketing and help you move forward in your business with more focus.
2. Know your unique selling proposition
Ok, now you have your niche locked down. You know why you are most qualified to work within that segment, but how will you help your ideal clients understand why they should work with you? Why should someone hire you instead of your competitors?
In other words, what is your unique selling proposition?
A unique selling proposition (USP) is the one thing that makes your business better than the competition. Form a bold USP in your business plan and use it to influence marketing and messaging decisions.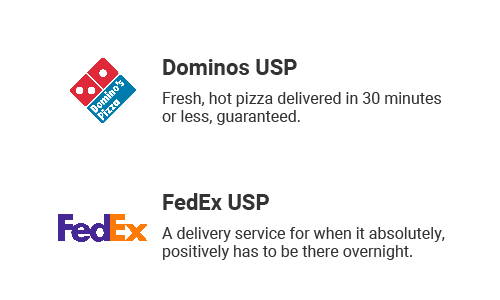 To get clear on yours, think about what your ideal clients need and how your personal training provides that for them. Focus on what you do well (not what others do poorly).
Keep in mind that your USP should be something you can prove, not a vague, general statement. For example, saying that you have "the best customer service" won't work because anyone can say that and no one can really prove it.
3. Determine services and pricing
A really important aspect of a business plan is determining what exactly you will offer and how you will price it. The modern personal training business should offer a mix of services, not just hourly one-on-ones.
Here are some popular services you can offer:
1-on-1 personal training
Hybrid personal training
Online personal training
Live or in-person group classes
Online group challenge
Template program
Semi-private personal training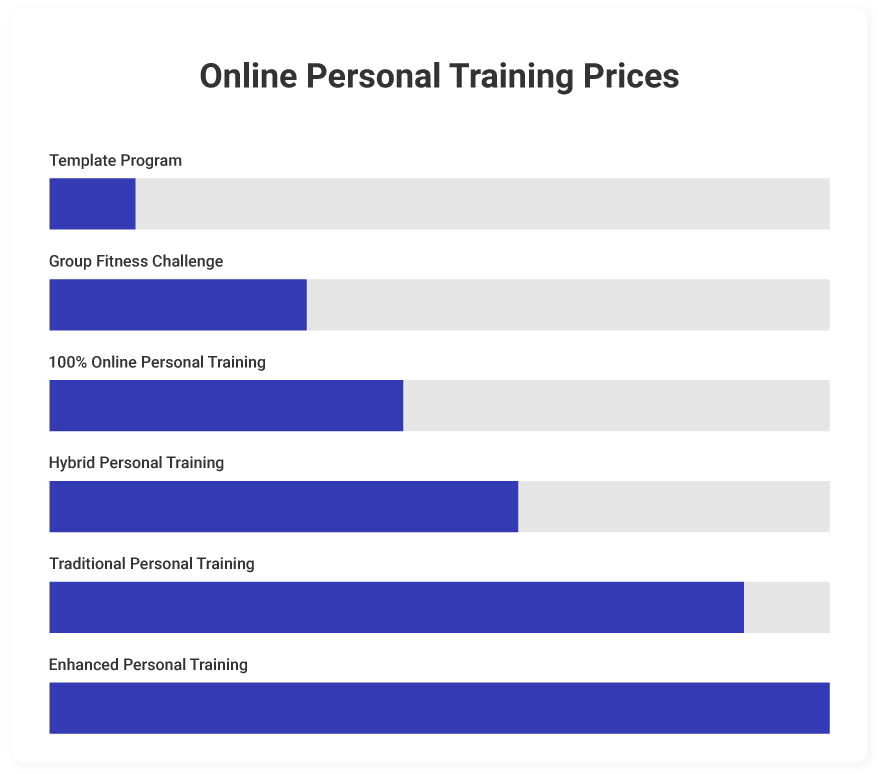 In-person training is usually the most straightforward to price. You just need to decide on an hourly rate. When doing so, don't forget to take into account the amount of time that you will spend on marketing, admin, preparing for sessions, and more.
Adding online personal training can also be really profitable, though it may take a little more thought to determine your prices. Here are some things to keep in mind:
With online personal training, you will spend most of your time behind the scenes. You won't be meeting often with your clients for in-person sessions, so you probably won't want to charge per session.
Your online personal training packages probably include more than just workouts. When setting the price for your services, you must also consider nutrition and habit coaching, personalized workouts, and anything else you might include in the package.
There is more than one way to package online personal training and every business is different. Your services will vary from client to client.
At TrainerFu, we know online personal training is the key to scaling quickly. Our personal training app makes it easy to add online components to make your fitness business more robust.
4. Calculate the cost of running your business
Here's the fun part… how much will it cost to run your personal training business? Ok, so it's not actually that fun, but it's a necessary step in writing your business plan.
Like every business, personal training comes with many expenses that you'll need to factor in and prepare for. You'll want to write down and calculate every cost for your business, like: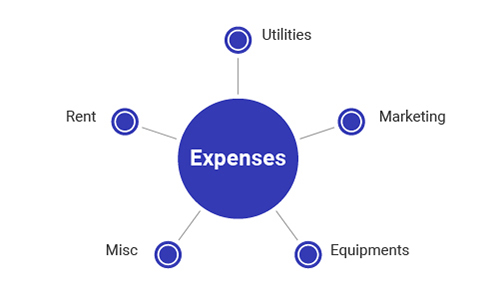 Rent - Do you own a gym? Do you rent space in a gym or studio? Depending on your operation, this cost can range a great deal. Either way, it will likely be your most expensive necessity.
Equipment - Once again, this expense will depend on your operation. You may get to use equipment as part of your agreement with a gym, or maybe you train from your home gym or small studio, in which the initial cost of purchasing all the equipment you need might be a little high. Will you have any recurring equipment charges? Factor all of these things in.
Utilities - Do you need to pay for Internet at your studio? How about electricity? Make sure to consider all the miscellaneous utilities it takes to run your business.
Marketing - Though there are plenty of ways to market yourself for free, when you're ready to scale quickly, you will likely want to spend a little bit on marketing. Be sure to leave room in the budget for this expense which might include website fees, content creation, paid ads, social media promotion, and more.
Additional operating expenses - You'll also incur additional expenses that are required to operate your business like a payment processing system, payroll software if you have any employees, and insurance to keep you protected from liability.
5. Sales volume breakdown
Now that you have a better idea of how much it will cost to run your business, you can easily determine how much you will need to earn to make running the business worthwhile.
You can very simply think about how much you want to make each month (your profit), then add the cost of your expenses. The number you get is your revenue goal – the target amount you'll want to bring in.
Profit + expenses = Your revenue goals
Keep in mind that your revenue goals can change. When you're just starting out, you may be happy with a humble profit. As time goes on and your business grows, you will be able to invest more in the business and make more money per month.
Set three, six, and twelve month profit sales goals. Use your goals as a guideline so that you can know how much money you need to bring it to make the business work.
6. Create a sales and marketing funnel
No business plan is complete without figuring out how you will market your business and make sales. The best way to start is by building a sales and marketing funnel. This is a marketing process that moves clients from getting to know you to ready to buy from you.
The three steps of this client journey are: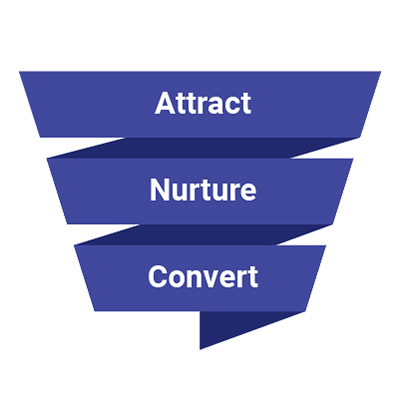 Attract

This involves building awareness and getting people interested in who you are. A couple of the main methods in this stage are getting someone to visit your website, join your YouTube channel, or follow you on Instagram. Get people curious enough to open up a communication channel with you.

Nurture

Once your prospects have opened that channel by providing their email address or following you on Instagram, it's time to nurture the relationship with engaging and informative content. Your content helps you communicate to leads that you're relatable, an expert, and the personal trainer that can solve their problems.

Convert
Now that you've convinced your ideal clients that you know your stuff, it's time to hone in on your killer offer and share it with them via your communication channels. Since you've spent the time building trust and nurturing those relationships, clients at this stage should be more than ready to buy from you.
Sales funnel examples
Now let's see these three stages in action. Use these examples to help you determine the path someone will take to becoming your customer.
Online directory + Free PT session + sales meeting

Instagram + irresistible offer + sales call

Instagram post + content marketing (email + Instagram) + irresistible offer + sales call
There are a multitude of sales funnel variations. Plan to start simple then try out more complex funnels once you have a little more marketing experience. If you need more help, check out this blog that goes in depth on creating sales funnels for your fitness business.
Chapter 3
Ready to write your personal trainer business plan?
We hope these tips help you feel more confident in this very important aspect of building your personal training business. Having a plan will give you more direction so that you can better execute running your business and not get overwhelmed when things get challenging.
However, keep in mind that in business, things don't always go as planned. Your plan doesn't have to be set in stone. In fact, learning how to adjust can help you be more successful. Come back to your plan from time to time to review and revise it.
Though it takes a little time, having a business plan written down is a great accomplishment for your business. Happy planning!