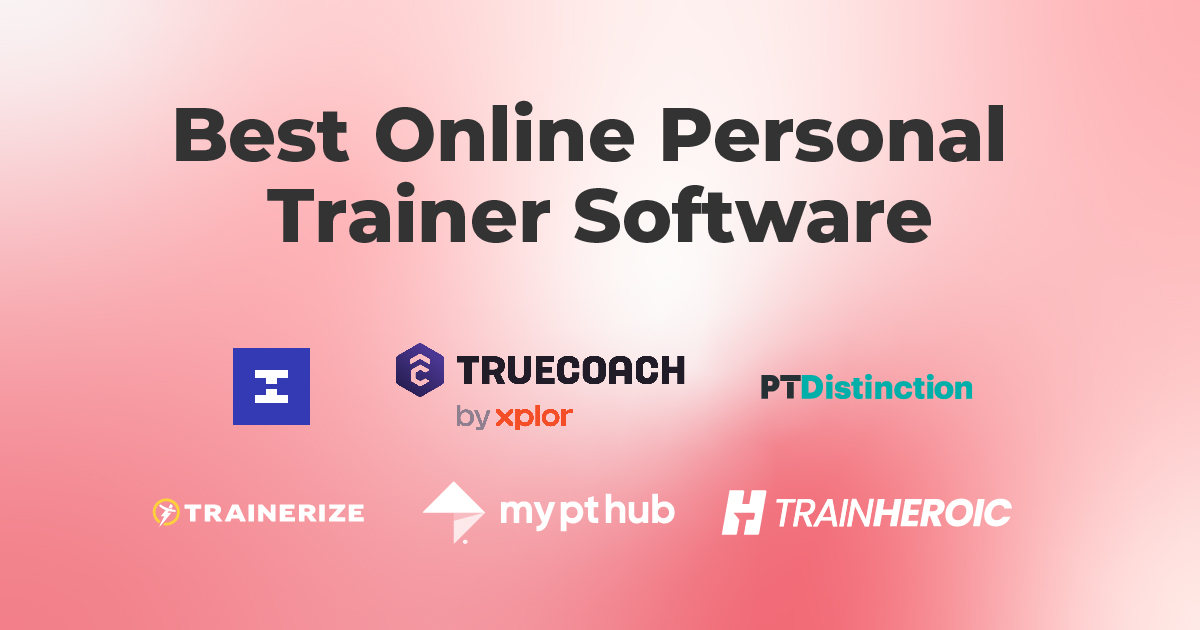 Which phone is better: Android or iPhone? You will find fervent supporters for both, but in reality neither is better – they are just different. The features that one person may be thrilled about might not matter as much to someone else.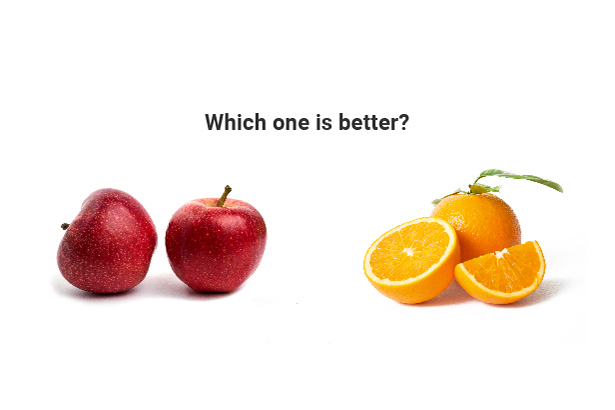 It's the same story with online personal training software. There is no one software that is best for everyone. One choice would be best for one trainer and another one for a different trainer.
So this blog post is not about telling you the best online personal training software. It is about highlighting the differences between popular platforms and their features so that you can make an informed decision and pick the best one for yourself.
Table of Contents:
Chapter 1
What's included in online personal training software?
One of the things people compare when looking at different software are the feature sets. Unfortunately that won't get you very far because almost all online personal training software will have a laundry list of similar features that you will use on a daily basis. Every online personal training software will let you:
Build a workout plan
Deliver them to the client's app
Track assessments
Train via mobile apps
Track workouts
Have an exercise database and add custom exercises
Accept payment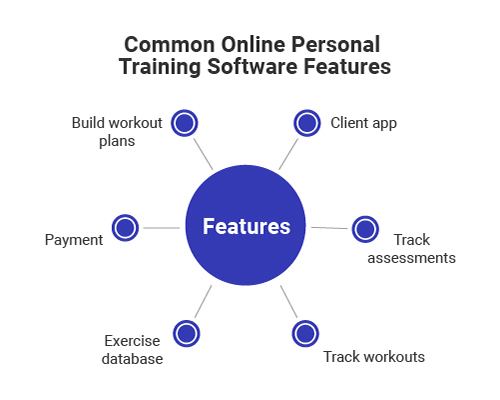 Since most personal training software has the same available feature sets, then how should you decide which one is right for you?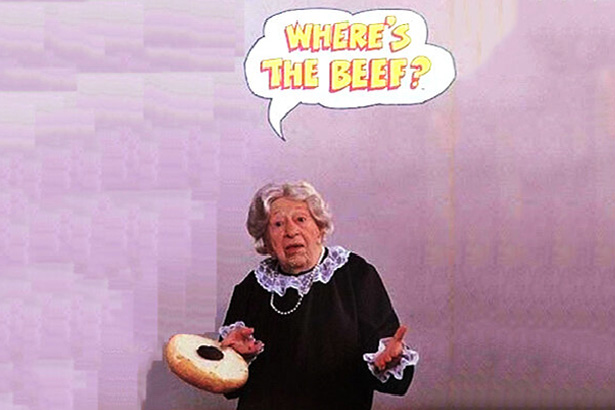 Chapter 2
How to compare personal training software by feature
To pick the right software for your business, you need to compare how the features actually work.
For example: How does workout planning feature work? Does it allow you to save time? How is the interface of the mobile app? Is it easy for your clients to use? These are the things you should consider while picking the best online personal training software for your business.
So to help you compare, we will analyze eight important aspects of a personal trainer software and show you how six different software implements those aspects. The software will be comparing are:
TrainerFu
TrueCoach
TrainHeroic
Trainerize
PT Distinction
My PT Hub
After analyzing how the features work for each, you will feel much more confident choosing a personal training software for your fitness business.
Workout Planner
No matter what software you choose, the workout planner is where you will be spending most of your time, so it is important to see how different personal trainer software implement this feature.
Even though there are many personal trainer software, all of them provide workout planning features in one of two ways: consolidated or fragmented.

TrainerFu, Truecoach, and TrainHeroic are three personal trainer software that use consolidated workout planners. Trainerize, PT Distinction, My PT Hub use fragmented workout planners.
In a consolidated workout planner all the workout planning features at one place. From a single dashboard, you can:
Create workouts
Schedule them
Review plan
See exercise history
See logged workouts
And more
With a fragmented workout planner, the place where you create your workouts is different from the place where you schedule them. You will first create client workouts then you will go to the calendar and schedule them for your clients. The client schedules will also contain other things like messages and check-ins.
So what's best? If you want to be more efficient when building plans for clients then the consolidated workout planner is a clear winner. Here are two reasons why: \
Workouts in a client's plan are dependent on each other. The workouts you will have your client do in the second phase will depend on the first phase and how a client is progressing. Because all the workouts that you have planned for your client are in a single view, it is much easier and faster to review and design workouts.
There is no need to go back and forth between views to design a workout for clients as everything is at the same place. No need to go to a different view to see the client's exercise history or what you planned two weeks back or two weeks in the future.
If you simply like to send workouts to clients and not schedule them, then a fragmented workout planner may fit your workflow better. The thing is with a fragmented workout planner, the client schedule is separate from the client's workouts. You can simply send the workouts to clients, but keep in mind, having a tentative schedule helps you compare your workout plan week over week.
Mobile app features
Do you always train your clients from your desk? If not, then having a mobile app option is an important factor that you should consider while choosing your personal training software.
You will see many features listed on the website of every personal training software. All of those features are available when you use the software from your computer or desktop, but only a fraction of those features are available on the mobile apps that come with the software.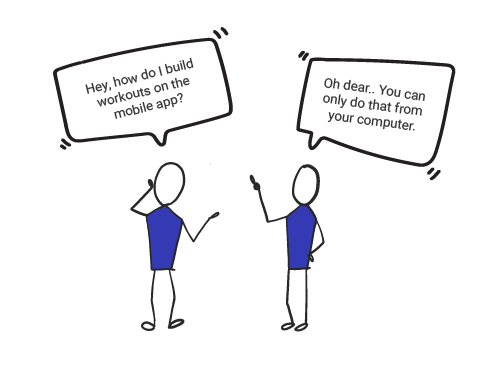 So if you don't want to be stuck to your computer to do all your work then you should evaluate how feature rich the mobile apps that come with your personal trainer software are. \
Here is our evaluation of the popular personal trainer software.
| | |
| --- | --- |
| Software | Features available on the mobile app |
| Trainerfu | 95% |
| MyPtHub | 80% |
| Trainerize | 50% |
| PT Distinction | 20% |
| Train Heroic | 20% |
| Truecoach | 10% |
Why do some software have such skinny mobile apps? There are 2 reasons:
They designed their software mainly to train remote clients. As in-person training is minimal, a trainer can train clients from the comfort of their desk and don't need a full fledged mobile app. For example: Truecoach has only messaging features available on their trainer mobile app. On the other hand, the Trainerfu mobile app is fully structured so that you can run your entire training business from any of the platforms (iOS, Android, or Web).
If you have to implement features only on one platform you can develop software more cheaply and still have the same number of features.
Technology
Should you worry about what technology is used to build your personal trainer software? 100% yes. This is because technology will determine the user experience for you and your clients.
There are two ways to develop a mobile application: native technology and cross-platform technology. \
With native technology you develop separate apps for each platform. While with cross-platform technology you create one app that can run on both the Android and iOS platform.
You must be wondering why anyone would use native technology if they can build the same app in half the time using cross-platform technology. The answer? The user experience.
How would you feel if you had to use an app designed for Android on your iPhone device or vice-versa? Not great. Right?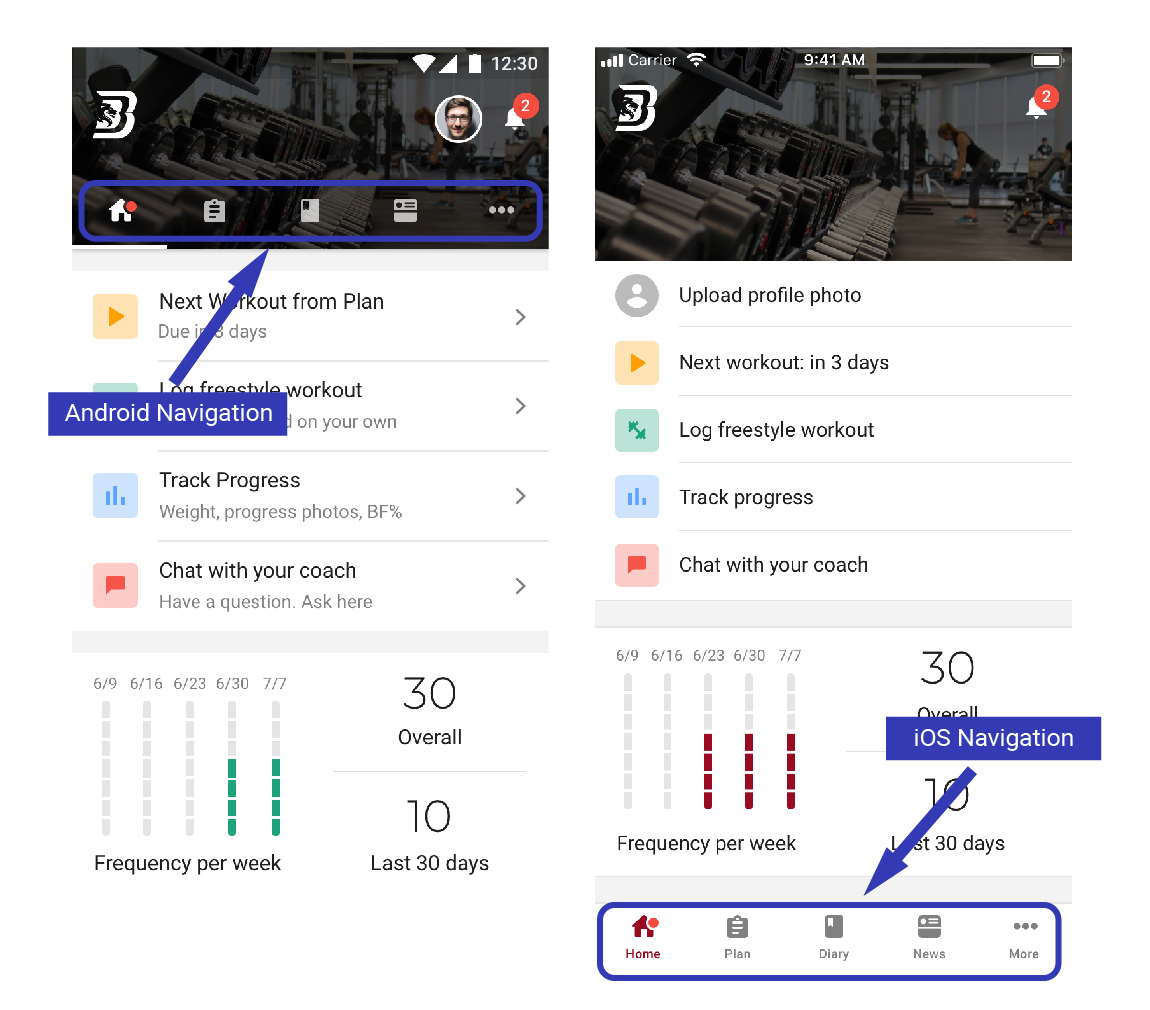 With native apps, you and your clients will get to use the app that is designed for that specific platform. That means it will look and behave as expected.
Trainerize and MyPtHub have used cross-platform technology to develop their mobile apps. That is the reason their apps look exactly the same on every platform. It does save them the cost to develop the app but user experience takes a back seat. On the other hand, Trainerfu and Truecoach used native technology to build their mobile apps.
This is something to think about since user experience can make or break your client retention efforts!
Community features
Obviously you are there to hold your clients accountable and support them during their fitness journey. But wouldn't it be great to amplify the accountability and support you can provide to your clients without you spending any extra time? You bet.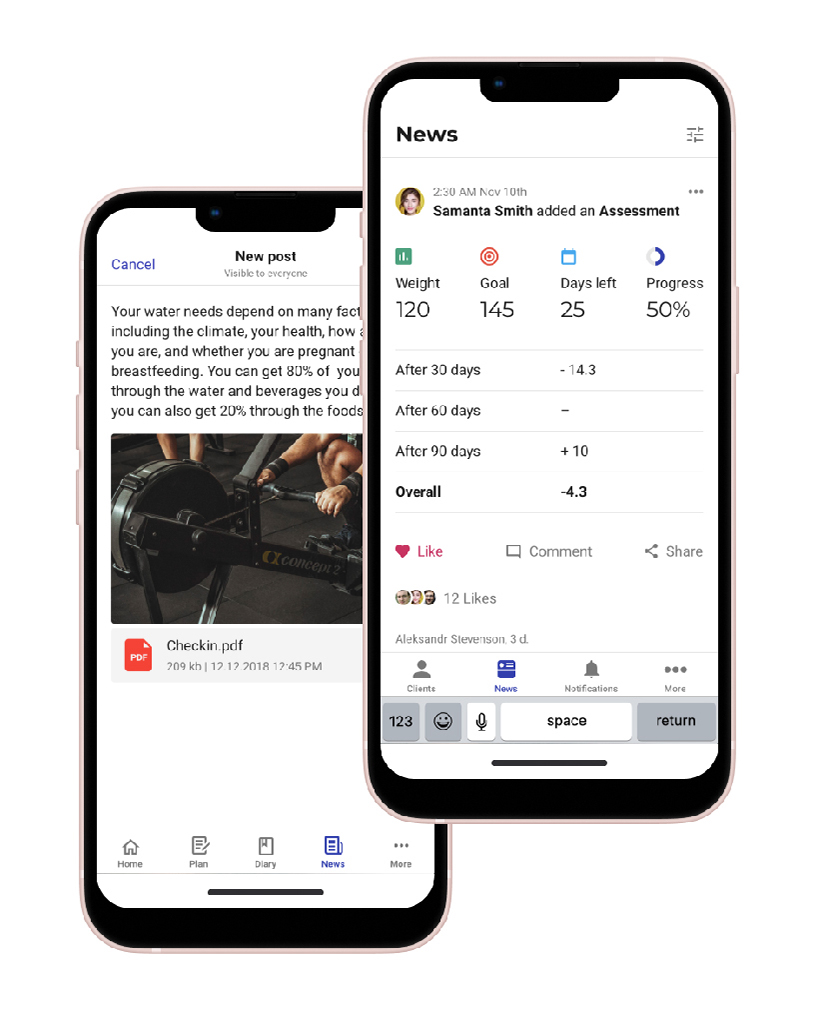 And that is why community building features are essential in any modern personal trainer software especially when lots of clients train remotely. They not only help you provide added accountability and support, it also makes the whole experience much more fun and rewarding. Plus, community support can even bring your clients better results!
But every personal trainer software has a unique take on helping fitness businesses develop a tight-knit community. Let look at them:
TrainerFu has implemented a Facebook group like feature inside their personal trainer software:
A client can share their activities on the news feed.
A trainer and other clients can comment and like the post and engage with each other.
Trainers also get additional features like sending push notifications when they post anything on the news feed. They can also choose to pin the post and do news feed moderation.
Trainers and clients can post their status or share content. They can share videos, files, images etc.
Trainerize has implemented a Whatsapp style group for building community. A trainer can create a group and then clients and trainers can send messages within it.
This community feature is very important but not every software has them at this moment. Truecoach, PT Distinction, MyPtHub don't have any such community features at the time of writing this article.
Automation
One of the reasons you use a personal trainer software is to save time. And one key way to do that is to simply automate repetitive tasks.
But what can you automate with a personal training software? Let's take an example to see just that.
Suppose you decided to run an online group fitness program. There are so many things that need to happen after someone signs up for your program:
They need to get the workout program delivered at a set schedule.
They should get their onboarding material like welcome message and other information delivered right away.
You may decide to deliver them valuable content like recipe guides, meal plans, nutrition coaching articles.
You'll need to send them reminders and check-in on them.
You'll send them messages when they don't log workouts for a few days.
And more…
If you decide to do all these manually, you will end up spending a ton of time that is not adding value to your clients training.
Good news for you – you can automate all of these if you use the right personal trainer software. But again there are still major differences on how automations are implemented in different software.
Trainerize uses a master program for automation. You can create an automation sequence just like above and subscribe clients to that automation sequence. So far, so good. Clients will get all the scheduled workouts, messages, reminders you have in the master program once a client is subscribed.
But there is a catch.
A client can only be subscribed to one master program at a time. And if a client is subscribed to a master program their personal program is replaced with the master.
This type of automation works if all the participants have exactly the same needs and need no personal modification to their program. For example: If one of the participants in your program can't do an exercise in the workout plan, you will have to create his program from scratch rather than make a personal modification.
These limitations are something that are fixed in TrainerFu. In TrainerFu a client can be subscribed to any number of automation sequences. Moreover every automation sequence is copied into the client's schedule and you can make personal changes to a plan without needing to change the entire sequence.
PT Distinction also has implemented their automation sequence similar to Trainerfu. Other software like Truecoach, MyPtHub, and TrainHeroic do not have these automation capabilities.
Custom branded app plan
With a custom branded app plan, you get your own branded app for both Apple and Android. Instead of downloading a third party app, your client will download your app. Your app will have your own logo, color scheme, images, and more. In short, it will reflect your brand.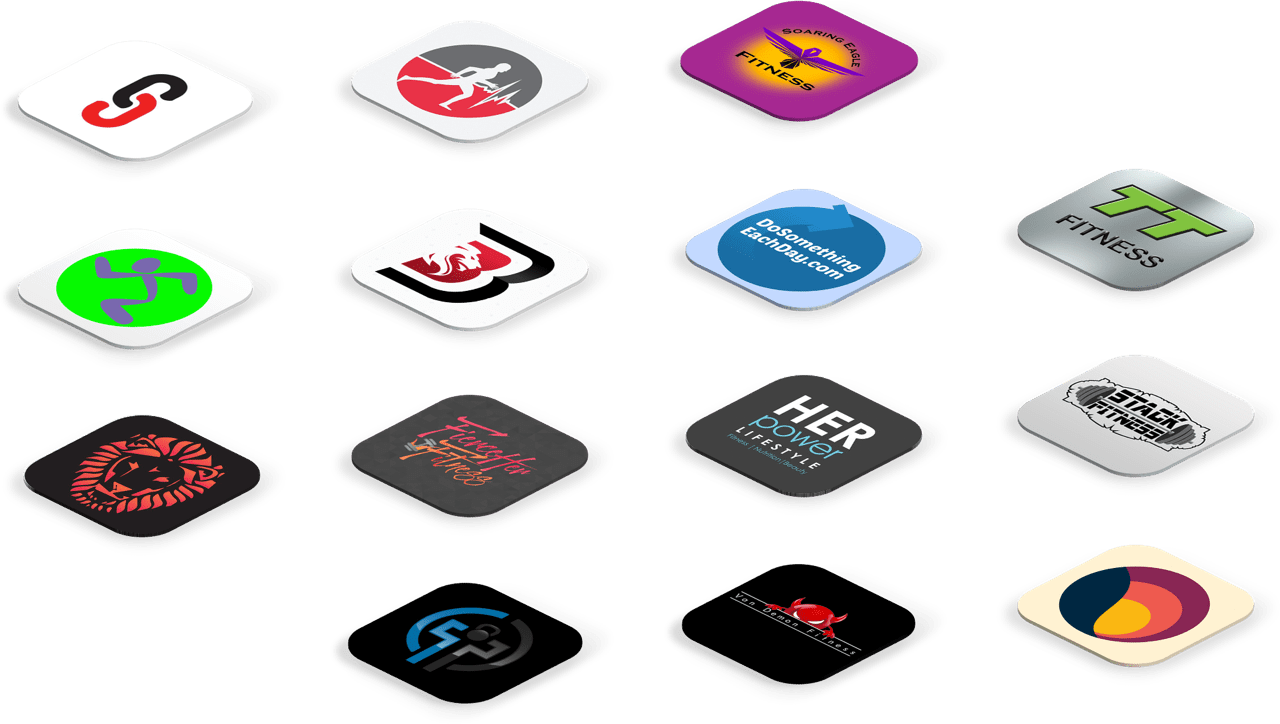 Let me ask you: How do you feel about a business when you see that they have a very professional website? You trust the business more, right? It's the same case when you have a custom branded app. It will help you win trust of your ideal clients and get less objections when it's time to close the sale. A custom app can instantly help you become a premium fitness brand. \
If you want to get your own custom branded app then at this time there are only two choices:
Trainerfu - You get your own app starting from $99/month.
Trainerize - Custom branded app option is available on the Studio plan which is $250/month
Currently, Truecoach, PT Distinction, TrainHeroic, and MyPtHub do not offer a custom branded app plan.
Pricing
Of course, price will play a big role in your overall decision. When comparing prices, keep in mind the features that you are getting with each personal training software. The expense of the right software is ultimately an investment in your business that will continue to pay off.
The table below compares the pricing for some of the best personal training software.
| | |
| --- | --- |
| Trainerfu | $29/month for 20 clients |
| | $45/month for 40 clients |
| | $59/month for 60 clients |
| Trainerize | $40/month for 15 clients |
| | $60/month for 30 clients |
| | $90/month for 50 clients |
| PT Distinction | $59/month for 15 clients |
| | $89/month for 50 clients |
| Truecoach | $49/month for 20 clients |
| | $99/month for 50 clients |
| MyPtHub | $49/month |
| TrainHeroic | $44.99 for 25 clients |
| | $74.99 for 50 clients |
Note: These are the prices as of August 24, 2022.
Ratings
More than likely, you check ratings when choosing which restaurant to eat at or what movie to watch on Netflix. So of course, these will factor into your personal training software choice as well. Ratings can help you determine how other personal trainers feel about the product, and can help you make a more informed decision. Here's how the best stack up:
| | | |
| --- | --- | --- |
| | Apple App Store (US) | Android App Store |
| Trainerfu | 4.8/5.0 | 4.7/5.0 |
| Truecoach | 2.5/5.0 | 1.6/5.0 |
| PT Distinction | 2.6/5.0 | 3.2/5.0 |
| Trainerize | 4.9/5.0 | 4.6/5.0 |
| MyPtHub | 4.1/5.0 | 3.8/5.0 |
| TrainHeroic | 4.6/5.0 | 3.6/5.0 |
Note: These are the ratings as of August 24, 2022.
Chapter 3
Choosing the right personal training software for your fitness business
As you can see, most personal training software has a lot of the same features. However, when you start to compare how the features actually work, it's clear that not all platforms are created equal!
When deciding on the right software for you, think about your unique business and what you need to make it run more smoothly. Keep your customer experience in mind as well.
TrainerFu features stand out from other personal training software and can help you build a more profitable business with more ease. If you think TrainerFu may be the right fit for your fitness business, try it free today.